Brief: ISGS Expands Offensive in Burkina Faso and Niger
Publication: Terrorism Monitor Volume: 21 Issue: 21
By: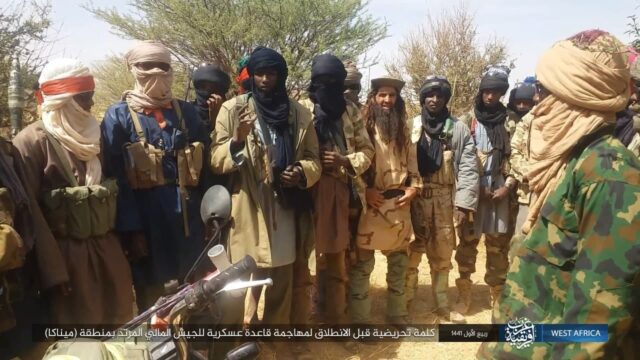 Islamic State in Greater Sahara (ISGS) continues to demonstrate its ability to combat its al-Qaeda-affiliated nemesis, Group for Supporters of Islam and Muslims (JNIM), expanding and carrying out large-scale attacks in ways that outmatch JNIM. On October 3, for example, ISGS killed 29 Nigeriens in Takanamatt, which is roughly 35 miles from the larger city of Tahoua. The city itself is towards the interior of Niger, and not far from the capital, Niamey; this indicates that ISGS could potentially threaten Niamey itself (rfi.fr, October 3). Although Niamey has not been targeted in any significant way since a prison break in 2013, the neighboring capitals of Abuja, Nigeria, Bamako, Mali, and Ouagadougou, Burkina Faso have all been struck by either ISGS, JNIM, or their predecessors (Al Jazeera, June 3, 2013).
Moreover, the 2013 prison break was allegedly conducted by Movement for Unity and Jihad in West Africa (MUJWA) members, some of whom later joined ISGS. This included ISGS's founder, Adnan Abu Walid al-Sahrawi. There is, therefore, some foundation for a potential ISGS breakout into Niamey in the future. Nevertheless, ISGS attacks still predominantly occur along the Niger–Burkina Faso–Mali border axis. Moreover, the group has not made any statements declaring its intention to attack Niamey or carry out any other major attacks in regional capitals (UN, December 20, 2018).
Besides the Takanamatt attack, ISGS also expanded in Burkina Faso by attacking Kalamba village on October 20. This village is in Kaya Department and is deeper into the country than most of ISGS's previous attacks (Twitter/@Africarepor_t, October 20). Thus, just as there are indications of ISGS moving towards Niamey in Niger, there is also evidence that the group is moving into new frontiers in Burkina Faso.
Despite reports of an emerging group, Wahdat al-Muslimin (Unity of Muslims; see TM, October 11), which seeks rapprochement between ISGS and JNIM, ISGS claimed an attack on "al-Qaeda spies"—referring to JNIM—in Deou Department of Burkina Faso. If ISGS were weak, it is possible that the organization might seek to reduce tensions with JNIM. Instead, the attack indicates that ISGS is confident enough in its expansion and capabilities to continue its conflict with JNIM. Notably, ISGS has been virtually leaderless since the deaths of al-Sahrawi and his deputies in recent years.
Another factor contributing to ISGS's resilience and its seeming confidence is the rising political turmoil in the Sahel. Niger witnessed a military coup this year, and in the past three years both Mali and Burkina Faso experienced two coups each. In addition, France is departing from the Sahel militarily, due to the anti-French stance taken by many of the new military governments (Jeune Afrique, February 10). While Russia's Wagner Group mercenaries are cozying up to the Sahel's new military regimes, the overall political instability combined with the region's diminished counter-insurgency capacity has been a boon for ISGS, which had been on the back foot previously.