Tajikistan Seeks Regional Partners to Counter Threats from Afghanistan
Publication: Terrorism Monitor Volume: 21 Issue: 21
By: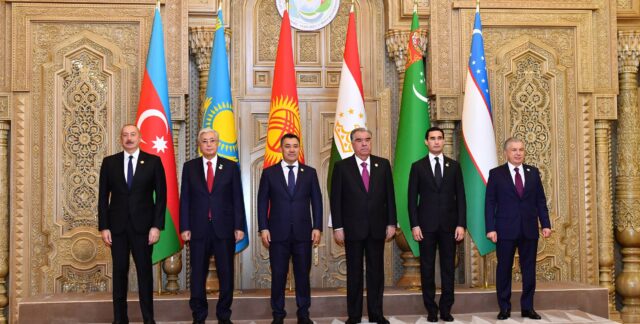 Tajikistan has become increasingly concerned with threats posed by militants in neighboring Taliban-ruled Afghanistan, which has prompted a series of statements and meetings by top officials in recent months. These recent tensions are set against a backdrop of a longstanding history of poor relations between Dushanbe and the Taliban. Indeed, Tajikistan is Afghanistan's only neighbor that has not established any kind of diplomatic relations with the Taliban (Kabul Now, March 25). However, growing concern over militant groups operating in Afghanistan could offer Dushanbe more avenues for regional cooperation moving forward.
The Dual Jamaat Ansarullo and Drug Trafficking Threats
Operating from the northern Afghan province of Badakhshan, Jamaat Ansarullo (JA), also known as the "Tajik Taliban," has been increasingly focused on Dushanbe in recent months (The Siaset Daily, July 30, 2021; see TM, October 11). On September 15, a JA militant appeared in a video calling for his Tajik countrymen to take up arms against the government and to not fear being accused of terrorism. The video also called Afghanistan a "country where the mujahedeen govern," highlighting the group's affinity for the Taliban government (Afghan Analyst, September 15).
This came after JA's attempted crossing at the Afghan border in the Davraz District on September 4 that resulted in the deaths of three militants, as well as the seizure of a cache of weapons, ammunition, and explosives (Kabul Now, September 6). Another area of growing concern with Tajikistani officials is drug smuggling from Afghanistan, which is on the rise despite efforts and assurances from the Taliban that it is making progress in stamping out the drug trade (NewsAM, February 3, 2023). The Taliban government officially denies supporting or harboring terror groups that pose a threat to foreign governments (Ariana News, May 30, 2022).
The President's Reaction
Tajikistan President Emomali Rahman recently expressed concerns over threats related to terrorism and drug trafficking from Afghanistan at the fifth Summit of Central Asian States in Dushanbe on September 16 (Khaama, September 16). Dushanbe also took measures to bolster security along its Afghan border earlier this year (Ariana News, February 27). While the other Central Asian states have been generally more accepting of the Taliban government, Tajikistan remains steadfast in its opposition to it (Al Jazeera, August 23, 2021). This has caused Dushanbe to seek out additional regional security partners.
Russia, which has sought closer relations with the Taliban leadership and maintains a military base in Tajikistan, urged Dushanbe to resolve disputes with the Taliban in a "mutually acceptable" way after the group seized power in 2021 (Ariana News, October 1, 2021). However, Russia also conducted joint military exercises with Tajikistan just under 20 miles from the Afghan border earlier this year, underlying growing regional concerns and focusing specifically on potential incursions by militant groups (Ariana News, April 4). Although Tajikistan also engages in close military cooperation with China, Beijing has also sought closer relations with the Taliban since 2021 (Moscow Times, October 26, 2021).
Dushanbe's Relations with Iran and Pakistan
On September 19, Tajik President Rahman met Iranian President Ibrahim Raisi at the United Nations in New York City to discuss future cooperation with regards to their policy toward Afghanistan (Khaama, September 20). Tehran, like Dushanbe, also has poor relations with the Taliban government, with the two sides having engaged in deadly border clashes earlier this year (Al Jazeera, May 30). Iran also claims that Islamic State (IS) leaders have been sent to Afghanistan, although this claim is denied by the Taliban (Al Jazeera, July 23).
Besides President Rahman, Tajikistan's Defense Minister Sherali Mirzo also met with his Pakistani counterpart Khawaja Asif in Rawalpindi, Pakistan on July 5 to discuss bilateral cooperation. At the meeting, Asif stated that Pakistan and Tajikistan face "similar challenges and threats" as neighbors of Afghanistan and promised that Islamabad would cooperate with Dushanbe on intelligence capacity building and the sharing of military technical expertise (Ariana News, July 5). Relations between Pakistan and Afghanistan have deteriorated following a series of attacks in the former by Islamic State Khorasan Province (ISKP) and the Tehreek-e-Taliban Pakistan (TTP), although the Taliban government denies responsibility for both group's attacks (Al Jazeera, August 17).
Conclusion
Although other Central Asian states on Afghanistan's border insist on working with the Taliban to some extent, tensions are rising across the region, particularly because of the Taliban's apparent inability to control militant groups active within its borders, such as ISKP and JA, which pose direct threats to neighboring countries (BNE, February 22). Moreover, senior officials from Uzbekistan and Pakistan have met to discuss, among other issues, the threat of militant groups operating within Afghanistan (Khaama, September 21). This could be a sign that Tashkent's growing frustration with the Taliban, with which it has previously enjoyed relatively warm relations, is coming to mirror Dushanbe's frustrations. In this way, there may be growing cooperation between Dushanbe and other regional governments in the future concerning the Taliban and other Afghanistan-based militant groups.