Briefs
Publication: Terrorism Monitor Volume: 20 Issue: 1
By: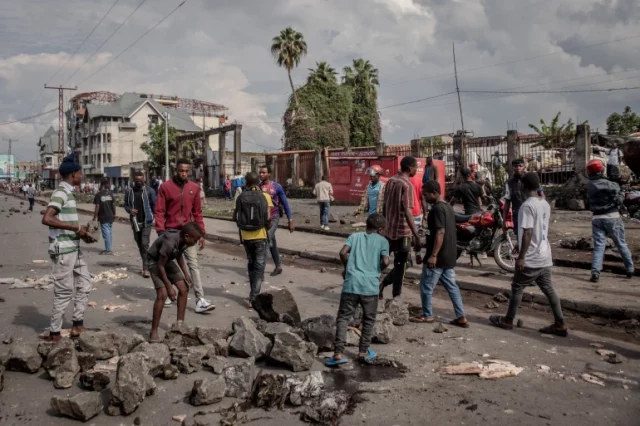 ISCAP's Congo Branch Changes Tactics to Targeting Civilians
Jacob Zenn
Although the nature of ties between the Islamic State's (IS) centralized leadership and the Islamic State in Central Africa Province's (ISCAP) Congo branch have been intensely debated among analysts, the Congo branch's changing tactics reveal a newfound, IS-like focus on targeting civilians in highly populated locations. On January 5, for example, the Congo branch detonated an improvised explosives device (IED) at a market in Oicha, Beni, injuring several shoppers (Twitter.com/Africisorg, January 5).
Such an attack would not be unprecedented for the Congo branch, which conducted a suicide bombing at a restaurant in Beni on Christmas only two weeks earlier, killing six people (aljazeera.com, December 25, 2021). These tactics contrast with al-Qaeda's and more moderate IS theologians' general tendencies in Africa to avoid mass killings of civilians in public places, with the exception of targeting foreigners. Some IS theologians who were formerly in al-Qaeda, for example, advised the Islamic State in West Africa Province (ISWAP) to only conduct attacks in populated places in exceptional cases, such as when it was the only way to kill soldiers who posed a threat to ISWAP fighters (Muasasat al-Turath, March 2015).
ISCAP's Congo branch, therefore, appears to be adopting the more extreme ideology and tactics of IS. At the same, its attacks in Uganda in late 2021 also indicate the capability and willingness to expand into other countries from Congo (majalla.com, December 10). While this might be expected to lead to increased intelligence pressure against the Congo branch, the Rwandan media alleges that the head of Ugandan military intelligence, Major General Abel Kandiho, met in South Africa with Kayumba Nyamwasa. This is problematic both because Nyamwasa is an alleged war criminal for his role in the Rwandan genocide, and because he is now the exiled opposition leader of the Rwandan National Congress, which seeks to overthrow the Rwandan government (taarifa.rw, December 23, 2021). As a result, it is unlikely that Uganda and Rwanda will cooperate in countering the threat from the Congo branch due to mistrust between the two nations' governments.
The Congo branch, meanwhile, will benefit from the lack of coordination between Uganda and Rwanda, especially if it targets Rwanda next. IS supporters have noticed Rwanda's growing counter-terrorism presence in East Africa, including sending troops to Mozambique, and declaring war on and calling for IS to attack both Rwanda and Uganda in a video released on January 5 (archive.org, January 5). More broadly, the video highlights IS operations in Africa and emphasizes how the continent has become a main focus of IS operations now that other regional theaters, such as North Africa, Southeast Asia, and Europe, have witnessed a reduction in IS activity.
****
Southeast Asian Nations See Mixed Counter-Terrorism Success
Jacob Zenn
Southeast Asian nations have been grappling with Islamist insurgencies consistently since even before 9/11. However, in recent years the tempo of these insurgencies has slowed in Indonesia, the Philippines, and, to some extent, Thailand, with the notable exception of Myanmar. In Indonesia, for example, the security forces tracked down and killed the Mujahidin Indonesia Timor (MIT) militant, Ahmad Gazali (benarnews.org, January 4).
According to Indonesian authorities, there are now only three MIT members left in the entire country, which represents a major setback for Islamic State (IS) in Indonesia. In 2013, MIT  had emerged as a lethal force in Sulawesi and by 2016, its then leader, Santoso, had pledged loyalty to IS (Terrorism Monitor, May 20, 2013; Jakarta Post, December 1, 2015). However, the current group is essentially defunct. This represents a victory for Indonesia's war against pro-IS elements, and parallels successful counter-terrorism operations against the remaining Jemaah Islamiya (JI) militants, which have been carried out by the Indonesian elite counter-terrorism operatives in Detachment 88 (abc.net.au, September 13, 2021).
Meanwhile, in the Philippines, the security forces announced the killing of Zukarno Gulil (alias "Motorola") on December 27, 2021, in Maguindano, Mindanao. He had allegedly been involved in arson and murders for the Bangamoro Islamic Freedom Fighters (BIFF) (inquirer.net, December 27, 2021). BIFF itself has declared its loyalty to IS, meaning that both Gulil's elimination and the overall downturn of BIFF attacks in the Philippines represents a setback for IS itself. Indeed, nothing resembling the 2017 conquest of Marawi by IS-loyal militants in the Philippines has recurred in the five years since that dramatic battle.
Despite the successes of Indonesia and the Philippines, Thailand, and especially Myanmar, have been struggling to put down their own insurgencies. In Yala, southern Thailand, there were three bombings of power lines, which caused blackouts, but no deaths, on New Year's Eve (thestar.com, January 3). However, there is hope for improvement. The violence has abated since a peak from 2004 to 2014, and with peace talks expected in Kuala Lumpur in January, it is possible tensions will remain calm in the near-term future.
In the meantime, Thailand has been exploring non-lethal means to crack down on insurgents and their supporters, including intensifying surveillance of communications through smart phones or SIM cards and even suspending mobile service altogether at times in southern Thailand (chiangraitimes.com, December 15, 2021). What remains to be seen is the degree of blowback such approaches may cause, as some Muslim Malays suspect this surveillance specifically focuses on them. In turn, even if Thailand has benign intentions, they will almost certainly increase grievances against the state and fuel greater opposition.
Finally, since its February 2021 military coup, Myanmar's long standing militant opposition movements have been revitalized, with anti-coup protestors and military and police defectors joining their ranks. The latest in the long string of violent conflict includes reports that the army  massacred 35 members of the Karenni Nationalities Defence Force (KNDF)(myanmar-now.org, December 25, 2021). Operations such as these appear to have been attempts to eliminate the army's adversaries. However, extrajudicial killings and other rights abuses by the army are reportedly leading to defections, increasing the strength of militant groups (Twitter.com/@IrrawaddyNews, December 28, 2021). Whether or not the army can successfully quell their enemies and re-establish their hold over the nation remains to be seen.