India's Dilemmas in Engaging the Taliban in Afghanistan: Too Little, Too Late?
Publication: Terrorism Monitor Volume: 19 Issue: 24
By: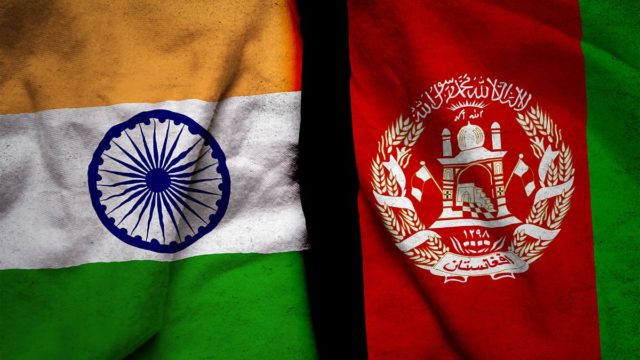 On November 10, India hosted the Third Regional Security Dialogue on Afghanistan, which saw the participation of National Security Advisers from India, Iran, Russia and three Central Asian states. Given the long-running India-Pakistan battle for influence in Afghanistan and ongoing Sino-Indian border tensions, Pakistan and its main backer, China, did not attend the event (India Today, November 9). Although India does not have a diplomatic presence on the ground in Afghanistan, its hosting of the dialogue signaled that it still has political, economic and strategic interests in Afghanistan, and remains concerned regarding developments there.
Over the past two decades, India had a warm relationship with successive governments in Afghanistan. It wielded significant influence in Kabul and was playing an important role in Afghanistan's capacity building, economic development, and reconstruction. This, in turn, strengthened India's ambitions of trading with Central Asian countries through Iran and Afghanistan. With the Taliban's capture of power in Kabul, India's influence has shrunk significantly as India's relationship with new Taliban rulers has not only been hostile, but lacking the development of any channels of communication. Moreover, the rise of the Taliban to power resulted in an increase in Pakistan's influence in Afghanistan.
The dramatic change in the strategic scenario in the region following the Taliban's capture of Afghanistan has left India grappling with multiple dilemmas. In the past, India struggled with the decision about whether or not to open channels of communication with the Taliban. That quandary, however, appears to be somewhat resolved as it is now engaging with officials of the Islamic Emirate. Yet, difficult questions persist.
Afghanistan's Importance to India
Afghanistan's geographic location as a landlocked country sharing borders with India's arch-rivals Pakistan and China, as well as Iran and three Central Asian countries, underlies its strategic significance for India. A stable and friendly Afghanistan is necessary for India's trading purposes and to be able to access markets and gas fields in landlocked Central Asia. Besides these factors, anti-Indian terrorist groups, such as Jaish-e-Mohammed, Harkat-ul Ansar, and Lashkar-e-Taiba, which are active in India's state of Jammu and Kashmir, have also fought in Afghanistan and established bases there (The Hindu, August 13 and Hindustan Times, September 2). India has accordingly worked toward supporting a friendly Afghanistan in the hope that it will not host such terrorist groups.
Historically, India and Afghanistan have also shared close cultural and political ties. Until the Taliban came to power in 1996, India dealt with all Afghan governments irrespective of their ideology or relationship with Pakistan. The policy of working with whoever ruled Kabul ended, however, when the Taliban came to power in September 1996 (The Hindu, May 15, 2011).
The Taliban's abysmal human rights record, the fact that most countries had not recognized the Taliban regime, and its close relations with Pakistan and anti-India terrorists, including most importantly its role in facilitating the landing in Afghanistan of the hijacked Indian Airlines aircraft flying between Kathmandu and New Delhi in 1999, were the main factors behind New Delhi's hostility toward the first Taliban regime. India shut down its embassy in Kabul and did not extend the regime recognition.
Further, within days of the Taliban's capture of power in Afghanistan in 1996, India was in touch with Northern Alliance leader Ahmed Shah Massoud, who was leading the resistance to the Taliban regime. India then started collaborating with Iran and Russia to provide military, medical and other support to the Northern Alliance (The Hindu, September 1, 2019). Such support also paved the way for India's close ties with Northern Alliance leaders, who held top posts in Afghanistan's post-Taliban governments following the U.S. invasion of Afghanistan in October 2001.
Support to Post-Taliban Governments in Kabul
After the Taliban regime's ouster in November 2001, India went back to supporting governments in Kabul. Indeed, in the two decades that followed, the Hamid Karzai and Ashraf Ghani governments received unprecedented Indian support. New Delhi invested around $3 billion in infrastructure, including over 400 projects across all provinces in the country (India Today, August 17). India did not send troops to fight the Taliban and al-Qaeda like other countries did, but helped strengthen Afghan democratic processes and institutions, engaged in training teachers and civilian and military officials, and built the capacity of Afghan youth through education (Centre for Policy Research, June 16, 2016). These initiatives were aimed at strengthening the Afghan state and society vis-à-vis the Taliban.
If during the first Taliban regime, India's ties were restricted to Afghan's ethnic minorities such as the Uzbeks and Tajiks, in the 2002-2021 period, India reached out to the Pashtuns as well. Importantly, India worked not just with the Afghan government, but with opposition politicians and political parties as well as with civil society organizations. Indian analysts nevertheless consistently called on the government to open channels of communication with the Taliban (The Hindu, May 15, 2011; Institute of Peace and Conflict Studies, March 22, 2012; Carnegie India, June 2, 2020). Such calls gathered momentum when it became increasingly evident that the Taliban could not be defeated on the battlefield and successive U.S presidents were announcing decisions to downsize the U.S. troop presence and speed up their exit from Afghanistan.
Prospects for the Taliban returning to power, whether on its own or as part of power-sharing arrangements, were mounting by 2018 (The Diplomat, October 23, 2018). While Pakistan's ties with the Taliban remained strong and Islamabad was playing a prominent role in negotiating to end the conflict as well, India was left out of peace efforts (Times of India, July 15, 2019). In 2018, all the major actors in Afghanistan had opened direct channels of communication with the Taliban, including Iran and Russia, which were India's allies in opposing the Taliban regime in the 1996-2001 period (Tolo News, November 8, 2018; Al Monitor, January 8, 2019).
Throughout the 2010s, but particularly after 2014, India struggled with the dilemma whether or not to engage the Taliban. It hesitated because it went against India's principles as a democracy. Further, India feared that outreach to the Taliban would prompt Ashraf Ghani to turn to China for support (The Hindu, July 22). New Delhi was also apprehensive that the enormous goodwill it had earned among the Afghan people would be undermined by interacting with the Taliban.
Too Little, Too Late
In late 2018, India participated in a meeting hosted by Russia in Moscow that included representatives of the Afghan High Peace Council, the Taliban, and twelve countries. For the first time ever, India was at the same table as the Taliban. India's participation, however, was still in an unofficial capacity involving two retired officials who participated as observers at the meeting (The Hindu, November 8, 2018).
Although India stepped up efforts to open channels with the Taliban, it proved too little, too late, as a new challenge emerged regarding who India could reach out to within the Taliban. Those in the Taliban who mattered were part of the Rahbari Shura, the Taliban's decision-making body based in Quetta, Pakistan, who were not just close to Pakistan but dependent on the country where they lived. Dealing with such Taliban officials was considered to be of little use to India. [1]
Indian officials, meanwhile, began exploring engagement with Taliban leaders based in Qatar, where the Taliban's political office was located. They were seen to be less susceptible to Pakistani pressure than Taliban leaders based in Pakistan. Indian officials signaled a willingness to talk to "Taliban nationalists," including those Taliban leaders who did not put the interests of other countries (i.e., Pakistan) above those of Afghanistan. Therefore, India began to reach out to "Taliban moderates" like Abdul Ghani Baradar. By mid-2021, Indian media was reporting on quiet meetings between Indian officials and these "Taliban 'nationalists'" (Hindustan Times, June 9).
In mid-June 2020, India's Ministry of External Affairs (MEA) stated it was talking to "various stakeholders" in and around Afghanistan, hinting that it had reached out to the Taliban (The Hindu, June 24). However, a Qatari minister announced that an Indian delegation had met with the Taliban in Doha and a well-known Afghan journalist, who claimed that according to "Afghan Taliban sources in the Quetta Shura" India's external affairs minister S Jaishankar had met with Taliban leaders, including Baradar. India strongly rebutted these reports (The Wire, June 29). Although plans for the U.S. withdrawal of troops had gathered pace by that time, as had the Taliban's capture of territory, India did not want to be seen as talking to the Taliban. Clearly, New Delhi still believed that the Ashraf Ghani government would survive or at least remain a part of a power-sharing government. [2]
India and the Taliban's Second Regime
The Ashraf Ghani government's collapse and the Taliban's swift and decisive capture of Kabul changed India's situation in Afghanistan overnight. India's significant influence and presence in Afghanistan was dealt a setback. In the final weeks before the Taliban's entrance into Kabul, the fate of India's infrastructure, especially the $275 million India-funded and constructed Afghan-India Friendship Dam, or the Salma Dam, was in peril as it seemed that Taliban fighters would destroy these projects (The Print, August 13). While the threat to such projects has receded in recent months, as the Taliban needs those projects for the revival of its economy, the fate of hundreds of thousands of scholarships that India extended Afghan students, training and livelihood programs and projects hang in the balance (Pajhwok, November 12).
India's situation in Afghanistan darkened further with the appointment of several Haqqani Network leaders in the interim Taliban government. Of all the factions in the Taliban, the Haqqani Network is closest to Pakistan's Inter-Services Intelligence (ISI) and is known to have carried out attacks on Indian nationals, projects, and personnel in Afghanistan. One such attack was the suicide bombing of the Indian embassy in Kabul in 2008 (Deccan Herald, August 19).
In the initial days of Taliban rule, it appeared that, similar to 1996, India would not establish ties with the Taliban regime. After all, unlike other regional powers which kept their embassies in Kabul working, India shut down its Kabul mission despite Taliban requests to keep its embassy open (Daily News & Analysis, August 27). However, in the months since, the two sides have reached out to each other. On August 31, for instance, the head of the Taliban's political office in Doha, Sher Mohammad Abbas Stanekzai, who has since been appointed Deputy Minister of foreign affairs in the interim government, met India's Ambassador to Qatar, Deepak Mittal, at the Indian Embassy in Doha. Apparently, the meeting, which was the first-ever official public contact between the two sides, was "on the request of the Taliban side" (Indian inistry of External Affairs, August 31).
In addition, Taliban officials have been reaching out to India to reopen commercial flights between the two countries and facilitate travel for Afghan scholarship students to India (The Print, September 23; The Wire, September 29). India also has reached out to the Taliban regime in the name of guaranteeing the safety of Indian nationals in Afghanistan. "We are in touch with all concerned," the MEA told journalists in New Delhi with regard to the kidnapping of a businessman of Indian origin in Kabul (Deccan Herald, September 17),
It is increasingly evident that the two sides are keen to deepen engagement. In October, Indian diplomats further met with Taliban Deputy Prime Minister Abdul Salam Hanafi at the "Moscow Format Consultations" hosted by Russia. The consultation recognized the "new reality" in Afghanistan. The Indian and Afghan delegations also talked directly to each other in a closed door meeting on the sidelines of the consultations, where India expressed interest in providing humanitarian aid to Afghanistan (The Hindu, October 21).
With the Pakistan government agreeing, on the Taliban regime's request, to allow India to send wheat and medical aid overland to Afghanistan via Pakistan, India is poised to resume its support to the Afghan people (Dawn, December 4, 2021). This will, no doubt, increase Indian interaction with Taliban officials. There are reports also that India is considering reopening its embassy in Kabul (The Hindu, December 1). However, India is still a long way from recognizing the Taliban regime, and has stressed the need for the Taliban to set up an inclusive government. It is likely that India will recognize the Taliban regime only after other countries do so.
The Pakistan Factor
Several factors will determine the future of India-Taliban relations. For India, it is important that the Taliban does not support anti-India terrorist groups. The Taliban has sent out mixed signals in this regard. In an interview, Taliban leader Anas Haqqani stated, "Kashmir is not part of our jurisdiction and interference is against our policy" (News18, September 1). In another interview with a Pakistan-based channel, Taliban spokesman, Zabihullah Mujahid, also urged Pakistan and India to sit together to resolve all issues (ARY News, August 26). However, the Taliban spokesman also told the BBC's Hindi service that as Muslims, the Taliban "have a right to raise our voice for Muslims in Kashmir, India or any other country" (BBC News, September 3). Should the Taliban's dependence on Pakistan continue, factions like the Haqqani Network could continue to further Pakistan's agenda in India.
If in the past, India's dilemma was whether or not to engage the Taliban, today that has changed. India is keen to engage the Taliban regime; its significant interests in Afghanistan and its ambitions in Central Asia necessitate such engagement. New Delhi's main dilemma in Afghanistan today is how to regain influence in the war-ravaged country in the face of China and Pakistan's mounting influence. India will need to build a relationship with the Taliban regime that is not subject to Pakistan's veto. The power that Pakistan wields over India's ties with Afghanistan was demonstrated during negotiations between officials over allowing Indian humanitarian aid to cross Pakistani soil to Afghanistan (India Today, November 30).
Reducing Pakistan's influence over the Taliban raises more dilemmas for India. This requires India to step up engagement with the Taliban and Afghanistan. This is sure to draw Islamabad's ire and could prompt the ISI to hit back against India by stepping up support to anti-India terror groups in Kashmir. To not step up engagement with the Taliban is, however, not an option for India any longer, given its huge interests in Afghanistan.
It is likely that in the weeks and months ahead, India will pursue a middle path. While it will engage Taliban officials, it will not recognize the Taliban regime until global powers do so. India will further resume infrastructure projects and welfare programs that do not ruffle the feathers of the Taliban and help India retain influence among the Afghan people. More than the Taliban, however, it will be Pakistan that determines India's role and relationship with Afghanistan.
Notes
Author's Interview with former Indian intelligence official, December 1, 2021.
Ibid.