Briefs
Publication: Terrorism Monitor Volume: 19 Issue: 20
By: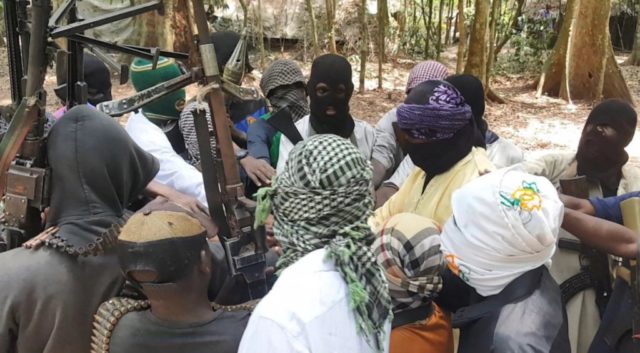 Islamic State Claims First Operation in Uganda as Rwanda Upgrades its Counter-Terrorism Capacity
On October 7, Uganda announced that its police force had killed a 25-year-old resident of Kampala, Hamid Nsubuga (alias Young Midu). The police had been following him for hours before killing him because intelligence had been obtained exposing Nsubuga's plan to assassinate a politician, whose name the police did not reveal. Nsubuga first came on the security forces' radar in August when he was suspected of participating in planting a bomb at the funeral service of Deputy Inspector General of Police, Lieutenant General Paul Lokech. A search of Nsubuga's house also revealed an arsenal of weapons and ammunition (monitor.co.ug, October 7).
Suspicions that Nsubuga was a member of the Allied Defense Forces (ADF), which has since merged into Islamic State in Central Africa Province (ISCAP), conveyed that the other suspects in the funeral assassination plot may have been members of the group (monitor.co.ug, October 5). Such suspicions about Nsubuga were also confirmed when the Islamic State (IS) claimed that a "soldier of the Caliphate" conducted a bombing at a police station in Kampala on October 10 (Twitter.com/@azelin, October 10). The similarity between the IS claim and Uganda's report of Nsubuga's operation indicates Nsubuga, and thereby the ADF, are communicating with IS.
The operation was not only IS's first ever claim in Uganda, but also represented one of the few terrorist operations in the country. Al-Shabaab's bombings in Kampala during the World Cup in 2010, which killed more than 70 people, was otherwise the largest terrorist attack in the country's history (Al Jazeera.com, July 13, 2010). In contrast, IS through ISCAP has claimed responsibility for numerous operations in Congo and Mozambique.
The regionalization of ISCAP, which is exemplified by Nsubuga's attempted operation in Uganda, will validate Rwandan president Paul Kagame's assertions that ISCAP is a regional threat because it has members from all over East Africa, including Uganda, Rwanda, Kenya, Tanzania, Somalia, and Mozambique, as well as some from the Middle East (theeastafrican.co.ke, September 25). Kagame has, in turn, taken the lead in regional counter-terrorism with Rwanda's deployment of 1,000 soldiers to Cabo Delgado province in Mozambique (in order to) dislodge ISCAP from its territorial holdings there. Further, there are reports of Rwanda seeking to obtain Turkish Bayraktar TB2 drones, which would further strengthen Rwanda's counter-terrorism capabilities (africaintelligence.com, October 7).
Amid IS's own expansion in East Africa, Rwanda is emerging as its number one foe. The attempted attack by Nsubuga will further serve as vindication for Rwanda that heightened counter-terrorism measures are needed to preserve security in East Africa. The otherwise tiny nation of Rwanda has hit above its weight class when it comes to counter-terrorism.
---
Islamic State in Khorasan Province's Anti-Taliban Insurgency Consolidates in Nangarhar
Although the Islamic State in Khorasan Province's (ISKP) main enemy is now the Taliban, the group continues to settle scores against its old enemy: the former U.S.-backed government and its allies. For example, Abdul Rahman Mawin was a human rights activist from Laghman who had been working in Jalalabad city, Nangarhar Province until he was assassinated while driving his car on October 12 (aa.com.tr, October 12). ISKP soon afterward claimed the assassination, accusing Mawin of being loyal to the deposed Afghan government (Twitter.com/@natsecjeff, October 13).
Killings in Nangarhar, like those of Mawin, have become commonplace as the province spirals into increasing violence. Just before his assassination, a woman was found shot to death and an ISKP judge was assassinated, with the former presumably by ISKP for violating its sharia codes and the latter presumably by the Taliban (pajhwok.com, October 11). The tit-for-tat violence between ISKP and the Taliban has been escalating in Nangarhar, including with an ISKP roadside bombing that killed Qari Fayaz, who was the Taliban's deputy district governor for Rodat District of Nangarhar (Twitter.com/@AfghanAnalyst2, October 9). The following day Taliban social media accounts indicated that a 500-strong Taliban force would be deployed to Nangarhar to combat ISKP (Twitter.com/@AfghanAnalyst2, October 10).
The escalating conflict in Nangarhar between ISKP and the Taliban comes amid the Taliban's announcement that it will not cooperate with the U.S. to counter ISKP (thehindu.com, October 9). Nevertheless, the Taliban is proving incapable of containing ISKP in Nangarhar. For example, from mid-September to mid-October, ISKP conducted nearly 30 attacks in the region, , with virtually all directed against the Taliban, except for one directed against Mawin, representing an expansion to attacking civilians as well (Twitter.com/@abdsayedd, October 13). In an ironic twist, the Taliban, which had once made U.S. soldiers fearful of venturing out in Afghanistan's rural towns, has now ordered its own fighters to not go out once it becomes dark in Nangarhar for fear of ISKP ambushes (Twitter.com/@sahibzadaPTM, October 11).
Beyond Nangarhar, ISKP is also challenging the Taliban more broadly with its narratives. ISKP, for example, claimed a suicide bombing at a mosque in Kunduz, northern Afghanistan on October 8, which killed more than 40 people (aljazeera.com, October 8). The attacker was an Uighur from China, and ISKP pointed out that the Taliban was now cooperating with China (opindia.com, October 9). Not only did this attack expose the Taliban's duplicity for allying with Uighur jihadists' enemy in the Chinese government and demonstrate that ISKP could attack the Taliban from Nangarhar, to Kabul, to Kunduz, but it also undermined the Taliban's claims that it could protect Afghan minorities, such as Shias, who worshipped at that mosque in Kunduz. ISKP, moreover, followed with another Shia mosque attack in the Taliban's own heartland of Kandahar only weeks after the Kunduz attack, again killing more than 40 worshippers (aljazeera.com, October 17).
ISKP's attacks against the Taliban in Nangarhar and minorities and civilians elsewhere in Afghanistan are revealing that Taliban control over Kabul remains tenuous. The Taliban is likely to face a growing insurgency from ISKP while its diplomacy with countries like China and embracing 'infidel' Shia minorities as fellow Afghans is an ideological fodder for ISKP to accuse the Taliban itself of being an 'infidel' occupier, much like the U.S. had been. This may be enough for ISKP to recruit more extreme defectors from the Taliban and will embolden ISKP's anti-Taliban insurgency.