Briefs
Publication: Terrorism Monitor Volume: 19 Issue: 23
By: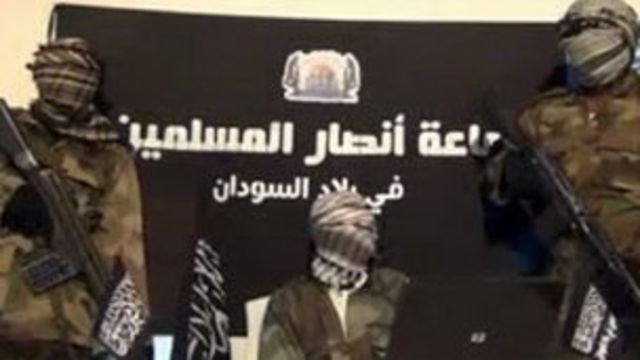 Al-Qaeda's Nigerian Affiliate Ansaru Resurfaces in First Long Video Since 2015
Jacob Zenn
The Nigerian al-Qaeda affiliate, Jamaatu Ansarul Muslimina fi Biladis Sudan (Ansaru), had not released any detailed propaganda videos since 2015 until a video surfaced in November from an ex-member of its rival group, Boko Haram (Unmasking Boko Haram, November 29). The fact that the video's publication date corresponds to Eid al-Fitr in May 2022 nevertheless raises questions about whether the video was filmed well in advance of the group's plans to disseminate it half a year later or whether the group's media team has become sloppy and made an error when dating the video. Whatever the case, the Ansaru video offers revelations on the group's future trajectory and past ideological connections.
Ansaru formed in 2012 after receiving approval from al-Qaeda in the Islamic Maghreb (AQIM) to break from then Abubakar Sheka-led Boko Haram (Vanguard, February 1). Although AQIM was hesitant to see its Nigerian jihadist partners factionalize, AQIM acknowledged in its correspondence to the soon-to-form Ansaru leadership that Shekau's brutalities toward sub-commanders and killings of innocent Muslim civilians necessitated Ansaru's leaving Shekau (al-Andalus, April 2017). Ansaru was subsequently featured occasionally in second tier al-Qaeda publications, and this latest video shows Ansaru's continued loyalty to al-Qaeda. For example, the video reveals imagery of the 9/11 attacks and, among others, Usama bin Laden, Abdullah Azzam, Abu Yahya al-Libi, Abu Musab al-Zarqawi, Aymen al-Zawahiri, AQIM's Abdelmalek Droukdel, and Anwar al-Awlaki. Ansaru depicted only "old guard" jihadist leaders, including those from al-Qaeda's various affiliates. This reflects Ansaru's desire to be seen as a Nigerian al-Qaeda affiliate despite its faded association with them in recent years as its ties to current high-level al-Qaeda commanders decline.
Ansaru has generally avoided mentioning the names of its enemies. However, in one of its two videos—released in the weeks before Shekau's pledge of loyalty to Islamic State (IS) in March 2015—Ansaru included a mocking video clip of Shekau acting maniacally and scratching his crotch (Telegram, February 10, 2015). In that video, like others from Ansaru, the group reiterated its commitment to "defending" Muslim civilians, as opposed to declaring them infidels like Shekau had done to any Muslim who did not join Boko Haram. In this latest video, Ansaru again reiterated that Muslims should have the choice whether to participate in Ansaru's jihad to establish an Islamic state.
The latest video also shows Ansaru members training in a forested area, which must be in northwestern Nigeria, where the group has been based since 2015 and has mixed with, and recruited from, banditry groups (Terrorism Monitor, March 25, 2019). Notably, this video was the first of Ansaru's to feature a child soldier, which follows numerous videos from Boko Haram and the larger Islamic State in West Africa (ISWAP), who consistently such imagery in their videos. The existence of child soldiers in these groups' ranks is another indication that Nigeria's war with these groups will likely continue for another generation. Lastly, the videos highlighted two previously unknown commanders, Abu Ammar al-Muhajir and Abu Musab al-Nayjiri, which indicates that the former leader since 2017, Abu Usama al-Ansari, is likely no longer at the helm of the group.
As Ansaru has always been weaker than Boko Haram and ISWAP, it has historically had to react to their activities in order to compete with them. For example, Ansaru released a pair of videos in February 2015 whose videos' timing was intended to respond to Shekau's impending pledge to IS, which resulted in Boko Haram becoming ISWAP (Shekau would later be expelled from ISWAP in August 2016 and then revive Boko Haram in its second iteration). It is unclear if this latest video is reacting to anything from ISWAP or Boko Haram, but it could be an attempt by Ansaru to show it remains a formidable group amid clashes that have persisted between Boko Haram and ISWAP this year in northeastern Nigeria.
Ansaru may be intending to tell defectors from either group that they can join his group. The Ansaru fighters' uniforms in the video also look professional and, in some cases, resemble those worn by Boko Haram and ISWAP in their videos. By portraying itself as similar to ISWAP and Boko Haram—despite otherwise being loyal to al-Qaeda—Ansaru may be attempting to show other Nigerian jihadists that joining Ansaru in northwestern Nigeria is not a "downgrade." Further, Ansaru's eating of food in the video for the Eid al-Fitr feast (strangely in May 2022, according to the video) is also similar to how ISWAP and Boko Haram portray their feasts (Telegram, May 11).
Although Ansaru is virtually not present at all in northeastern Nigeria, where Boko Haram and ISWAP predominate, it can compete with both groups in the region. Therefore, any jihadists joining Ansaru in northwestern Nigeria are potentially joining that region's preeminent jihadist group. With the violence conducted by bandits and jihadists, including from Ansaru and Boko Haram and, to a lesser extent, ISWAP in northwestern Nigeria spiraling out of control this year, the region is likely to see increased interest from jihadists wanting to implement their state-building project in northwestern Nigeria.
****
With an Eye on the Taliban, Uzbekistan and Kazakhstan Launch Joint Training Program in Termez
Jacob Zenn
On November 15, Uzbekistan's government announced that it would conduct joint training with 100 Kazakhstani soldiers on the Afghanistan border in the coming week (Tashkent Times, November 15). The exercises that ensued, which were held in Termez near Uzbekistan's border with Afghanistan, simulated an armed incursion coming from Afghanistan (Euronews, November 25). Although no specific group was specified in the simulation as conducting the incursion, the case is reminiscent of the 1990s when the Islamic Movement of Uzbekistan (IMU) began capturing territory in the Fergana Valley of Uzbekistan and soon after invaded parts of Kyrgyzstan and Uzbekistan.
In 2004 and 2009, the IMU and its internationalist offshoot, Islamic Jihad union, were also responsible for bombings in Uzbekistan (Terrorism Monitor, January 26, 2012). However, since the 2010s, neither group has been a threat to Uzbekistani territory and both have been greatly diminished as a result of regional counter-terrorism efforts and the Afghan Taliban's massacre of the IMU, which occurred after the IMU's leader Usman Ghazi's pledge of loyalty to Islamic State (IS) (RFE/RL, November 28, 2015). The Taliban, meanwhile, has pledged not to conduct any attacks from Afghan territory towards other countries in the region or further abroad, but it would use force domestically against its adversaries, including Islamic State in Khorasan Province (ISKP) (al-Jazeera, September 27).
Therefore, it appears that the Uzbekistan and Kazakhstan joint training in Termez would most practically be aimed at any ISKP advance into Central Asia. ISKP has conducted bombings in northern Afghanistan, targeting Shia mosques. However, its main stronghold is in Nangarhar, which is far removed from the Uzbekistan border and is the locus of an ongoing Taliban offensive against ISKP (Hindustan Times, September 25). Only a defeat of the Taliban by ISKP or the downfall of the Taliban due to internal instability could be expected to enable ISKP to have the opportunity to invade Central Asia from northern Afghanistan, although such scenarios remain highly unlikely at this point.
While the uncertainties about a potential incursion may have officially been the purpose of the joint training between Uzbekistan and Kazakhstan, other factors might also have motivated the two countries. For example, talks between the European Union and Central Asian countries in Tajikistan in November highlighted the potential for human trafficking routes from Afghanistan to pass through Central Asia and lead to Europe (Euractiv, November 22). It is, therefore, imperative for Central Asian regional militaries to increase their familiarity and cooperation with each other to prepare for the full range of eventual human security issues that could spill over from Afghanistan.