Briefs
Publication: Terrorism Monitor Volume: 15 Issue: 10
By: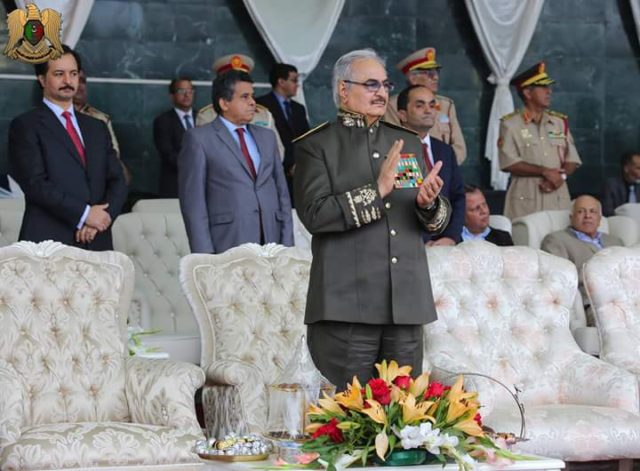 Libya: Unease in Tripoli Despite UAE Talks
Libya's Khalifa Haftar had his forces stage a military parade on May 16 to mark the third year of his Libyan National Army (LNA) campaign to force Islamist militants out of Benghazi (Libya Herald, May 16). With growing international backing, and large parts of Libya under his control, the LNA chief can afford a certain amount of peacocking, but the way forward for both him and Libya remains unclear.
Face-to-face talks in Abu Dhabi this month between Haftar and Libyan Prime Minister Fayez al-Sarraj, who leads the country's UN-backed government, were heralded as something of a breakthrough (The National, May 8). Certainly they were an improvement on earlier discussions in Cairo, where Egyptian diplomats struggled to keep things on track and the two men tried hard to avoid each other (Mada, February 25).
However, the UAE talks have not been universally welcomed back home, where some generally pro-government militias are unwilling to see any rapprochement with Haftar. At issue is the suggestion the UAE talks could pave the way for elections next year, with Haftar potentially standing as a rival to Sarraj. That suggestion is not one that has been endorsed by Sarraj — and given the security situation in Libya, it seems doubtful the country would be in a position to hold an election — but it is one that is being peddled by Haftar's supporters (al-Jazeera, May 3).
Within Libya's political patchwork, the Presidential Council, headed by Sarraj, counts on support from an alliance of Tripoli-based fighters and militia from Misrata. If those elements now feel too many concessions are being made to Haftar, that support base could fragment, with some pulled toward the nationalist "salvation government" of Khalifa al-Ghweil, who was ousted from his base in Tripoli's Rixos hotel in March and remains strongly opposed to Haftar (Libya Herald, March 15; Libya Observer, November 28, 2016).
While certain political elements in the West are intent on pushing the line that Haftar is the only actor demonstrating tangible gains on the ground in Libya, the LNA leader's position is far from clear-cut. In Benghazi, his forces are still fighting to capture the remaining Islamist holdouts of Sabri and Souq al-Hout, while the threatening rhetoric he employed at his military parade is unlikely to endear him to his rivals in Tripoli (Libya Observer, May 17). Meanwhile, a campaign to hold Haftar to account for alleged atrocities carried out against civilians by his forces in Ganfouda is gaining some traction. The International Criminal Court prosecutor Fatou Bensouda indicated the matter was on her radar in her report to the UN Security Council earlier this month.
Even if Western political sympathies do run in his favor, Haftar remains a divisive figure. He may need to make some concessions of his own if he is to take a greater role in Libya's future.
Kenya: Militants Exploit Trafficking Network
Three Kenyans and a Somali refugee were arrested by South Sudanese security forces this month trying to make their way to Libya to join Islamic State (IS), according to Kenyan media (The Standard, May 9). The arrests provide further evidence of a recruitment corridor that utilizes human trafficking networks through East Africa, and comes at a time when Kenya authorities are prosecuting one of the country's most wanted alleged terrorist facilitators.
The four arrested in South Sudan were apparently being trafficked by a cartel led by a man named Dahir Mohamed Dahir, currently being hunted by Kenyan police (KBC1, May 9). His is one of a number of cartels that supposedly operate along what Kenyan reports refer to as the "Magafe network."
The network has come into particular focus in recent weeks following the arrest of Ali Hussein Ali, nicknamed "the trusted one," whom Kenyan authorities accuse of playing a key role in terrorist financing and facilitating the travel of IS recruits from Kenya and Somalia to Libya, as well as of overseeing human trafficking operations to Europe (Kenyan National Police, March 30). [1]
Ali was arrested along with two others in the Kenyan costal town of Malindi on March 27 (The Standard, March 30). He now faces a trial on human trafficking offenses (Nairobi Times, May 3). Supporters in Somalia say Ali is simply a businessman and trader.
According to the Kenyan police, however, Ali facilitated the travel of recruits by land from safe houses in Nairobi's Eastleigh district, Malindi and elsewhere, before traveling to the Ugandan capital of Kampala via the Busia border crossing, on to Juba in South Sudan, Khartoum and then to Libya. In fact, investigators say the Magafe network maintains at least ten routes to Libya and Syria, including one that involves flying via the United Arab Emirates (Daily Nation, April 6).
Kenya's efforts to tackle trafficking have been somewhat inconsistent, but in recent years the government has introduced legislation aimed at making prosecutions easier, and the recent arrests suggests a crackdown of sorts is under way.
In April, four people were arrested in operations at the Dadaab refugee camp in Garissa, accused of trafficking and facilitating recruits to join IS and al-Shabaab (Daily Nation, April 6). Kenyan authorities say migrant smuggling cartels operate in the Ifo, Hagadera and Dagahaaley areas of the camp, and have several times threatened to close the whole complex down, a move quashed by the courts.
The vast majority of people using the Magafe routes are seeking better economic circumstances for themselves and their families. Many hope to reach Europe. Far fewer are set on joining militant groups. The network, however, provides cover for the movement of terrorist recruits, and it is in both Kenya's and the West's interests that it be disrupted.