Briefs
Publication: Terrorism Monitor Volume: 15 Issue: 14
By: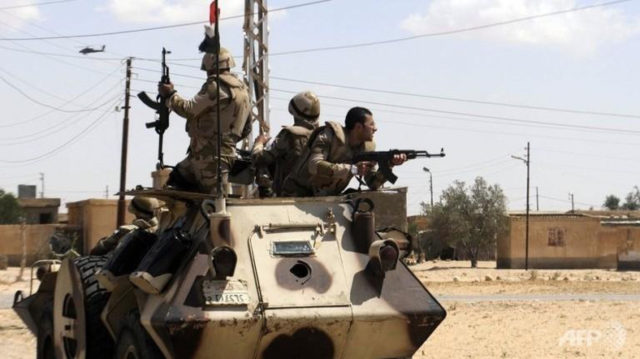 Egypt: The Rafah Attack and Hamas Under Pressure
Militants in northern Sinai killed at least 26 Egyptian solders in a suicide car-bomb attack on two military checkpoints near Rafah on July 7 (al-Jazeera, July 8). The attack, which was claimed by Islamic State (IS), was one of the deadliest on the military in years, but unconfirmed reports that some of the attackers were former members of Hamas have given the attack an added political dimension.
According to IS supporters posting on social media, at least three of the participants in the attack were former members of the al-Qassam Brigades (Asharq al-Awsat, July 9). There has been no official confirmation of that. Though under President Abdel-Fattah al-Sisi, Egypt has regularly pressured Hamas to hand over fighters in Gaza with links to IS' Sinai branch and the Egyptian Muslim Brotherhood. Hamas may now be more forthcoming on this point as the Saudi-led political rift with Qatar accelerates a thaw in the group's frosty relations with al-Sisi and gives Egypt even greater leverage over the Palestinian group.
Egypt — along with Saudi Arabia, the United Arab Emirates (UAE) and Bahrain — severed diplomatic relations with Qatar in June, accusing Doha of funding terrorism. Egypt particularly objects to Qatar's support for the Muslim Brotherhood and takes issue with Qatari broadcaster al-Jazeera. Adding fuel to the fire, Dhahi Khalfan, Dubai's often-vocal former police chief who has needled Qatar on several occasions, accused Doha of "funding, supporting and inciting" the Rafah attack  (Twitter, July 8; Egypt Today, July 9).
All of this puts Hamas, which was quick to condemn the attack, in a tricky position (el-Balad, July 7). The Palestinian group has been a major beneficiary of the humanitarian aid poured into the Gaza Strip by Qatar. For years, Qatar has hosted a number of its political leadership in Doha. With Qatar coming under pressure — Doha is already beginning to frame its support efforts as an act of compassion for the people of Gaza, rather than an endorsement of Hamas — the Palestinian group has been attempting to smooth things over with Egypt.
It has begun work on a buffer zone between Gaza and Egypt, an Egyptian demand that is expected to force a number of families from their homes (Haaretz, June 30). Likewise, it is now also softening its position toward exiled Fatah leader Mohammed Dahlan. Once hated by Hamas, there has been speculation over the last month that he could now return to Gaza (Maan, June 26). In that respect, he is aided by the election in February of Yahya Sinwar as leader of Hamas (al-Jazeera, February 18). The two have known each other since they were teenagers.
That would be a double win for Egypt. Dahlan is an adviser to Mohammed bin Zayed, Abu Dhabi's crown prince, and is on good terms with Egypt's al-Sisi. Having him in play would erode Qatar's position and further strengthen Egypt's hand in its dealings with Hamas.
The Philippines: Tightening the Net on the Maute Group
The Philippines' military has bombarded the city of Marawi in southern Mindanao for more than two months in an attempt to stamp out militants from the Maute Group. While this has been met with little success, their efforts may have been given a boost by the arrest of one of the group's main financiers.
Security forces raided a house in Barangay Macasandig, a village not far from Marawi, on July 5, arresting three people and seizing grenades and bomb-making equipment (Inquirer, July 5). One of the three arrested was identified as Monaliza Solaiman Romato, known as Monay, who reportedly acted as a "spy" for the group, but is also said to be heavily involved with the group's logistics and financing (Philippine Star, July 6). Another key figure in the group's finances, Irene Romato Idris, who was renting the house where the three were arrested, remains at large.
The Maute clan is supposedly matriarchal, and Idris and Monay have apparently taken over the purse strings from Ominta "Farhana" Romato, the mother of Abdullah and Omar Maute who instigated the fighting in Marawi (SunStar, July 5; see Militant Leadership Monitor, July 4, 2017). Both Idris and Monay are thought to be related to Farhana — Monay is her niece, while Idris is described by officials as a "distant relative" (PNA, July 5).
The net has slowly been closing in around the Mautes. Farhana was captured in June as she tried to flee Masiu, Lanao del Sur, in the back of a Toyota Revo with seven other women (SunStar, June 10). Just a few days earlier, Cayamora Maute, the Maute's father, was arrested in Sirawan, Davao City, picked up at a checkpoint travelling with his second wife. Apparently ill and flashing a peace sign at journalists as he was led away, he appears to have been less integral to his children's operation (Inquirer, June 11).
The fighting in Marawi appears to be abating, but the place has been a war zone since May 23, when Philippine security forces tracked Abu Sayyaf leader Isnilon Hapilon to the city and attempted to capture him, clashing with the Maute's followers and Abu Sayyaf fighters. President Rodrigo Duterte imposed martial law across southern Mindanao and bombing raids have reduced parts of Marawi to rubble. More than 460 people have been killed, including scores of civilians, and about 300,000 people have fled their homes (al-Jazeera, July 4). The siege is now virtually over, but Hapilon and the Maute brothers all appear to have escaped.
Officials have talked up the recent arrests, and it may be that the capture of Maute family members can provide some leverage — Abdullah Maute reportedly entertained the idea of swapping a kidnapped Catholic priest in return for the release of his parents and relatives (Inquirer, June 27). But with the Marawi assault at an end and the brothers still at large, it is more likely their group, which has links to both Jemaah Islamiyah and the Moro Islamic Liberation Front (MILF) and has pledged allegiance to IS, will simply continue its campaign elsewhere.