Does Islamic State Pose a Threat to India?
Publication: Terrorism Monitor Volume: 15 Issue: 13
By: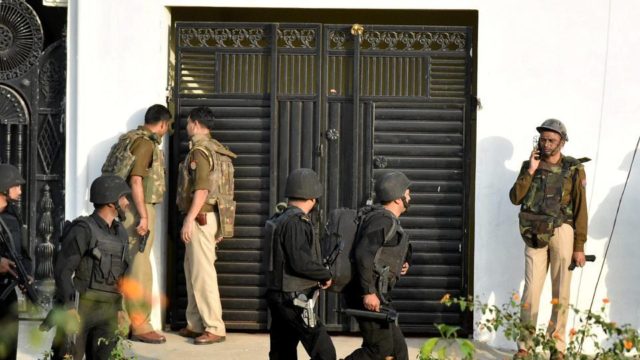 India first woke up to the emerging threat of Islamic State (IS) on its soil in May 2014, when four engineering students from Kalyan, Maharashtra, joined the group. In the intervening years, the security services have arrested more than 90 IS sympathizers, according to Indian Home Minister Rajnath Singh (Indian Express, June 3). Alongside this, at least six separate recruitment and indoctrination networks have been unearthed (DNA India, October 16).
Nonetheless, IS does not, on the face of it, have a physical presence in India, although at least two attacks can be attributed to Indian affiliates of the group. Should India be more worried about an IS threat?
Attacks at Home and Militants Abroad
On March 7, a blast on a Bhopal-Ujjain train, near Jabri railway station in the Shajapur district of Madhya Pradesh, left at least 10 people injured. The attack, later reported as IS-inspired, triggered a nationwide investigation by the intelligence agencies that centered on the states of Madhya Pradesh and Uttar Pradesh (India Live Today, March 8). The security services rounded up several people suspected of being part of a nascent militant network, killing one member of the suspected group, a man identified as Mohammed Saifullah, in a shootout in Lucknow's Thakurganj area. The suspects — including Saifullah and the supposed architect of the plot, a former Indian Air Force (IAF) employee named Mohammad Ghaus Khan — were natives of Uttar Pradesh's Kanpur and Aligarh cities and are said to have been influenced by Mufti Abdus Sami, a pro-IS cleric who has been in the custody of India's National Investigations Agency since February 2016 (Firstpost, March 10).
An earlier attack, the Church Street blast in Bengaluru, Karnataka, in December 2014, resulted in the death of one person and was suspected to be masterminded by IS militant Safi Ahmed Armar of Bhatkal (Indian Express, May 15, 2016; The Hindu, June 17). However, IS has made no claims of responsibility for these attacks.
Safi Armar, an Indian militant who goes by the nom de guerre Yousuf-al-Hindi, is the chief recruiter for IS in India. He has faked his own death a number of times in the past, but is believed to be alive. Amar was recently listed as a "Specially Designated Global Terrorist" by the United States, making him the first Indian-origin IS militant to be sanctioned by the U.S. Treasury Department (The Hindu, June 15). [1]
Although there is no official data to show how many Indians have joined IS in Syria, Afghanistan or elsewhere, there are reports of IS militants of Indian origin who have either been killed or injured while fighting abroad.
Between February and April 2017, three IS militants — identified as Bestin Vincent (a.k.a. Yahya), Murshid Muhammed and TK Haeezudin — from the Kasaragod and Palakkad areas of the Indian state of Kerala, were killed in Nangarhar province in Afghanistan (The Quint, April 30). Vincent had left Kerala with his wife in May 2016, and he was followed by nearly 20 people to also seeking to join the IS Afghanistan affiliate known as Wilayat Khorasan.
When the U.S. military dropped its Massive Ordnance Air Blast Bomb (MOAB), the country's most powerful non-nuclear bomb, on Wilayat Khorasan positions in eastern Afghanistan in April, nearly 13 Indian-origin IS militants were reported among those killed (Pajhwok News (Kabul), April 18).
Prior to this, several Indian-origin militants had been killed in Syria. One of the earliest IS recruits, Sultan Kadir Armar of Bhatkal, Karnataka, died fighting for the group in Kobani in March 2015. Two other known militants killed in Syria were Aman Tandel, killed in December 2016, and Saheem Tanki, killed in August 2015 (Indian Express, March 25, 2015; Firstpost, December 30, 2016).
Kerala's Caliphate Conundrum
At home, the southern Indian state of Kerala tops the list for the most residents arrested over IS links. According to figures from the National Investigation Agency (NIA) and other state investigating agencies released in mid-March, Kerala has had 21 arrests of this nature.
The figures from other states — Telangana (16), Karnataka (9), Maharashtra (8), Madhya Pradesh (6), Uttarakhand (4), Uttar Pradesh (3), Tamil Nadu (4) and Rajasthan (2) — speak volumes about the pan-Indian reach of IS' message and ideals (Press Information Bureau, March 15). Investigations show IS is appealing to Indian youths through social media channels, messaging platforms and online jihadist discussion forums, encouraging those it engages to travel to Iraq and Syria or places where IS affiliates have a presence, such as Afghanistan.
The epicenters of Kerala's IS-related radicalization and recruitment are the districts of Tirunelveli, Kannur and Kasaragod. These districts have witnessed a substantial growth in Islamist recruitment and indoctrination activities over the last few years.
One Indian militant, Subahani Haja, a native of Thodupuzha, Kerala, is suspected to have fought for IS in Mosul, Iraq before his arrest in India in 2015. He was allegedly part of an IS regiment named Omer-Kathi-Kaliph, commanded by an individual named Abu Sulaimani al-Francisse. He also reportedly claims to have met the November 2015 Paris bombers when he crossed over to Iraqi territory under control of the IS (New Indian Express, April 29).
The earlier arrest in October 2016 of at least six men, including one Manseed (Omar al-Hindi) from Kerala, who were part of an IS-inspired group called the "Ansar-ul-Khilafah Kerala," exposed the spread of grassroots Islamism in Kerala through social media platforms like Telegram and Facebook (India Times, October 4, 2016).
The reason behind this rise in radicalization in Kerala is blamed mainly on the growth of online preaching activities and easily accessible online propaganda materials, as well as material physically distributed by lay preachers and Islamic centers.
The interactions through close Dawa (the proselytizing of Islam) groups active in many of these districts may also attract more young people toward Salafist ideals and to other new ultra-religious ideology and movements like Kerala Nadwat-ul Mujahideen, Tablighi Jamaat or Jamat-e-Islami (Firstpost, August 25, 2016). Most of these movements are backed by Saudi Arabia or other rich Islamic countries in the Middle East whose donations also support and maintain mosques, schools, seminaries and libraries.
Some local Sunni groups and Islamic schools are also responsible for this sudden growth of Caliphate-related interest in Kerala. Several schools run by MM Akbar, a Salafist Islamic preacher, were found to be using non-standard textbooks that taught a distorted version of Islam akin to that employed by IS (News Minute, January 6; Asiannet News TV, January 5)
Akbar runs at least 13 Peace International Schools in Kerala, along with Peace Foundations and Akbar's own propaganda organization called "Niche of Truth." He recently fled to Qatar, fearing arrest (News Minute, January 6).
Similarly, TV evangelist Zakir Naik and members of his Islamic Research Foundation (IRF) have been accused of radicalizing young people to join IS (The Hindu, October 12, 2016).
Propaganda Campaign
IS has focused some of its own propaganda on India. A May 2016 video message titled "The Bilad al-Hind [Land of India] – Between Pain and Hope," featured what was supposedly a Syria-based exclusively Indian fighting unit. [2]
In the film, IS threatens to wage jihad against India and urges all Muslims to take revenge against the injustices meted out to Indian Muslims in Kashmir, for the demolition of Babri Masjid and for the communal riots in Gujarat and Muzaffarnagar.
Most of the militants featured in the video are suspected to be former Indian Mujahideen militants who fled India in recent years. Among them, three are from Kalyan, Maharashtra, having travelled to Syria in 2014 (The Hindu, May 24, 2016).
The IS video — which is in fact a compilation of footage and images taken over a number of years — is comprised of interviews with individuals who joined IS and images of the group pledging allegiance, singing jihadist tarana (songs) and eating together at a camp. The film, subtitled in Arabic, is also interesting for its inclusion of historical images depicting Muhammad bin Qasim's marauding Islamic army, Muslims fighting during India's freedom struggle from British colonial rule, the Constitution of India and Muslim leaders who are working with the Indian establishment.
IS propaganda materials concerning India tend to depict the country's Hindu majority as worshippers of cows, trees and the moon and sun. They urge Muslims not to indulge Hindus or maintain social or business relations with them. This kind of agitation along sectarian lines is potentially a real weakness for India. When under interrogation, IS sympathizers have revealed plots against pro-Hindu groups, some of which are themselves guilty of anti-Islamic practices.
Keeping Watch
Although the Indian government is cautiously watching IS-related activities in the country, it is of the view that the IS outreach and recruitment strategies are still in a nascent stage.
Home Minster Singh recently underscored that, despite a sizeable Muslim population, IS has not been able to gain a foothold in India (India Today, June 03). That confidence notwithstanding, IS' violent ideals have clearly managed to entice some Indian youths into its fold.
Alarmingly, the pro-Hindu policies of the present government in India — such as state-level efforts to ban the slaughter of cows — risk providing additional fodder for Islamist propaganda campaigns. These policies are already fueling communal tensions, and Muslim communities have complained of vigilante groups made up of so-called Hindu nationalists.
Any deterioration of Hindu-Muslim relations could trigger widespread discontent that will be exploited by Islamist groups like IS to attract a stream of recruits from India's Muslim community.
NOTES
[1] "Terrorist Designations of Mohammad Shafi Armar, Oussama Ahmad Atar, and Mohammed Isa YousifSaqar Al Binali," U.S. State Department, Washington, DC, June 15, 2017, https://www.state.gov/r/pa/prs/ps/2017/06/271921.htm
[2] "The Islamic State: The Land of India – Between Pain and Hope," May 19, 2016, https://videopress.com/v/yu5ABFTb