Briefs
Publication: Terrorism Monitor Volume: 15 Issue: 13
By: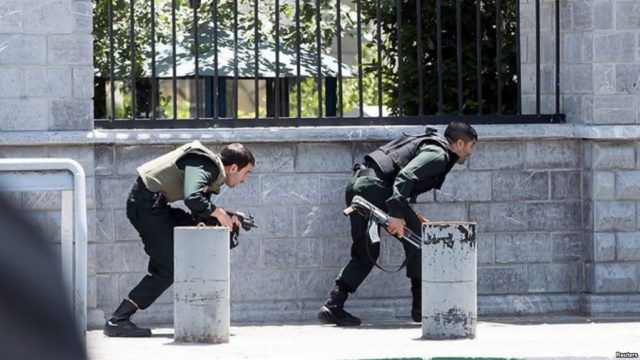 Iran: Striking Back at Islamic State
A coordinated attack in the Iranian capital of Tehran, supposedly by Islamic State (IS), has prompted a furious response from the Iranian government. Among other things, this attack highlighted the sectarian risks engendered by Tehran's efforts in Syria and elsewhere.
On June 7, gunmen wearing suicide vests attacked the Iranian parliament and the mausoleum of the founder of the Islamic Republic, Ayatollah Khomeini, killing at least 13 people and wounding more than 50 others (al-Arabiya, June 7). The events were shocking, not least because Tehran has not seen such violence since the attacks by the Mojahedin-e-Khalq (MEK) in the years after the 1979 Revolution, but also because the targeted sites, both highly symbolic, are considered to be well protected.
IS quickly claimed that it was behind the attack. In response, Tehran launched a ballistic missile strike on IS bases in Syria and vowed further retaliation (YJC, June 21). Such future retaliations will likely also take place in Syria and Iraq. Meanwhile, in Iran, the intelligence services claimed to have rounded up at least 40 people connected to IS (FNA, June 21).
Over the years, Iran has developed a significant and ruthless domestic counter-terrorism operation, in large part a legacy of the MEK's activities in the 1980s. Following the attacks in the capital, Mahmoud Alav, Iran's intelligence minister, was at pains to stress that this has largely been a successful operation, disrupting 25 terror cells in the months prior to the assault on the parliament building (YJC, June 11).
Even so, Iran might have done more to anticipate IS activities within its borders, especially given its role in conflicts abroad, its treatment of minorities at home and IS' avowed anti-Shia ideology. The group appears to have been actively recruiting in Iran since 2014. It also appears to have received backing from Iranian Kurds, who are thought to have been involved in the Tehran attacks (al-Monitor, June 9). Added to this, the Iranian military has reported several instances over the last year in which it has killed supposed IS recruits in Kermanshah, a majority Sunni-Kurdish province in western Iran (al-Arabiya, August 16, 2016).
Unsurprisingly, the Iranian Revolutionary Guard Corp (IRGC) insisted that Saudi Arabia must also be complicit, vowing in a statement that the "spilled blood of the innocent will not remain unavenged" (al-Jazeera, June 7). Some Iranian officials have extended this threat to the United States and Israel (FNA, June 20). Many see the attack in the light of international attempts to curb Iranian regional influence, coming as it does at a time when Saudi Arabia is punishing Qatar, at least in part, over its friendlier relations toward Tehran.
A more measured Iranian response, however, will be one that examines its own policies in the light of regional sectarianism, which is an issue that is much closer to home.
Niger: Trouble From the Neighbors
Niger has extended a state of emergency in two of the country's western regions over fears of jihadist attacks. The move, which took effect on June 18, means the security forces can continue to employ extra powers, though their ability to tackle the main threat remains limited as it sits across the border in Mali.
The state of emergency in parts of the Tillaberi and Tahoua regions, two areas that have seen repeated cross-border attacks, was imposed in March (Le Figaro, March 3; Africa News, March 4). It followed a series of bloody attacks, one in February on a military patrol in Interzawane, close to the border with Mali, which left at least 15 soldiers dead and prompted Niger's President Mahamadou Issoufou to request further military support from France (RFI, February 26).
The attacks have eased up only slightly since then. On March 6, militants killed seven members of the security forces and wounded four others in an attack on a guard post in Wanzarbe, in Tillaberi (Sahel Standard, March 6). In May, gunmen killed six members of the security forces in an attack on a military post in Abala, 200 kilometers from the Mali border (Le Monde, June 1).
Following that attack, Niger's security forces rounded up six suspected members of the Movement for Oneness and Jihad in West Africa (MUJAO) (Sahel Intelligence, June 2; Koaci, June 2). With the state of emergency extended for another three months, the military will be able to maintain curfews and traffic restrictions. They also have the right to carry out impromptu searches on people's homes. But with militant attacks focused on the security forces themselves, there can be a limited tolerance for such intrusions. Further adding to tensions, anti-government protesters include the presence of foreign military bases in the country— those of the United States, France and Germany — among their complaints.
Without foreign support, however, Niger's overstretched military will struggle to tackle cross-border terror groups. Militants in Mali have consolidated their forces and are becoming increasingly daring. Gunmen apparently from Nusrat al-Islam wal Muslimeen, the newly formed al-Qaeda alliance, stormed the high-end Le Campement Kangaba resort in Dougourakoro, east of the Malian capital of Bamako, on June 18, killing at least two people (Africa News, June 19). The attack had the potential to be much worse, but Malian forces, backed by UN and French troops, responded quickly.
Landlocked Niger's geographical position has bequeathed it some difficult neighbors. With Mali and Burkina Faso to the west both coping with Islamist insurgencies, and Boko Haram infiltrating the country in the southeast, Niger remains largely reliant on the efforts of others in order to bring an end to Islamist attacks on its territory.