Haiat Tahrir al-Sham Ascendant in Northwest Syria
Publication: Terrorism Monitor Volume: 15 Issue: 13
By: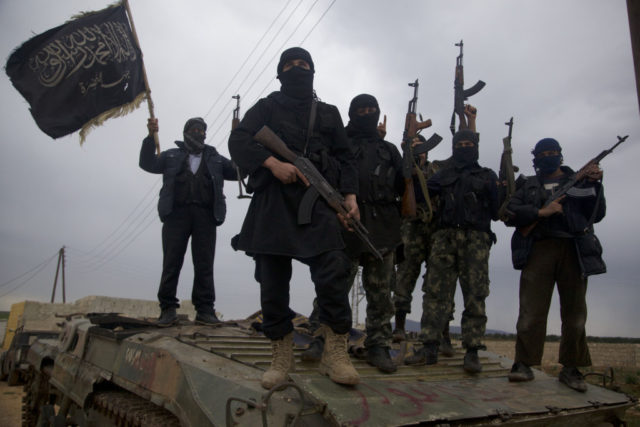 The fall of the opposition-controlled sector of Aleppo in December last year was a major blow to Syrian rebel groups who had always asserted that they would hold their ground. The city's fall, quickly followed by a Russian-Turkish accord and the sponsorship by those countries of a new round of negotiations with the regime of Syrian President Bashar al-Assad, has precipitated changes in the dynamics of intra-opposition relations.
Overall, the rebel movement has become more polarized and prone to infighting, a development that is particularly clear in the country's northwest where the Salafist-jihadist group Liwa al-Aqsa (LAQ) has emerged.
Two large rebel blocs have also grown in prominence — the first a coalition led by the Muslim Brotherhood-rooted Harakat Ahrar al-Sham al-Islamia, widely referred to as Ahrar, and the other an alliance formed by the merger of al-Nusra's Jabhat Fateh al-Sham (JFS) and four other groups into a single organization called Haiat Tahrir al-Sham (HTS).
In an opposition landscape increasingly marred by mistrust and resentment, these two groups have seen their ranks bolstered as clashes between LAQ and other rebels push smaller groups to seek their protection (UltraSawt, February 18).
Liwa al-Aqsa
Following the fall of Aleppo, LAQ was formed from a core group of diehard jihadists left behind after the collapse of Jund al-Aqsa (JAQ), an ally of the al-Qaeda affiliated al-Nusra Front active in northern Syria in the early days of Syria's civil war.
JAQ had close ties to al-Nusra, with JAQ founder Abdul Aziz al-Qatari accompanying Abu Muhammad al-Jolani, the founder of al-Nusra, when he was sent by IS from Iraq to Syria to start the movement. However, while JAQ shared al-Nusra's ideology, it refused to join it in fighting IS when the group separated from al-Nusra in 2013, arguing that there should be no conflict between fellow jihadists.
After the fall of Aleppo, however, JAQ was unable to maintain the position of being distinct from but friendly toward al-Nusra. Instead, it dissolved.
Some former members joined HTS, which had formed in January as the second major step by the al-Nusra Front to demonstrate its disputed claim to have severed ties with al-Qaeda; another contingent, probably due to their ethnic background, joined the Turkistan Islamic Party (TIP), made up primarily of fighters from Central Asian nations (Arabi 21, February 23). The remainder formed LAQ.
Safe Passage Agreement
Fighters with the newly formed group carried out their first attack in early February on several outposts held by Jaish al-Nasr (JAN) and began menacing other groups.
HTS intervened. A meeting between HTS and LAQ leaders was arranged in an attempt to bridge their differences and make peace. HTS raised its concerns over what were then unconfirmed reports that LAQ had declared allegiance to IS (Raqqa Post, February 19; Shaam, February 12).
There was no agreement, and the talks quickly collapsed. LAQ then struck directly against HTS sites and checkpoints (al-Hayat, February 14). Its most devastating attack was against an HTS court in Idlib on February 13, where HTS says the group carried out the summary execution of 45 HTS members and civilians. It later emerged that LAQ had executed 130 prisoners from other rebel groups that it had captured previously (Shaa, February 13). The mass killings, carried out in the town of Khan Sheikhon in Hama, were a tipping point, and HTS decided to move against LAQ on all fronts.
After four days of fighting, with little movement achieved and 50 fighters reportedly killed on either side, another meeting was arranged between representatives of the two groups. Although neither side appears to have convinced the other of their ideological convictions, they were able to negotiate an end to the violence (SOHR, February 22).
The exact terms of the final deal were disputed, but all LAQ fighters eventually withdrew, leaving behind their heavy weaponry in exchange for the safe passage of 600 people (fighters along with their families) to IS strongholds in eastern Hama.
HTS was criticized heavily by other rebel factions for allowing LAQ to withdraw, but the group's decision was pragmatic and removed the presence of a group with IS sympathies from its sphere of influence. Even under pressure, IS' better organized and more ruthless fighters have proved to be difficult opponents for other rebel groups. HTS was keen to avoid becoming mired in such a battle, especially as they entertain the hope that LAQ will eventually embrace their brand and join them, rather than ally with IS (al-Moson, February 18).
Shifting Power Dynamics
Although most LAQ attacks were not directed at HTS — instead they targeted other groups, including HTS' main rival Ahrar — HTS has been able to capitalize on the fluid situation among the opposition and, at present, appears to be the only one with both the capabilities and willingness to tackle LAQ.
HTS has emerged as a dominant rebel power, consolidating its hold in large parts of Idlib and Hama provinces. The group has shown a pragmatic streak, successfully emerging from conflict with IS-linked groups and effectively ending the IS threat to smaller rebel groups in the area. It has brought many of those groups together and its bloody encounter with LAQ has bolstered its claim to be separate from al-Nusra.
However, LAQ has not been defeated. Instead, it has shown that even a small, isolated group can put up a tough fight, avoid punishment for abuses such as the mass execution of prisoners and force a negotiated agreement. Their withdrawal to IS territory also practically guarantees the group will now bolster IS' ranks as IS does not allow independent entities to operate within its structure.