Briefs
Publication: Terrorism Monitor Volume: 15 Issue: 15
By: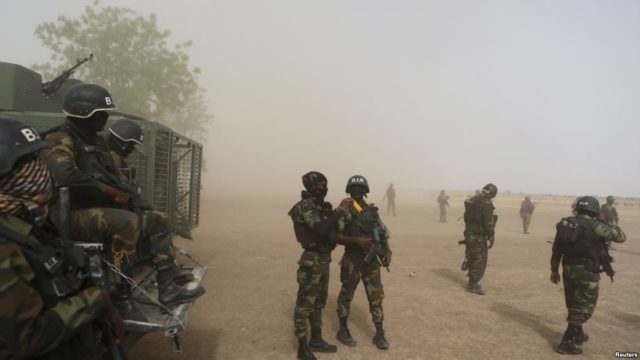 Cameroon: Boko Haram Stepping Up Attacks
Two suicide bombers killed at least 14 people and wounded another 30 in northeast Cameroon on July 12 in an attack on a bustling market town near the Nigerian border (Cameroon-Info, July 14). The attack in Waza, attributed to Boko Haram, is the latest in what appears to be a resurgence of Boko Haram attacks in Cameroon's Far North region and elsewhere (Kmer SAGA, July 13).
After a dip in Boko Haram violence in the region, militants appear to be stepping up operations. Just a few days ahead of the Waza attack, members of Cameroon's Rapid Intervention Brigade (BIR) intercepted a group of suspected Boko Haram fighters — made up of four men and eight women — near Amichde, also near the Nigerian border (Kmer SAGA, July 11). Two of the alleged fighters were killed while the others escaped.
Cameroon's Far North region saw 18 suicide bombings in June, according to the International Crisis Group. There were also numerous clashes with BIR solders and members of local "vigilance committees," the vigilante groups Cameroon encourages as a form of local police.
Across the border, Nigeria has seen a similar increase in attacks after a period of relative quiet. A Boko Haram suicide attack killed at least 12 people and wounded another 18 on the outskirts of Maiduguri, the Borno state capital (Daily Post, July 17).  The attack, reportedly carried out by two female suicide bombers, follows a wave of similar suicide attacks carried out in the same area (Sahara Reporters, June 19). The Nigerian army is now under orders to capture Boko Haram leader Abubakar Shekau "dead or alive" within the next 40 days (Premium Times, July 22).
In Cameroon, the military is conducting a similarly tough campaign, one that has received criticism in a recent report by Amnesty International, which accused Cameroon of torturing citizens suspected of supporting Boko Haram (al-Jazeera, July 20)
Analysts have warned that Cameroon, Nigeria and others in the region that are fighting against Boko Haram must develop a more comprehensive strategy that will take the fight to the extremists while at the same time hold the security forces accountable and resist the harsh treatment of local communities. Without that, it is argued, Boko Haram cannot be permanently defeated. The recent attacks may be evidence of this.
If officials are considering a more nuanced strategy, it is unclear. Certainly the rhetoric remains unchanged. Cameroonian officials met with their counterparts from Nigeria, Niger, Chad and Benin, in the capital Yaoundé this month to discuss the regional security and humanitarian situation. Few details of the meeting were released, but Cameroon's defense minister, Joseph Beti Assomo, described it only as bringing the neighbors closer to the goal of "complete eradication of Boko Haram" (Kmer SAGA, July 9).
Qatar: Tightening Up Anti-Terror Laws
Qatar announced changes to its anti-terrorism legislation on July 20, including amending rules that define terrorism and establishing two national terrorism lists, efforts that are aimed at ending the boycott by Saudi Arabia, Egypt, Bahrain and the United Arab Emirates (UAE) (New Arab, July 21). It follows an agreement with the United States — signed while U.S. Secretary of State Rex Tillerson was in Doha on July 11 — committing Qatar to work with the United States to fight terrorism financing.
The move is broadly seen as positive by the Arab states, but they still dismissed it as "insufficient" to ease their boycott (Gulf News, July 21). Qatar's planned changes are loosely in line with some of the demands made of them, including freezing the assets of those designated terrorists by the Arab states and handing over wanted individuals. There is now interest to see who makes it onto the Qatari lists (The National, July 21).
The Arab states have made clear who and what they consider blacklisted, releasing a list of 59 individuals and 12 organizations (examined in detail by Andrew McGregor in the previous issue of Terrorism Monitor). Among them is Abdulrahman al-Naimi, a Qatari academic who is accused of orchestrating the transfer of millions of dollars to groups in Iraq and Syria. Al-Naimi is something of an "easy sell" in the West since, as a Specially Designated National (SDN), he already appears on sanctions lists. Indeed, when Anwar Gargash, the UAE's minister of foreign affairs, spoke on the issue in London this month, al-Naimi was the example he gave to illustrate Qatar's nefariousness. Less explicable — and unmentioned by Gargash — are the Bahraini opposition groups that also make the list.
The Arab states are also keen to stress that Qatar's alleged sponsorship of terror groups sabotaged international efforts to find non-jihadist partners on the ground in Syria. Qatar denies this. Its foreign minister, Mohammed bin Abdulrahman al-Thani, said his country had never funded Jabhat Fateh al-Sham (formerly the al-Qaeda-linked Nusra Front) or other terror groups in Syria (al-Jazeera, 22 June). But Qatar was sloppy about the funding it did send to Syria, and it was slow to crack down on private donations to jihadist groups, although it hardly stands alone in that regard.
Qatar's problem has been its willingness to back Islamists — Qatar's support of the Muslim Brotherhood is what really riles the Arab states.  Unsurprisingly, its definition of terrorism has differed from that of its neighbors. While the Arab states have dismissed Qatar's proposed legislative changes, they may still prove to be a greater step toward resolving the crisis than the UAE and others are letting on. Its critics will say Qatar has made commitments to tackle terrorism funding in the past and failed to live up to them (The National, July 11). But bringing its definition of terrorism more in line with that of its neighbors is a practical step that Qatar can actually take. By contrast, it is highly unlikely to shut down al-Jazeera, another of the demands and one that, unlike the accusations about Syria, plays less well internationally (al-Jazeera, June 30).