Understanding Australia's Brighton Siege Terror Attack
Publication: Terrorism Monitor Volume: 15 Issue: 14
By: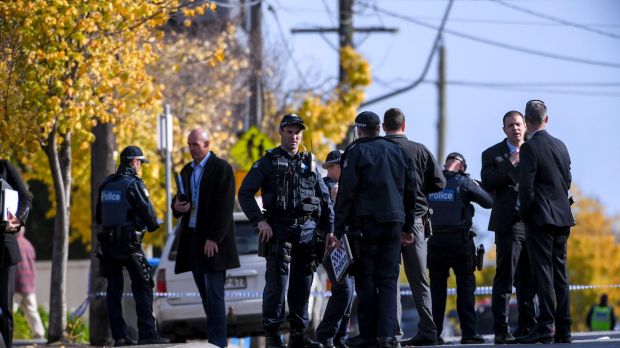 Last month, Australia experienced its fifth jihadist attack since September 2014. On the afternoon of June 5, 2017, a 29-year old man named Yacqub Khayre tampered with the electronic ankle bracelet he had to wear after being recently released from prison on parole. He then booked a serviced apartment located at a busy intersection in the Melbourne suburb of Brighton, hired an escort to meet him there and travelled to the apartment, armed with a sawed-off shotgun (The Australian, June 7).
On arrival, he murdered the hotel clerk, a 36-year old Chinese-Australian man named Kai Hao, before forcibly dragging the escort into the apartment (Herald Sun, June 11). After barricading himself in the apartment at around 4 p.m., he called emergency services to announce the murder and his possession of a hostage. This created a heavy police presence around the building. He then called the news chief of a television network at 5:41 p.m. to declare: "This is for [Islamic State], this is for al-Qaeda" (The Australian, June 7). Soon after, he came out of the front of the building and fired at the police. He hit three officers, causing non-life threatening injuries, before being shot dead (The Australian, June 7).
At this stage, Khayre's path toward the attack can only be tentatively pieced together from public information. He had a long history of drug use, theft and violence, but he cannot be regarded solely as another criminal opportunist latching on to the Islamic State (IS) brand. He had earlier been on the periphery of Australia's jihadist scene and had been connected to a terror plot in 2009.
Yacqub Khayre's Path to Militancy
Khayre was born in Mogadishu in 1987, and he came to Australia as a child in 1991, travelling with his grandparents through a Kenyan refugee camp (The Age, June 6). He grew up in Melbourne and turned to crime in his teens after his grandfather died (The Australian, June 7). He used amphetamines and carried out car theft, burglary and assault (The Australian, June 7). This led to him being detained in a youth justice center until 2008 (The Australian, June 7).
Shortly after, he became involved with a small network of Melbourne-based supporters of the Somali jihadist movement al-Shabaab. This network dispatched him to Somalia on April 3, 2009 (Sydney Morning Herald, December 10, 2010). There he joined al-Shabaab, but became regarded as an unreliable recruit. After some basic training, he was assigned to a frontline unit, which a counter-terrorism officer described as a "cannon fodder brigade," before he deserted and returned to Australia (The Australian, June 7).
On August 4, 2009, he and four other members of the network were charged over a mass-shooting plot targeting Holsworthy Army Barracks in Sydney (R v Fattal & Ors, December 16, 2011). In court, his lawyer argued that his travel to Somalia was not part of the plot, and that he was instead seeking a fatwa (religious decree) to use fraud to obtain money and fighters in Australia for al-Shabaab (Sydney Morning Herald, December 10, 2010). The prosecution alleged that he was in fact seeking a fatwa to authorize the Holsworthy terror attack, but the jury was unconvinced. While three of the accused — Wissam Fattal, Saney Aweys and Nayef el-Sayed — were found guilty, Khayre was acquitted (Fattal & Ors v The Queen, October 2, 2013).
Freed from prison on December 23, 2010, he soon returned to crime. In 2011, he was imprisoned for car theft, illegal firearms possession and other offenses, only to be released in November later that year. On April 22, 2012, he burgled a house and assaulted the occupants, leading to a prison sentence of five years and six months (DPP v Khayre, October 12, 2012). He was released on parole in December 2016, and within six months would carry out the Brighton attack (ABC, June 7, 2016).
Launching the Attack
Khayre's decision to carry out the attack appears to have been made on his own. While the police investigating the incident have charged four people with firearms offenses, they have not accused them of being involved in the plot (Australian Federal Police, June 13; Australian Federal Police, June 16).
There is also no indication that he received direct instructions from IS members in Syria and Iraq, or pledged allegiance to IS leader Abu Bakr al-Baghdadi. Instead, during the attack, he expressed support for both IS and al-Qaeda. This is not altogether unusual — the Orlando shooter Omar Mateen made similar statements — but does point to the strong likelihood of it being an inspired, rather than a directed, attack.
The incident occurred as part of a wave of jihadist attacks throughout the West in recent years. Ever since IS spokesman Abu Muhammad al-Adnani made his worldwide call to arms in September 2014, a number of unstable individuals with histories of violence have launched lone attacks. His criminal past and drug addiction resembles that of the IS "irregulars," and his earlier involvement with al-Shabaab and local jihadists may have made him more receptive (Foreign Policy, December 23, 2014).
There may have also been a copycat element, with his attack coming so soon after the well-publicized attacks in Manchester and London. There were also many examples to follow in Australia, which had experienced four jihadist attacks in the preceding years. These included the September 2014 stabbing of two counter-terrorism officers in Melbourne, the December 2014 hostage-seizure and murder in the Lindt Café in Sydney, the October 2015 murder of a police employee in Sydney, and the September 2016 stabbing of a civilian in Sydney. There have also been up to a dozen foiled plots, usually involving knives or firearms and targeting police officers (CTC Sentinel, March 10).
The process by which Khayre chose his specific attack method is also unclear, but there are several apparent advantages to it. Acting alone, he would have needed a method that he could carry out by himself. Being on parole and monitored by an electronic ankle bracelet, he would have needed a method that could be quickly prepared and carried out.
He chose a barricade hostage attack. That suited his circumstances and has become popular among Western jihadists in recent years (CTC Sentinel, January 20, 2015). The method provides an opportunity for a single, poorly armed individual to both attract mass media attention and potentially kill police officers. It was also a method explicitly recommended by IS. The "Just Terror Tactics" section of issue 9 of the group's magazine Rumiyah, released just a month before the attack, advised renting apartments to take hostages and lure and kill police (Rumiyah, May 4). [1]
Another aspect of the method's appeal may have been martyrdom. The high likelihood of his own death must have been clear, and it was consistent with his earlier connection to the Holsworthy Barracks plot where the plotters aimed, fedayeen-style (guerrilla fighter), to shoot as many soldiers as possible before being killed themselves (see R v Fattal & Ors, December 16, 2011).
Implications
The June 2017 Brighton attack was Australia's second barricade hostage incident and murder perpetrated by a lone actor jihadist armed with a shotgun. It was also the fifth jihadist attack in Australia since September 2014, and the third fatal one.
The use of a serviced apartment, and that the attack targeted both the police and the public at the same time, were new elements that suggest the influence of IS' Rumiyah magazine.
Another new, but little recognized, feature was that this was the first ever terror attack in Australia by an individual who had trained with a jihadist group abroad. On the whole, the Brighton attack reminds us that that jihadist plots will periodically recur in Australia, will evolve to take varying forms and will sometimes prove to be deadly.
NOTES
[1] One part of the Rumiyah article reads: However, in order for the operation to gain wide publicity and more effectively plant terror into the hearts of the disbelievers, one can keep some of his victims alive and restrained, making for a more lengthy and drawn-out hostage scenario. One may then notify the authorities, explaining to them that he is a soldier of the Islamic State and informing them of what he has just done. This will of course result in his location being surrounded, and eventually stormed, by armed forces. In such a scenario, he can delay their entry by using the surviving hostages as human shields – only keeping alive those necessary for this purpose. The intention of this delay is therefore only to prolong the terror, as the ideal scenario is that they storm the location and he is killed as a shahid – inshaallah – after having inflicted upon the kuffar a just massacre.