Briefs
Publication: Terrorism Monitor Volume: 15 Issue: 18
By: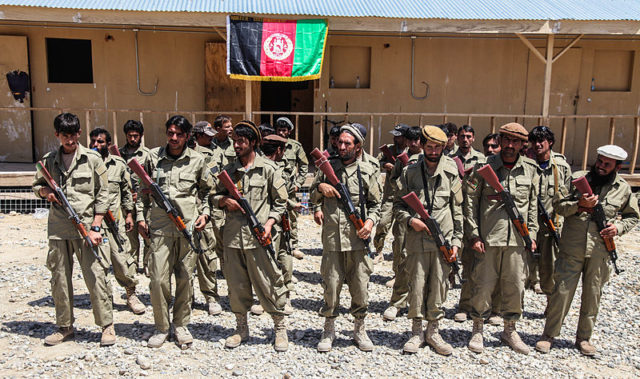 Afghanistan: The Need for New Ideas
With the commitment of thousands more U.S. troops to Afghanistan, Kabul is also eager for a shift in Washington's attitude toward Pakistan. Meanwhile, plans for a new Afghan militia that can be deployed to troubled areas in support of the national army have come in for criticism.
Afghan media recently seized on an apparent admission by Pakistani Prime Minister Shahid Khaqan Abbasi that the perpetrators of a devastating truck bombing that hit Kabul in May had come from Pakistan (Tolo, September 18; Pajhwok, September 18). The blast hit Kabul's diplomatic district, killing at least 150 people, according to some reports (al-Jazeera, June 6). In an interview with the Financial Times, Abbasi said it "seemed" that the bombers had crossed over the border from Pakistan (Financial Times, September 17).
Such finger pointing between Afghanistan and Pakistan is not unusual, but it has taken on a renewed intensity in recent weeks after the U.S. administration changed tack to commit another 3,000 troops to Afghanistan and hinted that it could take a stronger line on Pakistan's efforts to tackle militants.
That could explain a report in the Afghan government-run Hewad newspaper, which claimed Taliban officials have been fleeing safe havens in Pakistan amid a wave of "mysterious" assassinations (Hewad, September 17). Possibly as it attempts to gauge the U.S. position, Pakistan is cracking down.
The report's other claim that fleeing Taliban leaders are making contact with the Afghan High Peace Council, the inefficient government body attempting to bring armed groups into the peace process, seems more fanciful. It seems more likely that Kabul will have a fight on its hands, one it appears intent on tackling with a planned new militia, despite criticism from rights groups and politicians who argue the funds would be better spent on support for the national army (Weesa, September 17).
The force, which will fall under the control of the ministry of defense, is modeled on the Afghan Local Police (ALP), an initiative that began in 2009 and aimed to establish localized units in areas under threat from the Taliban. It is now an established part of the Afghanistan security landscape. Supporters say a community-based force is naturally more effective at tackling local insurgents, but the picture is more mixed, with some units better than others and many accused of perpetrating abuses.
The proposed new militia could reportedly number 20,000 fighters (Tolo, September 15). Human Rights Watch has urged Kabul to abandon the idea, warning an outsourced defense force will be hard to control and risks becoming a means to bolster local strongmen (Tolo, September 18).
Myanmar: Rohingya Crisis Risks Opening Door to Islamists
A military crackdown on Rohingya Muslims in Myanmar's Rakhine state has created a refugee crisis for the country's neighbors and risks establishing a new jihadist rallying point in Southeast Asia.
The latest violence in Myanmar began in August, after fighters with the Arakan Rohingya Salvation Army (ARSA) staged a series of attacks on police and army positions. An ARSA spokesman claimed the attacks were retaliation for abuses by the security forces (Asia Times, August 28). The military response has been severe and indiscriminate — including setting fire to peoples' homes — prompting more than 400,000 Rohingya to flee over the last two months (al-Jazeera, September 17). Myanmar's elected leader, the Nobel peace prize winner Aung San Su Kyi, has failed to reign in the military — something she may not in fact be able to do — nor has she condemned the violence, something she certainly could.
In the meantime, jihadist networks are attempting to use the situation to their advantage, including al-Qaeda, which posted a call on Telegram for Islamists in South Asia and the Philippines to take up arms in support of their "Muslim brothers," according to the SITE intelligence group.
ARSA, formerly known as Harakah al-Yaqin, initially encouraged this kind of messaging, but appears to have watered down its Islamist rhetoric, aiming instead for greater international appeal  (The National, September 13).  Abu Ammar Junoni, better known as Hafiz Tohar, the group's reported leader, has issued a statement denying ARSA has links to al-Qaeda or other international Islamist terror networks (Dhaka Tribune, September 14). That is difficult to judge, but Tohar previously appeared in a YouTube video in which he called for a jihad on Myanmar (see Terrorism Monitor, March 10).
Islamic State (IS) has had its eye on the Rohingya for a while. Abu Bakr al-Baghdadi, announcing his group's so-called caliphate in 2014, included a reference to the situation in Myanmar as he enumerated the "crimes" being perpetrated on Muslims (Middle East Eye, July 5, 2014).
As they shelter in poor conditions in camps in Bangladesh, it is possible some Rohingya will build links with IS militants in the country. India says there are those among its own Rohingya refugee population — estimated at 40,000 — who already have, though it also accuses them of having links to Pakistan's Inter-Services Intelligence agency (Times of India, September 18). India says Rohingya militants are already organizing in New Delhi, Hyderabad, Mewar and Jammu, and is keen to re-settle the refugees elsewhere, although it is unclear where they could realistically be sent.
The disorganized humanitarian situation needs to be addressed and the violence in Myanmar ended as a matter of principle, but it has other benefits — a weak international response will only allow the Rohingya's plight to be coopted by violent Islamists.