Briefs
Publication: Terrorism Monitor Volume: 15 Issue: 19
By: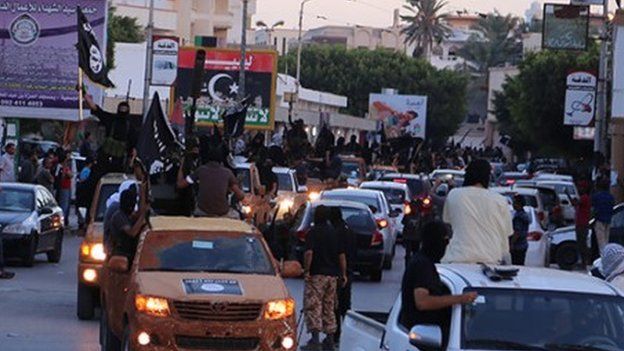 Libya: Islamic State Still Holding Out
Fighters with Islamic State (IS) are clinging on in Libya despite the loss of their stronghold in Sirte last year. The country's continuing political crisis has given the extremists time and space to regroup.
In the last few months, IS fighters were spotted manning checkpoints on the coastal road from Sirte, where they have carried out kidnappings (Libya Observer, September 3; Middle East Eye, September 7). IS' own publication, al-Naba, claimed its fighters had seized parts of the road between Sirte and Nufaliya around the same time.
On October 4, IS claimed responsibility for a coordinated attack on a court building in Misrata — at least four people were killed and several others were injured. The attack may have targeted the head of the court, Assadik Badi. One report quoting a defense ministry spokesman indicated that the attack was in response to comments Badi had made about IS (Libya Herald, October 4).
Meanwhile, Hashem Abedi, the younger brother of the Libyan-British national who carried out an attack in May on concertgoers in Manchester in the United Kingdom, remains under arrest in Tripoli. The authorities accuse him of having planned to carry out attacks in the capital. He is reportedly linked to the arrest last month of a Tripoli-based imam, who was detained over allegations that he used his mosque in the capital to seek out IS recruits (Libya Herald, September 11).
IS built up its operations in Sirte between 2015 and 2016, with analysts warning that the city could become the next base for the group after Mosul and Raqqa. The group was eventually forced out in December, defeated by Libyan forces loyal to Prime Minister Fayez al-Serraj, led by a militia from Misrata and backed by U.S. air power (Africa News, December 5, 2016; al-Jazeera, August 11, 2016).
U.S. Africa Command estimates that there are now only 500 IS fighters active in Libya. However, while the collapse of their stronghold was a setback, IS is yet to be fully defeated in Libya. The jihadists' numbers have been reduced, but many of those who escaped Sirte have started to regroup near Bani Walid in the desert areas southeast of Tripoli.
IS fighters are also reportedly sharing resources with al-Qaeda, in contrast to other parts of the world where the two organizations are at loggerheads, and Libya's neighbors are weary — including Chad, which temporarily closed its border in January, concerned that migrating jihadists might flee into its territory (Africa News, January 6).
Nearly a year after it was defeated in Sirte, IS is reappearing in Libya. Without a resolution to the country's political stalemate, too little attention may be being focused on them.
Saudi Arabia: Critics and Clerics Jailed
Saudi Arabia has rounded up and jailed a number of Islamist clerics in recent weeks, many with alleged links to the Muslim Brotherhood (al-Jazeera, September 13). However, the clampdown betrays an element of state paranoia, and appears to be more of an effort to prepare for the eventual handover of power from King Salman bin Abdulaziz to his son, Crown Prince Mohammed, than an attempt to tackle radicalism.
The arrests — they have included arrests of those with ties to the Islamic Awakening, an antigovernment movement that emerged in the Kingdom in 1990s — are part of a wider crackdown that has included businessmen, artists and academics (al-Bawaba, September 13).
The authorities have attempted to portray some of those detained as part of a foreign-directed spy ring, but those held have all in some way been critical of the authorities over the years.  Among them are clerics with wide popular appeal — two of the most prominent, Salman al-Ouda and Awad al-Qarni, are effectively religious celebrities and have millions of social media followers. The Saudi authorities want to silence their critics, and they have rounded up some of the loudest among them. Although, as the journalist Hassan Hassan points out, the fault of some of them lies partly in not being vocal enough when it comes to their country's dispute with Qatar (The National, September 13).
The International Union of Muslim Scholars (IUMS) condemned the clerics' arrests and called for their release, a call Riyadh ignored, not least as the IUMS is headquartered in Doha and headed by the Qatar-based Egyptian Islamist cleric Yusuf al-Qaradawi  (al-Jazeera, September 13).
Saudi Arabia views Islamists within its borders as the country's main domestic threat, but while al-Ouda and al-Qarni, who were both influential in the Awakening movement back in the 1990s, have fallen foul of the law in the past over their political activities, they are probably best characterized today as former radicals.
Extremist Islamist threats do exist in Saudi Arabia, and these require the government's attention. Ahead of the crackdown, the authorities reportedly arrested Islamic State sympathizers preparing to carry out a suicide bombing in Riyadh (Khaleej Times, September 12; The National, September 12). The recent clampdown on the government's Islamist antagonists, however, is more likely about gaining greater domestic political flexibility. It may also have made it easier for Saudi Arabia to finally reverse its ban on women drivers, a much-needed social reform — albeit one that only takes affect from June next year — which came hard on its heels (al-Jazeera, September 27).
Meanwhile, al-Qaeda made reference to the crackdown in the 16th issue of its al-Nafeer publication, posted in Arabic and English on Telegram, urging its supporters in Saudi Arabia to rise up against the authorities.