Pakistan's Jamaat-ud-Dawa Positions Itself for Politics
Publication: Terrorism Monitor Volume: 15 Issue: 19
By: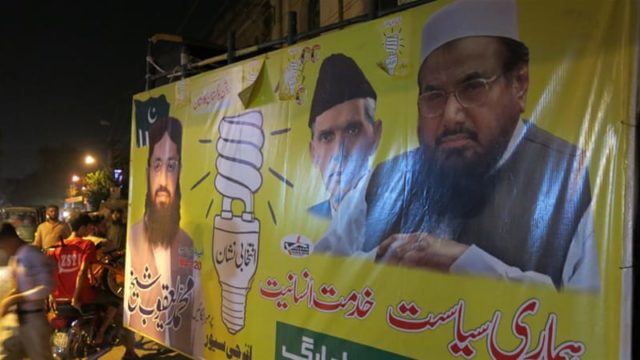 On August 7, 2017, Hafiz Muhammad Saeed, the chief of Pakistan's banned Jamaat-ud-Dawa (JuD) and Lashkar-e-Taiba terrorist groups, launched a political party. The Milli Muslim League (MML) has yet to be recognized as a legitimate political party by Pakistan's election commission, but it already has its eye on the 2018 general elections. Its leaders have been vocal, heavily criticizing the Pakistan Muslim League-Nawaz (PML-N) and the former prime minister, Nawaz Sharif, who was ousted from office in July by a supreme court ruling.
The MML has been scathing in its criticism of Sharif and the PML-N, accusing them of misrule, corruption and of attempting to appease India. The party's own objectives are the establishment of an Islamic welfare state in Pakistan and the liberation of Kashmir from India. It claims that its intentions are to protect the constitution and the ideology of the Pakistani state. In many ways, this is a reaction to the growing influence of liberalism and secularism in the country.
House Arrest
Heading the MML is Saifullah Khalid, a senior JuD operative and religious cleric. He was appointed as the party's president by Saeed, who has been under house arrest since late January 2017.
Along with its political objectives, the MML is calling for Saeed's speedy release from so-called preventive detention, a demand it has made repeatedly via numerous press releases.
Saeed remains at the forefront of several Islamist formations, campaigning against the United States and Indian interests in Pakistan and Kashmir. The JuD leader, who is blamed for fomenting a decade long militancy in the Indian State of Jammu and Kashmir, is the prime suspect in a series of terror strikes against mainland India, including the November 2008 Mumbai attacks. Since late January, his JuD and the Falah-i-Insaaniat Founda­tion (FIF), a charity front for the organization, have been on a government watch list.
The provincial government of Punjab in Pakistan placed Saeed under house arrest initially for three months, but with the possibility of periodic extensions. He has remained in protective custody at his Johar Town residence ever since. Several other JuD operatives are also under house arrest, including Abdullah Ubaid (in Faisalabad), Qazi Kashif Niazi (in Multan), Zafar Iqbal and Abdul Rehman Abid (both in Muridke) (Dawn, August 1). Pakistan's interior ministry has also placed the names of several JuD leaders, including Saeed, on the Exit Control List (ECL), restricting their ability to leave the country (Geo TV News, February 1).
The creation of the MML is the latest move in long-standing attempt to legitimize Saeed and his group's nefarious activities.
Political Ambitions
Saeed and JuD are broadly engaged in social charity works, as well as violent political and religious activism. The JuD has a checkered past and is banned by several countries — including the United States and the European Union — for its role in militant violence in India. JuD and all of its formations and associated entities have been listed under the UN Security Council (Resolution 1267) with many of its top commanders, including Saeed and Zaki-ur-Rehman Lakhvi, designated as terrorists.
The timing of JuD's forays into Pakistani politics is significant, especially following the supreme court order that disqualified former Prime Minister Sharif and barred the PML-N leader from holding public office over corruption allegations (Express Tribune, July 28).
Both PML-N and JuD have a strong presence in Punjab, Pakistan's most populous and second largest province, a region that has remained at the epicenter of power politics in Pakistan since the country's establishment in 1947. Similar to many political parties, including the PML-N, the JuD has garnered massive grassroots support as a result of its religious charities, educational works and health services. These have been deployed effectively during times of disaster in the province and beyond (Indian Express, October 14, 2013).
Hoping to field more of its leaders in the 2018 general elections, the MML tried to have Qari Muhammad Yaqub Sheikh, a member of LeT's central advisory committee, elected to the National Assembly by having him campaign in Lahore (constituency NA-120) after the seat fell vacant when Sharif was deposed. Sheikh was listed as Specially Designated National by the U.S. Treasury in August 2012 and has been actively involved with JuD and the Difa-e-Pakistan Council (DPC), an Islamist umbrella platform that aims to defend Pakistan against U.S. and Indian interests (The News, December 5, 2011).
Although the party put Sheikh forward as a candidate, his election campaign was stymied by the election commission, which warned him against using MML's symbols or insignia as the party was still without ECP recognition. Sharif's wife, Kulsoom Nawaz, won the by-election.
The ECP's ruling notwithstanding, the MML is planning to back another JuD operative, Haji Liaqat Ali, as an independent candidate in an October by-election in Peshawar (The News, September 22).
'Patriotic Islamists'
The JuD's recent political overtures can be viewed as a retrenchment from its long held "apolitical" character. However, some early signs of JuD's political ambitions surfaced as far back as 2009, when the Pakistani military (and later civilian) government started an initiative to rehabilitate several pro-Pakistan militant ideologues into mainstream political life. The plan stalled but was revived in 2016, backed almost exclusively by the military. Indeed, several militant personalities and entities are undergoing an image makeover, rebranded as pro-Pakistan Islamists or "patriotic Islamists," under a military-proposed plan to mainstream militant groups.
Islamists such as Fazlur Rehman Khalil of Harakat-ul-Mujahideen, who runs the Ansar-ul-Umma group as a religious front, are attempting to join mainstream politics and legitimize their activities with the help of the military.
Like MML, Khalil's group is said to be preparing to launch a political party. Named Islah-e-Watan, it will have the reported aim of "promoting peace and tranquility" (Pakistan Today, August 25). Like Saeed, Khalil is also designated as a terrorist by the United States.
Supporters argue that the army is carrying out a much needed reintegration process by bringing erstwhile militant groups into the mainstream. For its part, the military denies it is in any way encouraging the political ambitions of banned Islamist groups. Those claims are somewhat undermined, however, by the increasingly common chants praising the Pakistani army made during Islamist political rallies.
Populist Sentiment
With Pakistan's mainstream political parties struggling to cope amid internal squabbling and allegations of corruption and nepotism, Saeed hopes he and the MML will be able to enter politics, despite the $10 million bounty on his head.
A grand coalition of the so-called patriotic Islamist entities in the coming elections could conceivably offer a populist political alternative, one that exploits anti-West and anti-India sentiment to harness nationalistic fervor.
MML's Kashmir posturing is arguably aimed at gathering broad national support that could unite fringe political and religious groups alongside a section of civil society.  Despite concerted international efforts over the years to stifle the JuD and its leader, the social and charity fronts that form such an integral part of Saeed's operation have remained resilient. Formal entry into electoral politics via the MML, whether ultimately successful or not, is a natural progression and one that could ensure that JuD thrives despite the changing security dynamics of the region.