Briefs
Publication: Terrorism Monitor Volume: 16 Issue: 2
By: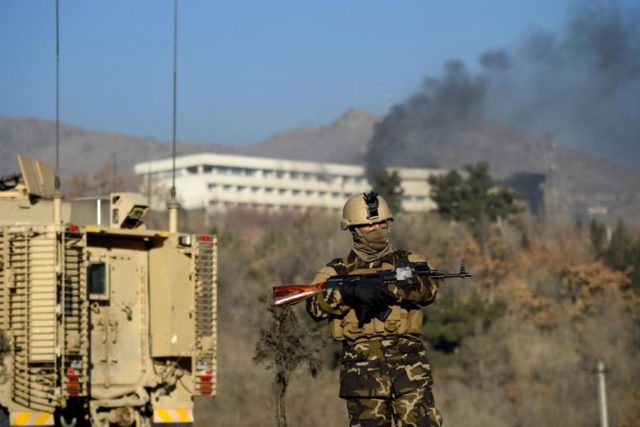 Afghanistan: Peace Talks Remain a Distant Prospect
Peace talks between the Taliban and the Afghan government appear further off than ever after unofficial attempts to restart discussions coincided with an attack on a luxury hotel in Kabul.
Taliban gunmen attacked the Intercontinental Hotel in Kabul on January 20, killing at least 18 people in a standoff with security forces (al-Jazeera, January 21). The group emphasized it had targeted foreigners—the majority of those killed were foreigners, among them four U.S. citizens—claiming it had planned to carry out the operation a day earlier, but held back because a wedding at the hotel would have meant locals were more likely to be caught up in the violence (Alemarah, January 21; Gandhara, January 24).
The incident came just days after Taliban representatives from the group's political office in Qatar travelled to Islamabad, Pakistan for unofficial discussions aimed at restarting peace negotiations (Daily Times, January 16). That same week, reports emerged about secret talks held in Turkey involving the Taliban and Afghan government officials, mediated by members of Hezb-i-Islami, the Islamist political organization led by Gulbuddin Hekmatyar.
The reports said the talks in Turkey included members of Mohammad Rasool's Taliban faction, as well as a representative named Rahmatullah Wardag who was supposedly an official from the main group (Ariana News, January 14). The Taliban, however, denied it was involved in the talks and disavowed any connection to Wardag (Alemarah, January 16). Elsewhere, their so-called representative was dismissed as a mere "shopkeeper" dressed up as a Taliban member (Pajhwok, January 16). The Afghan government also denied sending anyone to negotiate on its behalf.
The confused picture is representative of the situation in which Afghanistan is mired. Rasool's faction, which splintered from the main Taliban in 2015, appears more amenable to talks with the government and has in the past attended talks in Turkey, mediated by Hekmatyr family members (Pajhwok, October 7, 2017). It is unclear, however, how much of the Taliban membership Rasool, who was arrested in Pakistan in March 2016, actually commands, and the two factions appear unlikely to reconcile, with their fighters regularly clashing (Khaama, July 8, 2017).
Meanwhile, the Kabul attack suggests the Taliban, under Haibatullah Akhundzada, is stepping up its campaign, with its emphasis on targeting foreigners presumably intended to differentiate it from the more indiscriminate activities of Islamic State.
In terms of peace talks, Pakistan remains influential and is keen to maintain its standing in that regard, both for its own reasons and in response to U.S. pressure. But the Kabul attack, occurring within days of the unofficial exploratory meeting in Islamabad, shows such discussions remain at present a distant prospect.
Nigeria: Ethnic Tensions Play Into Militants' Hands
Herdsmen in Nigeria's Benue State killed scores of people in a series of clashes at the beginning of the year (Vanguard, January 2; Daily Post, January 2). Recently reported accusations of Islamic State (IS) involvement are likely overblown, but the situation still presents a significant security threat.
More than 70 people were killed in clashes between farmers and Fulani herdsmen in Benue State on New Year's Day, but confrontations have continued over the course of the month, driving calls for the government to do more to protect locals (This Day, January 18). The attacks have also provided renewed political impetus to factions within the Middle Belt, an area that sits geographically between Nigeria's Muslim north and Christian south but remains only vaguely defined given the wide range of ethnic groups it encompasses (Vanguard, January 23).
Nigerian intelligence agencies have apparently sought to blame IS West Africa Province (ISWAP) for the killings in Benue. A report submitted to President Muhammadu Buhari supposedly outlines how ISWAP networks have attempted to exacerbate ethnic tensions through the Benue killings (Daily Trust, January 22). It also appears to raise the specter of foreign fighters, claiming a number of supposed attackers arrested in a statewide sweep turned out to be French-speakers.
If such claims are accurate, it suggests ISWAP's network is more extensive than previously thought. In truth, however, clashes between herdsmen and farmers are a long-running concern and do not require prompting from ISWAP. Nevertheless, many in Benue would be pleased to see the Fulani herdsmen designated as terrorists, if only because it might spur a greater government response (Daily Post, January 11).
The problem is not entirely divorced from terrorism. The herdsmen have increasingly moved south in part because of instability and conflict in the north, a result of the Boko Haram and ISWAP insurgency. However, the desertification of traditional grazing lands and the expansion of agricultural settlements are inevitably the main drivers behind the problem.
Nonetheless, the situation presents a serious threat to security and stability in Nigeria. In Benue, voices from the Middle Belt Forum, one of a number of political groupings that seeks to represent the interests of Middle Belters, have sought to characterize the herdsmen's attacks as an indication of a coming conflict pitting Muslims in the north against Christians in the south (Daily Post, January 5).
While the suggestion, supposedly promoted by Nigeria's intelligence agencies, that ISWAP is guiding these attacks would appear to be fanciful, any confrontation that provokes north-south tensions in Nigeria can only play into the militants' hands.