Briefs
Publication: Terrorism Monitor Volume: 16 Issue: 4
By: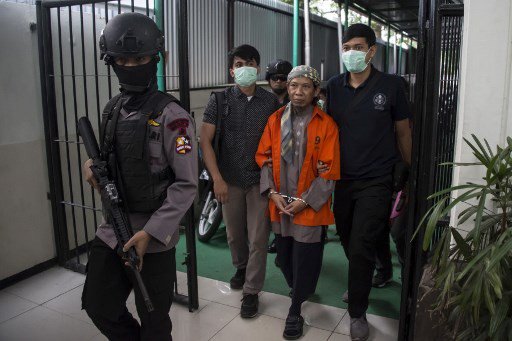 Indonesia: Influential Islamic State Cleric Goes on Trial
Indonesia has put on trial an Islamist cleric alleged to have been behind the 2016 shooting and suicide bombing attack in Jakarta. Although the trial is welcome, another conviction against him is unlikely to weaken the Islamic State (IS)-aligned group he is accused of heading.
Aman Abdurrahman (a.k.a. Oman Rochman) was indicted in a Jakarta court on February 15, accused of inciting others to carry out attacks between 2016 and 2017 (Jakarta Post, February 15; Benar, February 15). Among the violence he is accused of inspiring is the attack by gunmen and suicide bombers on a shopping mall in central Jakarta on January 14, 2016, in which four people were killed (Jakarta Post, February 18).
Abdurrahman has not taken part in any of the attacks himself, because he has been in jail since 2010. Nonetheless, he has remained influential, including supposedly putting out a call from his prison cell exhorting his followers to join Islamist militants fighting in Marawi, in the southern Philippines (ABS-CBN, June 9, 2017). Indeed, his influence is such that in late 2016 he was moved to solitary confinement on the Nusakambangan prison island south of Java (Straits Times, February 15).
A former university lecturer, Abdurrahman is considered to be the ideological leader of Jamaah Ansharut Daulah (JAD), an IS-aligned group that emerged in Indonesia in 2015 (Tempo, March 21, 2015). The group appears to bring together militants with IS sympathies from a variety of different factions, and it was designated a terrorist organization by the United States last year (Jakarta Post, January 11, 2017).
According to a recent United Nations report on IS activities, JAD is one of two key IS-aligned groups currently menacing Indonesia (See UNSC S/2018/80).  The other is Jamaah Ansarul Khilafah (JAK), led by Abu Husna (a.k.a. Adurrahim bin Thotib), a longtime friend and former cellmate of Jemaah Islamiyah ideologue Abu Bakar Bashir. Husna, who was convicted in 2009, was himself a Jemaah Islamiyah leader, heading the group's "education" division.
Jailing Abdurrahman and Bashir back in 2010—the two were convicted after they established an Islamist training camp under a single banner in Aceh Province—was a success for Indonesia in the fight against terrorism, but putting the pair behind bars has failed to stop their influence on the region's Islamists.
If convicted in his new trial, Abdurrahman could face the death penalty. However, while he is doubtless a key influencer, he is unlikely to be central to JAD's operations, leaving both it and Husna's group as serious threats to Indonesian security.
Yemen: Keeping Islamic State in Perspective
A division of Islamic State (IS) in Yemen has claimed an attack on Houthi forces in Ibb governorate—its first in months. It comes as there is a renewed focus on IS in Yemen, though the real jihadist threat in the country remains al-Qaeda in the Arabian Peninsula (AQAP).
In a message on the Telegram app on February 18, Liwa al-Akhdar, a contingent of IS fighters operating in Ibb, claimed to have killed five Houthi fighters and wounded a number of others, using an improvised explosive device (IED) in the al-Shaar neighborhood of the main city of Ibb. The attack ends nearly 13 months of silence from the IS affiliate in Ibb. The last attack it claimed was a suicide blast at a Houthi checkpoint in January last year (SITE, January 24, 2017).
Instead, IS has concentrated on building its forces in neighboring al-Bayda, where it set up training camps in sparsely populated areas of the province (AMN [Lebanon], June 12, 2017). In October, when the United States expanded its Yemen counter-terrorism operations, these bases were targeted in airstrikes (U.S. Department of Defense, October 16, 2017)
IS in Yemen effectively came into being in November 2014 with the release of an audio recording of Abu Bakr al-Baghdadi, in which the IS leader recognized pledges of allegiance by groups around the region, including in Yemen (Daily Star [Lebanon], November 14, 2014). IS in Yemen carried out its first major attack in March 2015, with twin suicide blasts at Houthi mosques in the capital Sana'a, killing at least 137 people (al-Jazeera, March 21, 2015). In another audio recording in May that year, al-Baghdadi congratulated the Yemen wilayat (province) for advances it had made against the Houthis (MEMRI, May 14, 2015).
However, while IS in Yemen has expanded—U.S. intelligence estimates are that the group doubled in size last year—it still consists of disparate groups that are yet to see any territorial victories.
AQAP, by contrast, has been well established in Yemen since the 1990s and is a key part of the global al-Qaeda network. It has cultivated local relationships, maintained its safe havens and governed territory, including successfully running the port of al-Mukalla, Yemen's fifth largest city, for a year, before being pushed out by United Arab Emirates-backed troops (TRT World, April 24, 2016).
Both AQAP and IS have benefited from the years of devastation wrought by Yemen's civil war as a Saudi-backed coalition attempts to defeat the Houthis and reinstall Yemen's President Abdu Rabbu Mansour Hadi. Sectarianism, insecurity and a ruined economy have made Yemen fertile ground for jihadists. AQAP particularly has been able to use the Saudi-backed coalition's blinkered focus on defeating the Houthis to paint itself as a potential ally for anti-Houthi Sunnis. It is this pragmatic approach that means AQAP, despite IS' recent gains, remains the real jihadist threat in Yemen.