The Potential for a New Strand of Islamist Extremism in Pakistan
Publication: Terrorism Monitor Volume: 16 Issue: 4
By: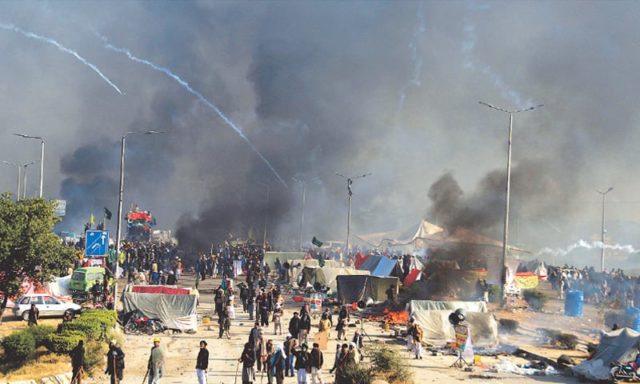 The emergence of violent Barelvi extremism in Pakistan was brought sharply to the country's attention last year when Tehreek-i-Labaik Ya Rasool Allah, an Islamist political party, staged an almost month-long sit-in that later turned violent.
The party objected to an alleged change to the wording of the oath of office contained in the 2017 Election Bill, which it considered to be blasphemous, and demanded the resignation of then-Federal Minister of Law and Justice Zahid Hamid. Police operations to uproot the protesters served only to spread the protests wider, paralyzing the whole state apparatus.
Barelvi extremism is a new phenomenon, a potential threat still in the making, but one that the Pakistani government must address.
A New Strain of Extremism
Most militant Islamist organizations in South Asia—and particularly in Pakistan—adhere to either the Deobandi-Sunni or Ahl-e-Hadith (Salafist) schools of Islam. Prominent among these are Deobandi organizations like Lashkar-e-Jhangvi, Harkat ul Jihad-e-Islami, Harkat ul Mujahedeen, Jaish-e-Mohammad, Lashkar-e-Omar and Tehreek-e-Taliban Pakistan. Meanwhile, al-Qaeda, Islamic State, Waliyat-e-Khurasan, Hizb-ut Tahrir and Lashkar-e-Taiba (LeT) adhere to the Salafist tradition.
By contrast, before the emergence of Tehreek-i-Labaik, no Islamist organization belonging to the Barelvi sect of Sunni Islam had been involved in violent activities. Sunni Tehreek, a Barelvi group that is now part of Tehreek-i-Labaik, was considered by some to have violent tendencies, but it was not a designated terrorist organization.
Barelvism is a South Asian variant of Sufi Islam and is widely practiced in the region. While there are no official figures, it is possible that about 70 percent of Pakistanis adhere to the Hanafi-Sunni sect of Islam, and of those more than half are Barelvi Sunni. [1] As a consequence, Tehreek-i-Labaik considers itself to be the representative of Pakistan's religious majority.
In this respect, it enjoys some level of support at the community level for two main reasons. First, because it purports to safeguard the rights of Pakistan's sizeable Barelvi population; and second, because it has framed its purpose in terms of fighting against blasphemers and protesting any move by the government to amend Pakistan's anti-blasphemy law.
Prior to the 2017 protests, Barelvi leaders Syed Khadim Hussain Rizvi and Dr. Ashraf Jalali, considered the founders of Tehreek-i-Labaik, had not enjoyed much prominence. However, in recent by-elections in three different constituencies, candidates backed by their party managed to win 5-10 percent of the popular vote, a small but impressive performance for a party that has only just emerged on the Pakistani political landscape. In the latest poll at a provincial assembly constituency of Chakwal district in Punjab province, the Tehreek-i-Labaik-backed candidate came in third place, surprising media pundits (Samaa News, January 9).
Violent Tendencies
Violent Barelvi extremism gained momentum following the assassination of Punjab Governor Salman Taseer by Mumtaz Qadri, his police bodyguard, in Islamabad in January 2011 (Dawn, January 5, 2011). Qadri, a diehard follower of the Barelvis proselytizing group Dawat-e-Islami, blamed the governor for visiting a convicted Christian woman, Aasia Bibi, in prison, who had been found guilty of committing blasphemy against the Prophet Mohammad by the court. Qadri was later sentenced to death and executed in February 2016 (Dawn, February 29, 2016).
In the wake of Taseer's assassination, a number of Barelvi parties joined hands to stage massive protests across the country, objecting to Qadri's trial, which they viewed as unjust. On the day of Qadri's funeral, on March 1, 2016, Tehreek-i-Labaik leaders called on their supporters to gather in Rawalpindi, a city adjacent to Islamabad, and in response, hundreds of thousands attended the funeral procession (The Hindu, March 1, 2016).
During last year's Tehreek-i-Labaik protests, government attempts to engage the party's leadership in dialogue to end the 18-day-long sit-in failed. The resulting police operation against the crowd of more than one thousand Tehreek-i-Labaik protesters was unsuccessful and instead sparked violence. Protesters burned vehicles and attacked passersby in the capital. Six protesters were killed in clashes with police in Rawalpindi, while 40 personnel of the Rawalpindi police, 76 members of the Islamabad Capital Territory police, 64 Frontier Constabulary personnel and 50 civilians were injured (Express Tribune, November 25, 2017).
The district administration of Islamabad Capital Territory called for the deployment of the military to restore order (Dawn, November 25, 2017). Tehreek-i-Labaik leader Rizvi ordered his followers to stage sit-ins across the country, and in response, Tehreek-i-Labaik workers across Pakistan turned violent, cutting off the national communications and railway networks. They blocked roads, damaged railway tracks and vandalized public and private property. After a day of violent protests across the country, the government accepted Tehreek-i-Labaik's terms to end the protests, including sacking the justice minister.
Changing Fortunes
Describing the reasons behind the Barelvi outburst, an Islamabad-based Tehreek-i-Labaik leader explained that his party had acted to protect Pakistan's blasphemy laws amid "rumors" that the government's amendment was the result of U.S. and Western pressure. [2]
He also indicated that a lack of strong leadership among the Barelvi community had put Barelvi interests under threat, leading to the forcible appropriation of Barelvi mosques and seminaries by Deobandi extremists, terrorist attacks on Sufi shrines across Pakistan and the assassination of important Barelvi leaders. A significant event in this regard was the Nishtar Park suicide attack in 2005 in Karachi, in which a number of prominent Barelvi sect leaders were killed (Dawn, January 14, 2016).
The law enforcement agencies' inability or unwillingness to tackle Deobandi and Salafist militancy in Pakistan has posed grave dangers to Barelvis, he said.
The rise of Tehreek-i-Labaik is a direct result of that failure, and heading the movement is its wheelchair-bound leader Khadim Hussain Rizvi, who masterminded the 2017 sit-in.  Born in 1966 in Pindi Gheb, Punjab province, Rizvi attended his local madrasa where he memorized the Quran and later became a prayer leader in a Lahore mosque. He worked for a time in Auquf department of Punjab government, and has been in a wheelchair since 2006 when he was left disabled in a road accident (Dawn, December 3, 2017). While his speeches lack the eloquence of politicians and are full of foul language and colloquialisms, he has, according to his supporters, filled a void in the Barelvi leadership.
Future Prospects
The events of 2017 illustrate both the level of support Tehreek-i-Labaik has in urban centers across Pakistan, and the party's willingness to resort to violent protest. It invokes emotive issues, such as the country's blasphemy laws, and relies on a religiously charged agenda, deepening social divides along sectarian lines and bringing with it the risk of intra-Sunni communal violence. It cannot be ruled out that, in the future, it may develop a militant wing to combat Deobandi and Salafist terrorist organizations, further weakening state control.
With Pakistan due to hold a general election in July, there is the possibility Tehreek-i-Labaik's Islamist candidates could win a small number of seats in parliament and gain greater political clout. Conversely, if its candidates fail to win any parliamentary representation, it could change tack and remain outside of the political system as a violent Islamist movement
NOTES
[1] See estimates on GlobalSecurity.org
[2] Author's discussions with senior Tehreek-i-Labaik leader in Islamabad (December 20, 2017).