Briefs
Publication: Terrorism Monitor Volume: 16 Issue: 5
By: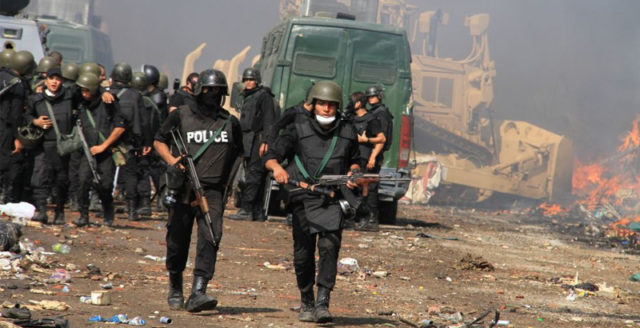 Nigeria: Dapchi Abductions Put Government Under Pressure
The recent abduction in Nigeria of more than 100 schoolgirls by militants likely linked to Islamic State (IS) has undercut the Nigerian government's claims that Boko Haram has been defeated, and it is already playing into discussions about next year's presidential election.
Militants abducted 110 schoolgirls from the Government Girls Science and Technical College in Dapchi, in the northeastern state of Yobe, on February 19 (NAN, February 25). The attack has provoked much anger, with some in Dapchi accusing security forces in the area of withdrawing ahead of the militants' arrival (Vanguard, March 2). Officials also unhelpfully and erroneously announced soon after the abduction that some of the girls had been rescued, and then cast doubt on whether they had been abducted at all (Vanguard, February 25).
President Muhammadu Buhari has since vowed that his government will go to "any lengths" to ensure the girls are safely returned to their families (Twitter, February 26). Having heavily promoted his own efforts to crack down on Boko Haram, however, the abduction makes him appear complacent and has brought back painful memories of the 2014 abduction of nearly 300 schoolgirls from rural Chibok, many of whom have never been returned to their families.
With Nigerians already talking about next year's presidential elections, the incident has become a hot-button political topic—Buhari's critics point to it as a security failure on the part of his government, while the president's faction contends the incident is being unfairly politicized and has even intimated that his opponents are "jubilating" over the kidnapping (Vanguard, March 4).
Thought to be behind the Dapchi attack is Islamic State West Africa Province (ISWAP), the IS-linked Boko Haram faction led by Abu Musab al-Barnawi (Daily Post, March 2). Another Boko Haram faction, led by al-Barnawi's rival Abubakar Shekau, has also been active, with Shekau releasing his first video in months in January (Daily Post, January 2). He has since released other shorter messages, seemingly in response to claims by the Nigerian military that his group has been defeated (Daily Post, February 4; Daily Post, February 8).
Meanwhile, suspected Boko Haram fighters have carried out a series of suicide bombings in Maiduguri, including one at a camp for internally displaced persons (IDPs) in Dalori (Daily Post, January 31; Daily Trust, February 1). The IDP camp is a frequent target for Boko Haram and suffered its worst attack in January 2016, when at least 86 people were killed.
President Buhari has had some success containing Boko Haram since taking office in May 2015, but the recent attacks make a mockery of his claims to have crushed the group. Instead, Boko Haram and ISWAP continue to be a menace, and their actions may well impact his chances should he, as is looking likely, run for office next year.
Egypt: Islamists Threaten Violence Over Election Period
Egyptian forces have mounted a concerted military effort to tackle militant Islamists in the Sinai Peninsula, while the jihadists have threatened to violently disrupt Egypt's upcoming presidential election.
Egypt launched its so-called Sinai 2018 offensive on February 9, with the aim to "eliminate terrorist groups" (SIS, February 10; Egypt Today, February 10). By March, Egyptian armed forces were claiming that more than 100 jihadists had been killed (ENCA, March 4). Hundreds more people have been detained.
The operation, which has included air strikes and joint police and military raids on residential locations, is broader and more comprehensive than those that went before it (Mada Masr, February 9). That may be due to the appointment of Lieutenant General Mohamed Farid Hegazi, who was made chief-of-staff and tasked with tackling the jihadist threat in the aftermath of last November's bloody attack on al-Rawda Mosque, in which more than 300 people were killed.
For its part, the Islamic State (IS) presence in Egypt—IS Sinai Province—claims its fighters have been successfully repelling the military, carrying out attacks in Arish, Jabal al-Halal, Rafah and Sheikh Zuweid. A flurry of IS media releases since the campaign began have also mocked the Egyptian military effort, and vowed more attacks on security forces, Christians and tourists (MEMRI, February 19).
That leaves Egypt facing a difficult time as it moves toward the first round of a presidential election, which will be held March 26-28. IS Sinai Province has threatened attacks on polling stations (Mada Masr, February 12). The smaller Islamist groups Liwa al-Thawra and the Hasm Movement, both recently blacklisted by the United States and United Kingdom as terrorist organizations, have also vowed to disrupt the elections (MME, February 4).
Al-Qaeda too appears to have called for violence, with the release of an undated recording of group's Egyptian-born leader Ayman al-Zawahiri calling for the Egyptian regime to be brought down (Egyptian Streets, February 17). In the last year, a number of affiliates of the group have reasserted themselves in Egypt, including Ansar al-Islam in the Western Desert and Jund al-Islam, in North Sinai, both areas targeted in the Sinai operation.
Meanwhile, the man who ordered the campaign, Egyptian President Abdel Fattah al-Sisi, is focusing his efforts on his re-election. In that respect, at least, he may have little to fear. After his opponents variously backed away from the race or were arrested, he faces only Mussa Mustapha Mussa, the relatively unknown leader of the liberal Ghad party (Daily Sabah, February 25), leaving al-Sisi as the favorite to win.