An Uncertain Year Ahead for the North Caucasus
Publication: Terrorism Monitor Volume: 16 Issue: 5
By: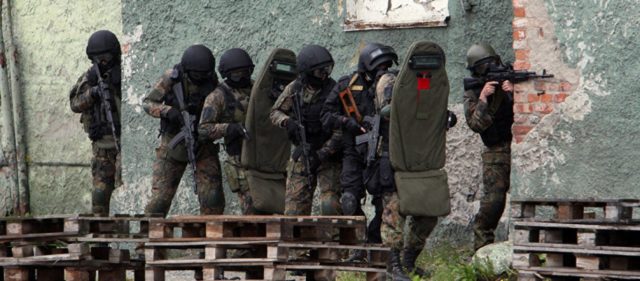 Conflict in the North Caucasus has slowed significantly since 2014, and violence there has made few headlines, despite occasional significant events. Nevertheless, insurgent attacks and counterterrorist operations have continued, including in some areas that have been peaceful for years.
Total casualties resulting from violent conflict in 2017 were radically different from republic to republic in the North Caucasus. The number of deaths resulting from armed conflict fell by 73 percent in Dagestan (Caucasian Knot, January 15), with a similar decrease in the number of conflict incidents. Kabardino-Balkaria saw a massive reduction: 93 percent fewer victims of armed conflict in 2017 than in 2016, with only a single dead militant and no security personnel among the casualties (Caucasian Knot, January 14). Ingushetia, meanwhile, saw an increase of 26 percent in casualties from violence in 2017, with 10 violent incidents recorded that year compared to five in 2016 (Caucasian Knot, January 16). A major increase in violence was recorded in Chechnya, which saw an increase of 74 percent over the previous year (Caucasian Knot, January 15).
The major increase in casualties in Chechnya suggests there is potential for greater violence in Ramzan Kadyrov's republic this year. Examining the course of events over the last five months provides some clarity on what to expect from the region.
Looking Back to Look Forward
Last year, conflict continued at a fairly regular pace through October and November. Two alleged members of the armed underground were killed in Dagestan's Shamil district between October 10 and 12, during a counterterrorist operation (Caucasian Knot, October 12, 2017). A policeman in Kizlyar was also assassinated by militants (Caucasian Knot, September 30, 2017). In Ingushetia, an attacker stabbed three policemen at a checkpoint in the village of Yandare on October 19 before being shot dead (Caucasian Knot, October 19, 2017). Another checkpoint in Yandare was attacked on November 5 by four militants, opening with a suicide blast (Operations Line, November 5, 2017). In this incident, five policemen were wounded and one killed, while two militants were killed and two more escaped (Caucasus Voice, November 19, 2017). A checkpoint near the village of Roschi-Chu in Chechnya was later attacked by two militants, both of whom were killed, while one policeman was wounded (Caucasian Knot, November 19).
December 2017 in particular saw a significant escalation in violence. A special operation in the Dagestani village of Gubden on December 16 saw three militants killed (Caucasian Knot, December 17, 2017). Among the dead was 31-year-old Aligadzhi Khamutayev, who had been on the federal wanted list since 2012 and had allegedly led a raid on an interior ministry convoy that year, killing eight servicemen (TV Zvezda, December 17, 2017). Khamutayev had allegedly led local militants since his predecessor was killed in October 2016. Video of the incident shows federal counterterrorist forces storming the house in which Khamutayev and his associates had barricaded themselves (RT, December 17, 2017). Gubden and the surrounding region, Karabukhdent district, have continued to host violent incidents despite reduced conflict elsewhere in Dagestan, with nine militants killed there in July 2016 (Lenta, July 8, 2016).
More worrying was violence in two other republics, largely unused to such events. On December 9, regional security forces claimed to have killed three militants in central Stavropol city (Caucasian Knot, December 9, 2017). Two of the deceased were of Dagestani origin (Caucasian Knot, December 9, 2017). The fighters had allegedly planned to carry out attacks on New Year's Day, although the veracity of this claim could not be independently confirmed.
A counterterrorist operation was conducted in Karachay-Cherkessia on December 18, the first in the republic since December 2015 (Caucasian Knot, December 18, 2017). Security forces surrounded a group of militants in the southern Zelenchuksky district, killing all five gunmen, allegedly members of Islamic State (IS). A short video provided by the National Antiterrorism Committee provided little evidence of serious fighting beyond a handful of mortar strikes (Ren TV, December 18, 2017). Meanwhile, a fourth counter-terrorism operation (CTO) that week was conducted in the outskirts of Nalchik, the capital of Kabardino-Balkaria, resulting in the death of one militant on December 16 (Caucasian Knot, December 16, 2017).
The conduct of so many CTOs in such a short timeframe raises a number of questions. It could be that some militants were planning attacks on public places, as authorities claimed the previous winter when, in December 2016, they announced they had halted a number of terrorist attacks planned for New Year's Day in Moscow by destroying a group of militants based in the Dagestani city of Khasavyurt (Ren TV, December 29, 2016). There is little to corroborate this claim— however, security incidents in the Russian capital have been few and far between in recent years and other major cities outside the region are largely secure. The effective destruction of the Caucasus Emirate, the traditional jihadist insurgent vessel in the North Caucasus, has left would-be attackers with little means by which to rally resources and plan and execute such attacks (see Eurasia Daily Monitor, November 13, 2015).
One major piece of evidence points toward a more serious threat to Russia's two main cities. On December 17, news emerged that the CIA had shared intelligence with Russia that had helped thwart an attack on the Kazan Cathedral in Saint Petersburg (BBC News, December 17, 2017). Vladimir Putin thanked U.S. President Donald Trump in a phone call discussing the incident (BBC News, December 17, 2017).
Ahead of that call, a Dagestani and an Ingush man had been arrested on December 15, in connection with the alleged attack, alongside a Tajik citizen (Caucasian Knot, December 17, 2017). An official statement from the Russian Federal Security Service (the FSB) claimed that a seven-man IS cell was planning the attack (FSB, December 15, 2017). There is a precedent for a simple bombing attack in Russia's second city, as with the April 2016 Saint Petersburg metro bombing (BBC News, April 6, 2017). Nevertheless, experts remain skeptical as to what resources domestic terrorists have left to commit such attacks, with Dagestani analyst Akhmet Yarlykapov expressing particular skepticism. It remains difficult to judge the credibility of the thwarted attack in this instance (Caucasian Knot, 19 December, 2017).
Violence This Year
Several more violent incidents occurred in the first six weeks of 2018. Chechnya saw the first of these on January 3, when a local police chief in the village of Avtury was shot in the head (Caucasian Knot, January 3). Chechen security officials conducted a counterinsurgent operation in the village the next day and killed the alleged perpetrator and, in typically brutal fashion, dumped the body in the village's central square (RBC, January 4; YouTube, January 4). Later that week, a preacher in the Dagestani village of Mutsalaul was shot dead at his home (Caucasian Knot, January 7).
Few conflict events took place over the ensuing four weeks. A shootout in the coastal city of Kaspiysk in Dagestan on January 16 left one man dead after he opened fire on security officials (Caucasian Knot, January 16). Police later alleged the deceased had been an IS recruiter in the area, though this could not be confirmed (Caucasian Knot, January 16).
The next violent incident came on February 10, this time in Ali-Yurt, Ingushetia. Security forces engaged in a firefight with two armed militants, later revealed to be men of Dagestani origin with alleged IS links (Caucasian Knot, February 10). Interestingly, police footage revealed that the two men were unusually well equipped, with combat vests, grenades and suicide belts, resembling more the professionalized guerillas prevalent in the 2000s than the poorly outfitted militants in civilian clothes more common in the North Caucasus today (Guraba Media, February 10).
The most significant incident, however, came in mid-February. On February 18, an attacker opened fire on Christian churchgoers as they left Sunday prayers in the town of Kizlyar, northern Dagestan, killing five women (RBC, February 18). The attacker himself was then shot dead by security forces. IS claimed the attack shortly thereafter, the first attack the group has claimed in the region in months (SITE Intelligence Group, February 18).
Following the incident, a video was discovered showing a masked man, presumably the attacker, pledging allegiance to IS, raising suspicions of a larger sleeper cell in the region (Lenta, February 18; Kavkaz Realii, February 19). That has sparked speculation that there could be a militant group headquartered in the Tarumovsky region of northern Dagestan (MK, February 18). As well as the pledge video, following an attack in October last year, two militants killed in the same area were found to have text messages congratulating each other on the successful killing of a Kizlyar policemen shortly beforehand. Given the existence of a similar IS-linked group in Khasavyurt, not far west of Kizlyar, in late 2016, it is plausible that there is an IS cell presently based in the Tarumovsky region (see Terrorism Monitor, February 10, 2017).
Trouble in Chechnya
Out of all the republics of the North Caucasus, Chechnya seems most likely to present prospects for greater violence in 2018. Authorities have recently stepped up levels of repression, extending a major crackdown on human rights activists in the republic. On January 11, Chechen security services arrested Oyub Titiev, the head of the Memorial rights organization in Chechnya, detaining him on fabricated charges of drug possession (Amnesty International, January 11, 2018). Chechen security forces then burned down Memorial's office in Ingushetia on January 17, before burning a Memorial member's car in Makhachkala, Dagestan and sending him a text message stating "next time you will burn with it" (RFE/RL, January 17, 2018; Katya Sokirianskaia, January 23, 2018). Titiev has since been kept in detention at an unknown location, appearing only once in court, while his house in the town of Kurchaloy has been slated for destruction as part of a plan to build a shopping center (Deutsche Welle, February 9).
While such a crackdown does not necessarily portend violence on its own, it contributes to a sense of deep anger within Chechen society toward the leadership. Chechnya is currently the largest non-warzone source of refugees attempting to enter the European Union (EU). Up to 100 Chechens attempt to cross the border from Belarus into Poland every single day, fleeing arbitrary arrest, torture and collective punishment in their homeland (Open Democracy Russia, November 23, 2017).
While insurgent networks have been essentially destroyed in Chechnya, the brutality of the security forces and their treatment of the civilian population is leading to an increase in ad hoc attacks, where small groups of unorganized young men open fire on government militiamen, apparently spontaneously. These attacks are difficult to predict or prevent, and seem set to continue.
Locals have been incensed by Chechen leader Kadyrov's thuggish behavior, often seen as at odds with Chechen values. The visit of Ksenia Sobchak, a candidate for Russia's March 2018 presidential election, to Grozny on January 28 was one such incident. Kadyrov had ordered all businesses closed in the city center that day (Independent, January 28). When Sobchak visited a lone espresso cart, she was confronted by a group of burly young men, one of whom asked her "Why are you drinking coffee? It's bad for horses," and told her to leave as "my home is no place for you."
The reception on Chechen social media was furious, with one popular post stating: "I am no fan of Sobchak, but this incident deeply offends me as a Chechen (Facebook, January 29). When did we Vainakh (the collective name for the closely-related Chechen and Ingush peoples) begin to treat guests this way, and especially women?" Such comments embody the views of many in the republic toward Kadyrov's brazen, antagonistic leadership. As one refugee in Belarus chillingly put it: "[R]ight after Putin resigns, our people will eliminate Kadyrov. They're waiting for it. They have gathered together like bees in a beehive and they are at the limit of their patience" (Open Democracy Russia, November 23, 2017).
Ones to Watch
Several thousand North Caucasians joined IS as foreign fighters and, with the group's loss of its territory, it is possible that North Caucasian returnees from Syria and Iraq could begin to impact the region. To date, however, there has been no proven link between the attacks in the North Caucasus and returnees from Syria or Iraq. A detailed study found that, of several dozen confirmed returnees, none had played a role in the recent attacks (CREST, November 20, 2017). Nevertheless, a disconcerting incident occurred on November 22 in the Georgian capital of Tbilisi. Security forces blockaded three militants in a building in the city's Isani district, killing all three in a lengthy siege (a policeman also died)(DF Watch, November 22, 2017).
One of the dead was revealed to be Akhmed Chatayev, the notorious one-armed IS commander who allegedly masterminded the 2016 Istanbul airport bombing (DF Watch, December 23, 2017; see Terrorism Monitor, January 15). Chatayev had apparently crossed into Georgia with the aid of local allies and hid in an apartment owned by an acquaintance. Following this event, Georgian security services conducted an operation in Georgia's Pankisi Gorge, inhabited by ethnic Chechens, in which a local 19-year-old was shot and eventually died in hospital (JAM News, January 11). Authorities claimed he had been holding a grenade and was part of the network that had helped Chatayev—locals denied this. In late January, the mayor of Grozny then visited Tbilisi and Batumi on an unannounced visit discovered by Georgian media (EurasiaNet, January 24). While the meaning of the visit was unclear, it seems likely to have been connected to the events surrounding Chatayev and the Chechen government's desire to monitor any possible return of militants from the Middle East (Rustavi-2, February 10).
It seems 2018 could go in either direction for the North Caucasus. Events may remain quiet, as seems the case in Kabardino-Balkaria. Ingushetia is somewhat more volatile, as demonstrated by the late 2017 checkpoint attacks, but will likely also remain quiet. Dagestan and Chechnya, however, are of greater concern.
Dagestan's drop in violence is uncharacteristic. The existence of the cell near Tarumovsky and potential turmoil owing to political upheaval as new head Vladimir Vasiliev carries out wide-ranging reforms likely portends an increase in violence from 2017. Chechnya in particular has the potential for insurgent attacks on a wider and more unpredictable scale. As Kadyrov continues his crackdown and socioeconomic prospects worsen for locals, it is highly likely that random attacks on security forces will increase.
The events around the deceased militant Chatayev also portend potential further moves by North Caucasian militants to attempt to return to the region from Syria and Iraq, a trend which could have unpredictable results. All these factors bear watching as the North Caucasus continues further into 2018.