Briefs
Publication: Terrorism Monitor Volume: 16 Issue: 9
By: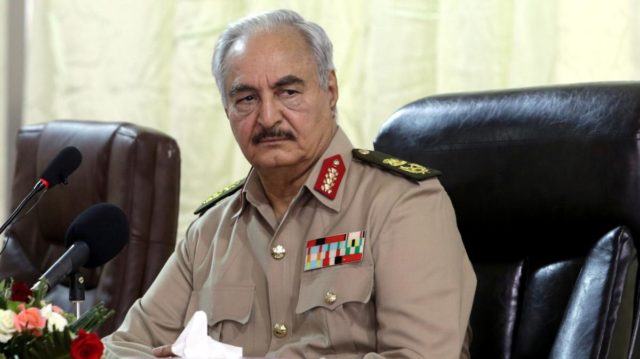 Libya: Haftar's Brief Absence Exposes LNA Divisions
Khalifa Haftar, the Libyan National Army (LNA) chief, has returned home, ending rumors that he had been incapacitated by ill health and was dying in a Paris hospital. Since returning to Libya, he has redoubled his campaign against the country's Islamists, but his brief absence has offered some insight into divisions within the LNA.
Haftar returned to Libya via Cairo on April 26, and he was welcomed by supporters at Benghazi's Benina airport. For nearly two weeks, there had been intense speculation that the 75-year-old was gravely ill, had suffered irreversible brain damage and even that he had died (Almasdar, April 13; MEE, April 18; Libya Observer, April 19). In a live television address following his return, he assured his audience and assembled LNA commanders that he was, in fact, in good health (Libya Herald, April 26; Libya Observer, April 26).
While his Islamist enemies will be disappointed, his spell recuperating in France has served to highlight possible division within the LNA. As speculation about Haftar's health mounted, his backers in Egypt and the United Arab Emirates (UAE) were said to be holding secret talks to decide on his replacement (Alnabaa, April 18). Egypt apparently backed Abdelsalam al-Hassi, Haftar's second-in-command and possibly the least contentious option, while the UAE favored Oun al-Furjani, a former Gaddafi-era intelligence officer and senior commander from Haftar's Furjan tribe.
Haftar's son Khalid has been mooted as a possible future leader.  A more likely contender is Abdulrazzak al-Nazuri, the LNA chief-of-staff and eastern area military governor who has the backing of the elite Saiqa forces in Benghazi. He was the target of an assassination attempt on April 18, while Haftar was abroad (al-Jazeera, April 18). A car bomb exploded as al-Nazuri's motorcade swept past on its way to his base in the town of al-Marj, but he appears to have been unharmed.
The recently sidelined Wanis Bukhamada might also consider a move. Haftar "reassigned" him this year—it was briefly rumored he had been sacked—to head the ground assault on Derna, the last city in eastern Libya outside of LNA control. The move was supposedly a result of his failures in Benghazi, but more likely reflected concerns on Haftar's part that the veteran commander was winning himself popular support (Libya Herald, February 18).
The LNA's forces have been arrayed around Derna for more than a year, but the city remains in the hands of the Shura Council of Mujahideen, a collection of jihadist militias. With fears over Haftar's health allayed, the LNA can re-focus its efforts in Derna (Asharq al-Awsat, April 25). Although Haftar's return may for now have put an end to machinations within the LNA, he will be aware that there is no shortage of contenders for his position, and the attack on al-Nazuri suggests these divisions could turn deadly.
Afghanistan: Kabul Attacks Herald More Violence to Come
The deaths in a suicide attack of a large number of journalists, many of whom have spent their careers covering such events, have understandably attracted particular media attention and outrage in Afghanistan. Their deaths, however, along with those of many other onlookers, simply underlines what has been a particularly bloody few months in the country.
At least 29 people were killed and scores more injured in two successive suicide blasts in the Shashdarak area of the Afghan capital on April 30 (al-Jazeera, April 30). Among the dead were nine journalists who rushed to the scene to cover the first blast, only to be caught in the second explosion about 30 minutes later when a suicide bomber, reportedly among the crowd of reporters, set off his device (Tolo, April 30).
The death toll made it a particularly deadly day for media workers in Afghanistan, with the Afghanistan Federation of Journalists joining international media organizations in condemning the attacks (Tolo, April 30). The following day, Afghan newspapers ran photographs of the slain journalists in tribute.
Islamic State (IS) claimed responsibility for the blasts.  In a message on Telegram, IS named the suicide bombers as Qaaqa al-Kurdi and Khalil al-Qurashi, prompting speculation that the pair were ethnically Kurdish (Daily Times, May 2). The messages also indicated the main target for the attack had been the offices of Afghanistan's National Directorate of Security, although the second blast seems to have been a deliberate attempt to hit first responders, including journalists.
In a somewhat macabre move, the Taliban used the event to distinguish itself from IS-Khorasan, the local IS affiliate. On the same day as the Kabul blasts, an Afghan journalist with the BBC's Pashto service was shot dead by gunmen in eastern Khost province (Tolo, April 30). IS-Khorasan claimed that killing too, while the Taliban issued an unlikely defense of media freedom on Twitter, saying it was saddened to learn of the killing of a professional journalist (Twitter, April 30).  In an earlier message, the Taliban also disavowed the Kabul attacks.
The Taliban has stepped up its own attacks, launching its annual spring offensive, named "Operation al-Khandaq," on April 25, but making clear its intention to target the security forces and foreigners.
As the Kabul attacks make clear, IS-Khorasan has also intensified its campaign and intends to be less discriminatory. It has focused some of its efforts on disrupting planned parliamentary and local elections, bombing voter registration centers, including an attack on one in the Dasht-e-Barchi neighborhood of Kabul on April 22, in which at least 57 people were killed (al-Jazeera, April 22). With the elections tentatively slated for October, Afghanistan appears set for many more bloody months ahead.