Briefs
Publication: Terrorism Monitor Volume: 16 Issue: 11
By: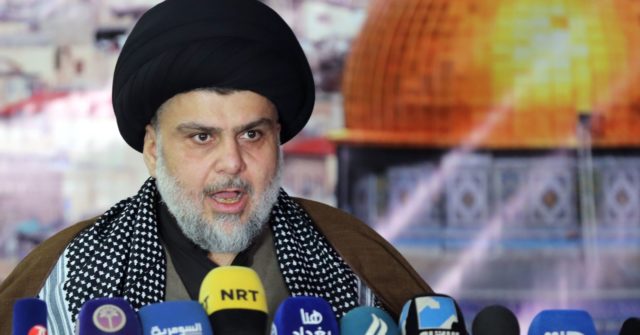 Iraq: What to Expect From Muqtada al-Sadr
Iraq's parliamentary elections have left Muqtada al-Sadr politically ascendant, a development that will sit uneasily with both the United States and Iran and marks something of a transformation for the populist Shia cleric.
As the dust settled after the vote on May 12, it became clear that Sadr's bloc had come out ahead of the predicted favorite, the Nasr coalition of incumbent Prime Minister Haider al-Abadi, which only managed third place (al-Jazeera, May 20; Rudaw, May 14). It was, for most, a shocking result that has turned a populist firebrand, known during the U.S. occupation of Iraq for his leadership of the murderous Mahdi Army, into a potential kingmaker. Sadr will not become prime minister—he was not an election candidate himself—but he will influence what happens next.
Since there is little love between Sadr and Hadi al-Amiri, the head of the Iranian-backed Fateh Alliance, which came second, or Nour al-Maliki, the divisive former prime minister, who came fourth, an alliance with Abadi seems increasingly likely (Iraqi News, May 22). The real question will be what concessions he wants and how his populist rhetoric translates into policy.
Sadr, who disbanded his Mahdi Army when he temporarily withdrew from politics in 2013, is a nationalist. He appears to want an inclusive, technocratic government free from external interference, and having campaigned strongly on social issues will presumably want to be seen taking action on corruption (Rudaw, 28 May; Iraqi News, May 29).
He also appears intent on seeing Iraq re-established as a regional power, rather than allowing itself to fall further into the Iranian orbit. The Shia leader has sent a strong message to the Gulf States in that regard, making an unannounced visit to Kuwait in recent days (Gulf News, May 30; Asharq al-Awsat, May 30). He has engaged the Gulf States before—in July last year, he made an unusual visit to Saudi Arabia, where he met Crown Prince Mohammed bin Salman and later met Abu Dhabi's Crown Prince Mohammad bin Zayed al-Nahyan (al-Jazeera, July 31, 2017; The National, August 13, 2017).
Iran will be following developments closely. Qassem Soleimani, the head of Iran's Revolutionary Guards' Quds Force, was in Baghdad soon after the elections—just as Sadr was emerging as the potential frontrunner—to discuss the establishment of a "friendly" government (New Arab, May 15).
While Sadr is critical of Iran, he has also show himself to be adaptable. It may be premature to imagine that pro-Iran elements will now be excluded, nor is that necessarily desirable given the divisions among Iraq's Popular Mobilization Units, now legitimized as part of the security forces, many of which are backed by Iran. The elections have cast Sadr as a skillful political operator, it remains to be seen how he will handle Iran, and how Tehran will handle him.
Qatar: Gulf Rift Shows Little Sign of Healing
A year on since the Gulf States began their boycott of Qatar, the situation appears no closer to being resolved. Allowing the spat to drag on, however, risks entrenching divisions in the region.
The long-simmering disagreement between Qatar and its neighbors erupted on June 5 last year, with Saudi Arabia, the United Arab Emirates (UAE), Bahrain and Egypt severing diplomatic ties with Doha over allegations it was supporting terrorist groups. Qatar ignored a list of 13 demands—including that it sever ties with the Muslim Brotherhood and close down its influential al-Jazeera television channel—and has endured a political blockade imposed by the four countries (Gulf News, June 23, 2017; MEE, January 23).
Little progress has been made since the dispute began. Instead, things have turned petulant, with Saudi Arabia floating the idea of digging a channel to separate itself from Qatar and dumping nuclear waste close to the border (Daily Sabah, April 9). Qatar has meanwhile ordered domestic retailers to remove from their shelves goods from Saudi Arabia, Bahrain, the UAE and Egypt, and appears to have banned further imports (The Peninsula, May 26). It has also become involved in tit-for-tat email leaks with the UEA, with the two sides feeding damaging material to the media in an attempt to score diplomatic points.
Despite initial sympathy for the Saudi position shown by the U.S. administration, things have since gone relatively quiet on Qatar, a tacit recognition that Qatar is actually a useful ally in the realm of counter-terrorism. Indeed, Secretary of State Mike Pompeo has made clear that the United States would like to see the situation be resolved, but neither side seems willing to give ground (Qatar Tribune, April 30).
In the early days of the boycott, Qatar made some initial moves to tighten anti-terrorism legislation, but was never realistically going to acquiesce to the list of 13 demands, a number of which seemed downright unfair—such as severing ties with Iran, even though the UAE maintains them. In fact, Qatar had broken its ties with Iran in solidarity with other members of the Gulf Cooperation Council (GCC) in 2016, after protesters attacked two Saudi diplomatic posts in Iran, but it re-established them after the Gulf boycott began (The National, August 24, 2017).
The boycott also accelerated an improvement in relations between Qatar and Turkey. Ankara, now firmly behind Doha, had previously pressed the GCC states to work together in the global fight against terrorism (Asharq al-Awsat, June 6, 2017).
The continuing disagreement with Qatar is at best a distraction from events in an increasingly polarized Middle East, but at worst it is extending dangerous fault lines in the region that have pit Iran, its proxies and supporters against Saudi Arabia, Israel and other traditional Western allies. This division has become a feature of the various conflicts across the region, and leaving the situation unresolved only makes further escalation more likely.