Briefs
Publication: Terrorism Monitor Volume: 18 Issue: 3
By: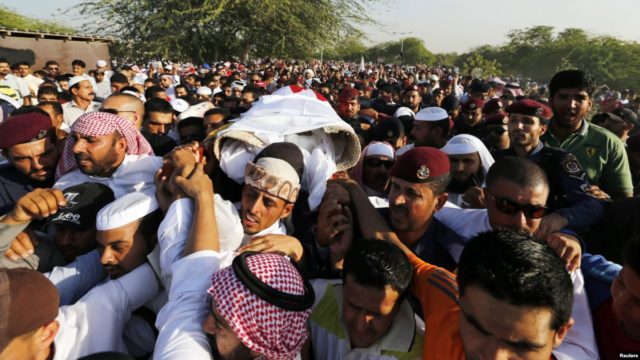 The Door for Iran Remains Open in Bahrain
Brian M. Perkins
Tensions between the United States and Iran following the killing of Major General Qasem Soleimani drew speculation of retaliatory attacks on U.S. military bases in Qatar and Bahrain or against U.S. allies, such as Saudi Arabia and the UAE. Iran opted instead to strike at the source of the tensions by launching airstrikes on a base housing U.S. troops in Iraq. While de-escalation appears to be the current strategy and another blatant strike by Iran is not seemingly on the horizon, countries less known for the strength of Iranian proxies, particularly Bahrain, remain in Tehran's crosshairs.
In comparison to Lebanon, Iraq, and Yemen, Iranian proxies in Bahrain are not nearly as prevalent or well-organized. Attacks by prominent Iranian-backed Shia militias have generally been sporadic and largely unsophisticated over the past five years. While there is nothing to suggest these groups will see a massive spike in their ranks or operational capabilities in the near term, there has been a slow creep of these groups increasingly aligning themselves with their Iranian backers. Further, there has been evidence over the past few years of a noteworthy increase in support.
The most notorious of the Bahraini militias is the al-Ashtar Brigades, which has reportedly been trained by Kataib Hezbollah in Iraq and the IRGC in Iran. Explosive device materials seized by Bahraini security forces in 2018 were identified as being of Iranian origin, with blocks of plastic explosives bearing the same lot and year marks as plastic explosives seized in Iraq and Yemen. This discovery marked a significant development from al-Ashtar Brigade's origins of using locally sourced and unsophisticated methods. Among other indicators of a move closer to Iran has been the emergence of Saraya Thair Allah, whose logo mimics that of the IRGC, and joint statements issued by various militias condemning the U.S. strike on Soleimani and declaring support for Kataib Hezbollah (al-abdal.net, December 31, 2019).
Meanwhile, the Bahraini government has taken a hard stance against Iran by openly supporting the United States' actions in Iraq. Bahrain was one of only three countries to send ambassadors to Trump's unveiling of his Middle East Peace Plan (Middle East Monitor, December 30). Following Bahrain's support of U.S. strikes on Kataib Hezbollah and the rising tensions with Iran, the country's national oil company, BAPCO, was struck by a cyberattack originating from Iran (Al Arabiya, January 12).
With the Bahraini government supporting U.S. actions in the Middle East and Shia militias supporting Iran and its proxies, the door will remain open for Iran to slowly develop more of an overt presence or to punish the country through various means for its relationship with other Gulf states and the United States. The prevalence of U.S. personnel and assets across the country also makes Bahrain an enticing location to facilitate a one-off attack by a pro-Iranian militia or a slow escalation of support to destabilize the country.
Notes
[1] The IED Threat in Bahrain, Conflict Armament Research. https://www.conflictarm.com/reports/the-ied-threat-in-bahrain/
***
Security Threats and Political Implications of Foreign Fighters and Prisoners Continue to Plague Europe
Brian M. Perkins
Europe's two biggest nightmares—the return of Syrian fighters and migrants and the conflict in Libya—have started to coalesce over the past several months as primary players from the two conflict zones have increasingly overlapped and European leaders have lost any control mechanisms. Developments in northern Syria over the past several months continue to stoke fears in Europe regarding the return of imprisoned Islamic State (IS) fighters and European families that populate the region's notorious camps. Europe has also long struggled with the conflict in Libya and the subsequent migrant crisis and its security implications. Most European nations have fervently fought against the repatriation of IS fighters and families. Outside of external security threats, many European nations are vulnerable to the political ramifications related to the release of a large number of foreign fighters who received relatively short sentences during the initial wave of arrests around 2015.
Despite IS' loss of its physical caliphate and a significant number of members, pro-IS groups scattered across the world continue to propagate the group's message, which still resonates with disenfranchised Europeans, including those currently imprisoned. Even the countries seemingly best prepared on paper to mitigate the threat from foreign fighters and locals released on more minor terrorism charges have often failed to prevent attacks or even the related political fallout.
The repatriation of IS-linked individuals proved particularly contentious in Norway and demonstrated the potential political implications regarding decisions related to repatriating IS-linked individuals. The return of a suspected IS member and her children led the right-wing Progress Party to withdraw its ministers from the government coalition, causing Prime Minister Erna Solberg to lose the parliamentary majority (The Local, January 16). While this might be an extreme case, it stokes further fears and will likely serve as a form of evidence as to some of the potential ramifications related to returning Syrians, particularly for those governments with divided political coalitions.
Meanwhile, multiple attacks in London over the past six months have demonstrated that security forces simply cannot cope with the sheer volume of high-risk individuals. Most recently, Sudesh Amman stabbed two people in Streatham, London on February 2, just weeks after being released from prison on charges of possessing and disseminating terrorism-related information (BBC, February 5). At the time of the attack, Amman was under active surveillance, which did not prevent the incident but undoubtedly prevented a more devastating outcome.
The fact that Amman, like others before him, was being monitored prompted calls for a hasty overhaul of the UK's terrorism laws before those convicted of terrorism-related charges are automatically released at the halfway point of their sentence. Parliament is attempting to push legislation that will undo the automatic release at the halfway point before February 27, after which several in a series of prisoners are slated for release (Guardian, February 5). The emergency legislation requires a break from the European  Commission on Human Rights (ECHR) and will test not only relations between the UK's political parties, but also the relationship between the UK and the EU post-Brexit.
As developments in northern Syria and Libya continue to play out alongside the issue of domestic radicalization, the terrorist threat across Europe will continue. At the same time, contentious domestic politics in many European nations appear increasingly likely to cause these issues to have significant political ramifications in the coming year.