Briefs
Publication: Terrorism Monitor Volume: 18 Issue: 7
By: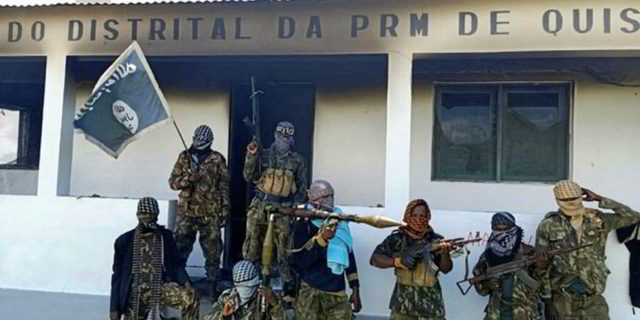 Attacks Demonstrate IS-CAP Evolution in Mozambique
Brian M. Perkins
Northern Mozambique has witnessed a significant escalation of operations by Islamic State Central Africa Province (IS-CAP) in recent weeks, with the group claiming two substantial attacks over a span of just three days. The attacks, which took place in Mocimboa da Praia and Quissanga between March 23-25, demonstrated a notable, concerning tactical evolution as well as improved capabilities at a moment of particular vulnerability (Club of Mozambique, March 26).
The majority of attacks claimed by IS-CAP since its establishment in Mozambique, as well as those previously attributed to Ansar al-Sunna, have primarily consisted of hit-and-run style attacks conducted by small cells, often with rudimentary weapons. Past attacks have also either explicitly targeted civilians or demonstrated little regard for collateral damage with an increasing trend toward attacks on security forces.
The attacks in Mocimboa da Praia and Quissanga, however, were more sustained operations targeting entire cities. IS-CAP fighters overran security forces and seized control of Mocimboa da Praia, the capital of Cabo Delgado province, before attacking Quissanga, which is more than a hundred miles south. Unlike previous attacks, the fighters seemingly attempted to limit civilian casualties while attacking state institutions, looting banks and stores, and reportedly redistributing provisions to civilians (Daily Maverick, March 26). Rather than small cells armed with old rifles or machetes, the attacks were conducted by upwards of 40 fighters dressed in camo and equipped with automatic weapons and RPGs, a notable departure from most attacks over the past several years.
IS-CAP released a series of photographs as well as a rare video message claiming responsibility for the attacks, with the speaker brandishing an Islamic State (IS) flag and calling on fighters to come join them to establish Sharia rule in Mozambique (Club of Mozambique, March 26). Previously rare, claims of responsibility have grown more common and IS has increased coverage of activities in Mozambique (Twitter.com/emorier, March 26).
While the exact level of IS involvement in the overall violence that has plagued northern Mozambique is still unclear, these recent attacks are evidence that the dedicated IS-CAP core has grown, both in size and capability. IS-CAP has evolved from its nascent phase of questionable claims of responsibility to overt displays of its involvement. At the same time, its fighters have seemingly improved their coordination as well as their access to more sophisticated weaponry than what had been used in the earlier days of the conflict. Similarly, the group has seemingly moved on to a growth phase in which it is leveraging its improved capabilities to launch more sustained operations that allow it to target and loot state institutions, while beginning a hearts and minds campaign in an attempt to gain further local traction. The video claim of responsibility also demonstrates the group's efforts to draw in regional and global jihadists. Looking forward, these attacks demonstrate the weakness of the state and set a precedent that it is no longer the remote roadways and townships that are in danger, but also key cities where those who have been displaced by violence in rural areas have relocated. The group may yet prove to be strong enough to hold territory for prolonged periods of time, but its ability to enter a key location such as Mocimboa da Praia by sea and land and control it for hours before successfully withdrawing is a worrying trend of the group's operational growth.
***
Yemen's Latest Ceasefire Calls Unlikely to Stop Houthi Offensives
Brian M. Perkins
Saudi Arabia announced that it invited the Houthis to Riyadh for direct talks following days of tit-for-tat attacks that broke the March 25 UN-brokered ceasefire as COVID-19 threatens to wreak havoc on war-torn Yemen. While Yemen has yet to officially confirm a COVID-19 case, it is likely only a matter of time and the virus's spread will have dire human consequences and notable implications for the situation on the ground as it creates both opportunities and dangerous pitfalls.
Saudi Arabia and the Houthis had been engaging in informal talks prior to the latest ceasefire. The recent escalation of violence that broke that ceasefire involved Houthi drone and ballistic missile attacks on Riyadh and Jeddah, followed by Saudi Arabia conducting airstrikes on Sanaa. Though the previous talks had not yielded any concrete results, there was a reduction in cross-border attacks that were a demonstration of Saudi Arabia's efforts to draw back from Yemen, even at a time when the Houthis were still making significant gains. The likely impending COVID-19 outbreak spurred renewed efforts to jumpstart a ceasefire but has also created fodder for the Houthi propaganda machine and an opportunity for them to seek maximum concessions if they were to eventually pursue a ceasefire.
Just one day after the nominal ceasefire agreement, Houthi leader Abdul-Malik al-Houthi gave a televised speech on the group's al-Masirah television channel to once again urge Riyadh to release Hamas prisoners detained in Saudi Arabia in exchange for the release of Saudi prisoners in Houthi custody (YouTube, March 26). In doing so, the Houthis were leveraging heightened media attention as a means to expose Saudi Arabia and turn regional public opinion against the Kingdom. On April 1, Mohammed al-Houthi, a prominent Houthi leader, reiterated calls for a COVID-19-related ceasefire while noting the importance of the three references—the Gulf Initiative, outcomes of the National Dialogue Conference, and applicable UN Resolutions—and calling for a 12-country arbitration process, which further muddies the water for timely results (Middle East Monitor, April 2).
Despite the group's public calls to pursue a ceasefire in the face of a potential COVID-19 outbreak, the Houthis are well aware that they are negotiating from a position of power as they continue to push deeper into al-Jawf and the oil-rich governorate of Marib. Over the past week, both the Houthis and Saudi Arabia have continued military operations, including a reported Houthi attack on an oil pumping station in Marib and the shelling of a prison in Taiz. While the Houthis are likely to pursue this desperately needed, piecemeal ceasefire and dialogue with Saudi Arabia, the group will almost certainly continue its offensive in Marib while trying to leverage the looming health crisis to its advantage. Starting a ceasefire while on the verge of taking Marib would be to the Houthis' detriment, as doing so could allow forces aligned to the internationally-recognized Yemeni President Abdrabbuh Mansur Hadi to consolidate their positions. Given the Houthis' past strategies and its current trajectory, an outbreak or international pressure would likely need to meet a critical mass before the group abandons its attempts to seize the key governorate of Marib and genuinely pursues a fulsome ceasefire.