Briefs
Publication: Terrorism Monitor Volume: 19 Issue: 2
By: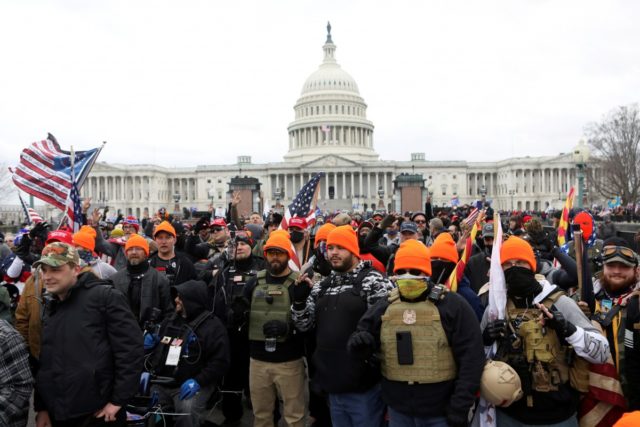 Proud Boys and Antifa Face Uncertain Futures After Capitol Siege 
Jacob Zenn 
After the January 6 Capitol storming, the Proud Boys are reassessing tactics. The group formed in 2017 to be an "anti-Antifa" organization and promote "traditional" masculinity and Western-centrism, as opposed to feminism and multiculturalism. No Proud Boys have killed anyone, which distinguishes it from typical terrorist groups, and its violence has almost exclusively involved street brawls with Antifa. In October 2018, among the first Proud Boys imprisoned for brawling with Antifa outside New York's Republican Club was New Jersey resident John Kinsman (northjersey.com, October 22, 2018). Antifa had vandalized the club before Proud Boys founder Gavin McInness gave a speech. Another Proud Boy, Tusitala "Tiny" Toese, also pled guilty to misdemeanor assault of Antifa activists in June 2018 and was jailed for 10 days in October 2019 for violating probation stemming from another December 2017 brawl with Portland's "Rose City Antifa" (oregonlive.com, October 24, 2019).
Besides clashing with Antifa, Proud Boys made a name for being "bodyguards" for conservative speakers at university campuses, especially Ann Coulter. Proud Boys, for example, accompanied her to a University of Oklahoma speech in November 2020 (oudaily.com, November 5, 2020). McInness and other Proud Boys also traveled to University of California-Berkeley in 2017 for Coulter's anti-immigration speech, but the speech was canceled over concerns Antifa would disrupt Coulter and clash with Proud Boys (latimes.com, August 30, 2017). McIness nevertheless gave Coulter's speech on her behalf outside campus (therolladailynews.com, April 27, 2017).
After George Floyd's May 2020 death, Antifa's street presence increased drastically, especially alongside Black Lives Matters protesters (see Terrorism Monitor, December 5, 2020). Proud Boys, meanwhile, allied with "Patriot groups" at "pro-police rallies" and continued clashing with Antifa activists, who supported disbanding the police (seattletimes.com, August 9, 2020). Weeks before Joe Biden's January 20 inauguration, Proud Boys, who supported Donald Trump, clashed intensely with Antifa in Washington D.C. for the first time, instead of Portland and Seattle where previously clashes occurred (The Telegraph, December 13, 2020). Proud Boys leader Enrique Tarrio, who replaced McInness in 2018, was barred from Washington D.C. after those clashes because he was charged for Proud Boys' burning of a Black Lives Matter banner at a church yard (Yahoonews.com, January 5).
Several Proud Boys, but not Tarrio, subsequently took part in storming the Capitol on January 6 (WSJ, January 26). They expected to clash with Antifa during Trump's speech, but Antifa did not show up. Thus, some Proud Boys, including a top leader, Joe Biggs, did not wear the typical Proud Boys' yellow and black clothing to disguise themselves, but they still were seen in the Capitol in ordinary clothing (Washingtonian, December 31, 2020). Biggs, for example, was recorded pulling down his COVID-19 mask and saying "This is awesome" when he entered the Capitol building (Twitter.com/@shoot_the_glass, January 18). He was later arrested in Orlando (orlandosentinel.com, January 21). Another Proud Boy, Gabriel Garcia, who lost a Republican Party primary race to represent Miami in the state legislature in August 2020, was also arrested for storming the Capitol. Garcia had reportedly said "Nancy [Pelosi], come out to play" in the Capitol (local10.com [Miami], January 22).
Since the Capitol storming, Tarrio, who himself has been "outed" as a former FBI informant, which could damage his credibility, has declared the group will take a "chill pill" and become less active in the streets (newsweek.com, January 27; usatoday.com, January 14; globalnews.ca, January 10). This came amid the Canadian Parliament recommending that Prime Minister Justin Trudeau designate the Proud Boys as a "terrorist group" for being white supremacist and a hate group, while U.S. officials and activists are considering the same (Twitter.com/@huffpost, January 29; newsweek.com, January 11). The Biden administration has also promised to combat "domestic violent extremism (DVE)" (NBCnews.com, January 23). The term DVE, however, deviates from "racially and ethnically motivated violent extremism" (REMVE), which emerged under the Trump administration and would have seemingly more specifically targeted the Proud Boys. Despite Tarrio being Black Cuban-American, Toese being American Samoan, Kinsman being married to a Black woman, Garcia being Latino, and another Black member, Philip Anderson, whose tooth was punhced out by an Antifa-allied Black Lives Matter activist at an "anti-tech censorship" protest last year, the Proud Boys has been unable to shed the label of being white supremacist or embracing "multiracial whiteness" (abc7news.com, October 21, 2020; Washington Post, January 15).
The Biden administration's broader focus on DVE means that the Proud Boys and other pro-Trump groups that stormed the Capitol could come under greater scrutiny. However, Antifa, could also receive some of the same attention from government agencies. Antifa is, after all, violent, opposed to Biden's left-center record, and has vandalized Portland shops and even the Democratic Party's Portland headquarters following Biden's inauguration (forbes.com, January 21). After the inauguration, Twitter began restricting Antifa social media accounts and Seattle increased penalties for Antifa-style vandalism for the first time (nypost.com, January 22; Seattletimes.com, January 23). Moreover, the "free reign of violent anarchists [Antifa]" can no longer be pinned on "Trump's America," nor can Antifa's activities after the inauguration be reduced to an "idea" (YouTube.com/JoeBiden, August 29, 2020; usatoday.com, October 1, 2020). Therefore, both the Proud Boys and Antifa will have to adapt to survive in the Biden era.
***
Will Chad and Cameroon 'Mow the Lawn' Against ISWAP and Boko Haram?
Jacob Zenn
Amid continued attacks at Islamic State in West Africa Province (ISWAP)'s highest tempo in years, Chad and Cameroon are planning an offensive into northeastern Nigeria's Borno State to oust ISWAP from its strongholds (HumAngle, January 21). The previous Chad-led offensive in April 2020 occurred after a major attack by the Bakura sub-faction of ISWAP's rival, Boko Haram, in Bohoma, Chad, which killed 92 Chadian soldiers (see Terrorism Monitor, May 1, 2020). Chad's offensive succeeded in limiting the Bakura sub-faction's operational tempo. While the offensive also targeted ISWAP, it did not go far enough into Nigerian territory at that time to reduce ISWAP's capabilities such that ISWAP would no longer be a threat around Lake Chad (africanews.com, April 11, 2020).
Even before the April 2020 Chad-led military offensive, the Lake Chad-based Multinational Joint Task Force (MNJTF) comprising Nigeria, Niger, Chad, Cameroon, and Benin launched other offensives against ISWAP. In 2015, for example, the major offensive in Borno enabled Nigeria to retake virtually all towns that ISWAP controlled (France24, June 11, 2015). However, by 2018 ISWAP was resurgent and in 2019 it began retaking Nigerian military posts (Vanguard, January 3, 2019). The 2015 offensive, like the April 2020 offensive, saw some short-term counter-terrorism results, but few longer-term successes.
The question now is whether Chad and Cameroon see ISWAP and Boko Haram gaining strength and fear ISWAP may begin conquering territory again. ISWAP, for example, captured the Marte military base in Borno for a day on January 17 before the Nigerian Air Force struck several of its gun trucks as they departed the base to return to their hideouts (premiumtimes.ng, January 17). If Chad and Cameroon do have this concern about ISWAP, then their intentions for mobilizing to enter Borno to attack ISWAP and Boko Haram may simply be to reduce these groups' short-term ability to launch incursions into their own territories.
Alternatively, if Chad and Cameroon's intentions are to deliver ISWAP and Boko Haram a decisive blow, one would expect a larger mobilization and more public announcement of the imminent military offensive, including from Nigeria. All that has come from Nigerian President Muhammadu Buhari is an announcement that Nigerian military commanders will be replaced, but nothing on a multi-national offensive yet (punchng.com, January 26). It seems that any offensive will be much like the offensives in previous years, which, if successful, will 'mow the lawn' somewhat against ISWAP and Boko Haram. They will not, however, necessarily prevent ISWAP and Boko Haram from another resurgence in one or two years.