BRIEFS
Publication: Terrorism Monitor Volume: 10 Issue: 13
By: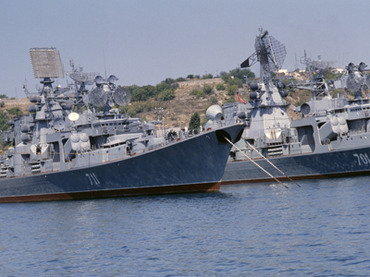 IS RUSSIA SENDING A DETACHMENT OF THE BLACK SEA FLEET TO SYRIA?
Despite a recent flurry of contradictory reports, it appears that a detachment composed of ships from the Russian Black Sea Fleet and possibly the Baltic Fleet is preparing for deployment to the Russian naval port at Tartus, Syria. The date for their departure has not been finalized and appears to be dependent on developments in the Syrian insurgency, but the ships are reported to be ready to leave on four hours' notice (Nezavisimaya Gazeta Online, June 20). Preparations appeared to intensify following an unannounced visit to Moscow on June 14 by the Syrian Defense Minister, Brigadier Dawud Rajihah (al-Quds al-Arabi, June 19).
The Russian Defense Ministry had earlier described American reports that the large amphibious warfare ship (LAWS) Kaliningrad of the Baltic Fleet was being sent to Syria as "disinformation… aimed at further escalating the situation in Syria…" adding that "the only true piece of information in these reports is that the LAWS Kaliningrad is indeed part of the Baltic Fleet" (RIA Novosti, June 19). Nevertheless, a source in the Russian Navy headquarters told Interfax-AVN the same day that the Kaliningrad would depart for Tartus "in a few days" (Interfax-AVN, June 19). The Russian Defense Ministry had also denied reports carried by American media sources to the effect that Russian ships had already departed for Syria by June 15 (Rossiyskaya Gazeta Online, June 18). Pentagon reports that U.S. satellite imagery revealed the BDK (Bolshoy Desantny Korabl – large amphibious landing ship) Nikolay Filchenkov was heading for Tartus earlier this month appear to have been incorrect, at least so far as timing is concerned. Loaded with military hardware, the ship left the Ukrainian port of Sevastopol (on lease to Russia) on June 21 bound for the Black Sea port of Novorossiysk rather than Tartus, but was due back in Sevastopol on June 25 (CNN, June 16; RIA-Novosti, June 21).
Despite the denials, a Russian media source specializing in defense issues claimed its sources had confirmed that the large landing ships Nikolai Filchenkov and Tzar Kunikov and the SB-15 rescue tugboat of the Black Sea Fleet together with units of a Russian Marine brigade were prepared to leave for Tartus once the Nikolai Filchenkov returned to Sevastopol (Interfax-AVN, June 20; June 19). Aerial protection of the ships has been guaranteed by Major General Vladimir Gradusov, deputy commander of the Russian Air Force (Nezavisimoye Voyennoye Obozreniye Online, June 19).
The Tartus facility was established in 1971 at a time when the Soviet Union had similar facilities in the Syrian port of Latakia and the Egyptian ports of Alexandria and Mersa Matruh. Today, only the facility at Tartus remains. Officially, Russia does not call the Tartus a naval base, but rather a "Navy Sustainment Center" (Ministry of Foreign Affairs of the Russian Federation, June 19). Under the official name of the Russian Federation Navy 720th Logistic-Support Station, the strategically important Tartus facility provides repair, refueling and re-provisioning services for Russian naval vessels operating in the Mediterranean, the Atlantic and the Indian Ocean. Following a dredging program that began in 2009, the floating maintenance station (the PM-138), floating docks and workshops at Tartus can handle even the Russian Fleet's largest ships, such as the Soviet-era aircraft carrier Admiral Kuznetsov, which visited Tartus in January. [1] The station is leased from Syria at a cost of $2 million per year, with payments made in both cash and arms (Komsomolskaya Pravda Online, June 15). Tartus is also said to act as the receiving port for Russian arms shipments, like that allegedly delivered by the MV Professor Katsman in sealed containers on May 26 (Interfax, June 4).
If Moscow remains committed to its opposition to foreign military intervention in the Syrian crisis, any Russian military mission would likely be limited to a primary task of evacuating Russian citizens and personnel, with the option of a secondary task of defending Russian installations at Tartus. The floating PM-138 can actually be moved offshore if threatened.
Russian Foreign Minister Sergei Lavrov has estimated there are approximately 100,000 Russian citizens in Syria, many with Syrian wives and families (Vedomosti Online, June 22). With such numbers, it is certain that a naval evacuation would prioritize diplomatic and military personnel in its calculations. The number of Russian stationed at the Tartus naval facility is estimated at no more than 100 (Vedomosti Online, June 22).
Though a website sympathetic to the Syrian insurrection had announced the Free Syrian Army (FSA – the main armed opposition group) intended to attack Tartus and had already infiltrated troops for this purpose, the FSA's Colonel Malik al-Kurdi described such speculation as "irresponsible talk" (al-Sharq al-Awsat, June 18).
Units of Russia's Naval Infantry (Morskoy Pekhoty – colloquially known as "Marines") under the command of Hero of Russia Colonel Vladimir Belyavskiy are reported to be ready to board all three Baltic Fleet ships on the receipt of orders (Interfax-AVN, June 19). Colonel Belyavskiy received his award for commanding Russian Marines of the Black Sea Fleet in a desperate engagement with Chechen mujahidin at the Tezen-Kale Gorge in February, 1995. [2]
The Russian Black Sea Fleet flagship, the missile cruiser Moskva, was scheduled to visit Tartus earlier this month, but its voyage was cancelled for reasons apparently related to the Syrian crisis (Interfax-AVN, May 23). The Soviet-era destroyer Smetlivy, which was to be relieved by the Moskva, was instead ordered to extend its cruise in the Mediterranean (Interfax, May 18). A Black Sea Fleet spokesman reported that security for the Smetlivy was provided in Tartus by a counterterrorism unit of Russian marines (Nezavisimoye Voyennoye Obozreniye Online, June 19).
While a unilateral intervention by Russia in Syria appears to be out of the question for now, the possibility of Russian participation in a UN-authorized multinational force remains open. There is also speculation that a peacekeeping force under the auspices of the Collective Security Treaty Organization (CSTO – a military alliance of seven former Soviet states, including Russia) might have a role in Syria. Various elite Russian military formations are reported to be receiving training for such an eventuality, including the 15th Combined Arms Brigade in Samara and the Pskov 75th Air Assault Division, which has previous experience with peacekeeping in Kosovo and in combat operations in Chechnya and Georgia. Also mentioned as likely participants in such a force are the Chechen Vostok and Zapad battalions of the Main Intelligence Directorate (GRU), which participated in peacekeeping operations in Lebanon and more active operations in Abkhazia and South Ossetia (Nezavisimoye Voyennoye Obozreniye Online, June 15). [3]
The view of Tartus as strategically vital to Russia's defense is not unanimous, however. A new report from the Russian Center for Analysis of Strategies and Technologies (described as having close ties to the Russian defense community) downplayed the strategic importance of the Syrian naval facility, suggesting that Tartus was "more of a symbolic rather than practical value to the Russian navy," whose loss "would have no significant effect on Russia's naval capabilities" (Financial Times, June 26).
Notes
1. The Russian designation for ships of this type is Tyazholyy avianesushchiy raketnyy kreyser, "heavy aircraft-carrying missile cruiser."
2. See https://rusnavy.com/history/branches/bv/belyavskiy.htm.
3. For Vostok and Zapad activities outside Chechnya, see Andrew McGregor, "Chechen Troops Accompany Russian Soldiers in Lebanon," Chechnya Weekly, October 26, 2006, https://www.jamestown.org/publications_details.php?volume_id=416&issue_id=3902&article_id=2371588, and "Peacekeepers or Provocateurs? Kremlin-Backed Chechen Troops Raise Tensions in Abkhazia and South Ossetia," North Caucasus Weekly, December 6, 2007, https://www.jamestown.org/chechnya_weekly/article.php?articleid=2373839.
THE MYSTERIOUS DEATH IN CUSTODY OF BOKO HARAM LEADER HABIB BAMA
Habib Bama, who is alleged to have directed numerous bombings in north and central Nigeria, was arrested in the Yobe State town of Damaturu in the early hours of June 21 by members of the Joint Task Force (JTF), an elite Nigerian counterterrorist unit. According to the JTF's Yobe State commander, Colonel Dahiru Abdulsalam, Bama was picked up while trying to escape after JTF agents were tipped off by local residents (Guardian Nigeria, June 22). According to the Nigerian State Security Service (SSS), Habib Bama (a.k.a. Shuabu Bama, Habib Mamman) is a Kanuri from Borno State and a former private in the Nigerian Army before his dismissal. (Vanguard [Lagos], February 15). The arrest concluded a manhunt for Bama that began on February 15. Before his death in custody, Bama was reported to be providing useful information to JTF interrogators, who said they were "still extracting words from him," but might move him to Abuja if his condition improved (The Nation [Lagos], June 22; Leadership [Abuja], June 22).
Nigerian security sources have cited Habib Bama as playing a leading role in a number of especially bloody attacks:
• Mogadishu Barracks Mammy Market, Abuja– December 31, 2010 (see Terrorism Monitor Brief, January 6, 2011).
• Suicide bombing of Police Headquarters in Abuja – June 16, 2011 (see Terrorism Monitor Brief, June 23, 2011).
• Suicide bombing of the UN headquarters in Abuja – August 26, 2011.
• Car bomb attack on St. Theresa's Catholic Church, Madalla, Niger State – December 25, 2011.
Various accounts have circulated regarding the manner of Bama's arrest. One version maintains that the JTF stormed his base in Damaturu on June 21 and engaged Bama and his aides in a gun battle in which Bama was fatally wounded (Daily Trust [Lagos], June 22). Another account suggests that Bama was shopping for food in the market when he was identified by a former army colleague on patrol with his unit. Bama reportedly tried to grab one of the soldier's weapons but was shot in the leg before four soldiers overpowered him. Two young men who were with Bama reportedly escaped in the confusion (The Nation, June 22). A day later it was reported that the two young men (by now "armed to the teeth") had been arrested along with Bama and were undergoing interrogation, where they had made "some useful statements" according to the JTF (The Nation, June 23). .
According to another JTF source, Bama was shot in the market "to incapacitate him," as JTF men were unsure if he and his companions were armed. The latter ran away, while Bama was "given the best of medical treatment to save his life" but died despite the efforts of doctors, though not before "providing some leads for the JTF" (The Nation, June 23).
A further JTF source added that "security agencies were able to interrogate him even while in pain and he was able to respond to some questions… It was unfortunate that Bama died of gunshots. We had planned to fly him to Abuja for the best treatment, but he could not just make it" (The Nation, June 23).
Gunshot wounds to the leg are rarely fatal if medical treatment is received in a timely fashion, making Bama's subsequent death in JTF custody somewhat unusual. However, a source from the SSS was quoted as saying that "a deliberate decision" was made to deny Bama medical care, a decision made in light of recent difficulties encountered in obtaining convictions for alleged Boko Haram militants in Nigerian courts due to the reluctance of witnesses to testify against the movement (SaharaReporters.com [Lagos], June 22).