"By the Hands of Men Who Don't Fear Death" – Jund al-Khilafa Launches Islamist Insurgency in Kazakhstan
Publication: Terrorism Monitor Volume: 9 Issue: 43
By: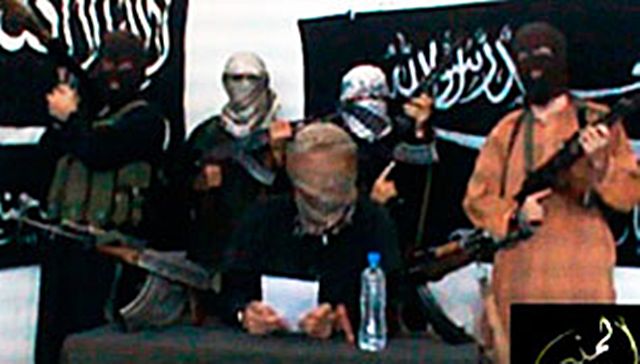 Since the Kazakh militant group Jund al-Khilafa (Army of the Caliphate) released videos in September and October of two attacks that it claimed to have led against U.S. forces in Afghanistan, the group has risen to prominence on the international jihad scene. The group's three Kazakh founders, Rinat Khabidolla, Urynbasar Munatov and Damir Znaliyev may have been among numerous foot soldiers in the Haqqani network's foreign legions, but their savvy in using the internet to promote jihad in Kazakhstan has brought significant attention to their cause (Tribune [Astana], November 9). Already Jund al-Khalifa ranks with the Islamic Movement of Uzbekistan (IMU) and the Turkistan Islamic Party (TIP)/ East Turkistan Islamic Movement (ETIM) as one of the most prominent indigenous Central Asian jihadi organizations. In fact Jund al-Khilafa, which claims to have 90 percent Kazakh fighters, may be a sub-unit of the Islamic Movement of Uzbekistan (Tengrinews, November 2).
In a statement posted on the Ansar al-Mujahideen Islamic Forum on November 17, Jund al-Khilafa lashed out against President Nazarbayev's policies to close down mosques and his pawning to Russian interests in the country, governmental corruption, and the torture of Muslims in Kazakh prisons. [1] In an earlier October 21 video statement, Jund al-Khilafa threatened to "make a move" against the government if it "insisted on its position" with regard to laws forbidding prayer in public institutions and the wearing of headscarves (Noviy Regyon [Moscow], October 26). Through statements focusing on domestic Muslim concerns, Jund al-Khalifa has portrayed itself as the legitimate representative of jihad against the Kazakh State, while the two videos of attacks in Afghanistan have won the group credibility internationally.
When Jund al-Khilafa released the video on October 26, it had still never conducted or claimed an attack on Kazakh soil. But within one week of the video, on October 31, one attacker blew himself up next to an apartment building and another bomb was detonated in a garbage can in Atyrau (Tengrinews, November 1). Jund al-Khilafa claimed credit for the explosions and provided a statement on November 1 saying, "We deny that the last attack was made by a suicide bomber. It looks like the bomb exploded accidentally causing the martyr death of the carrier… Both of these blasts were just warnings for the government and we intentionally did not aim for deaths and injuries, as we don't want to harm a lot of people" (Tengrinews, November 1).
The "martyr" was identified as a 23-year old resident of Atyrau, and on November 7, three other men were also arrested in the oblysy (province, from the Russian oblast). The provincial prosecutor's office alleged that the cell responsible for the explosions was formed in 2009 under the influence of Russian-born Islamic convert Said Buryatsky (a.k.a. Alexander Tichomirov) and received orders to carry out the October 31 explosions from Jund al-Khilafa leaders based in Afghanistan (Tengrinews, November 9). Atyrau is an oil hub in the western part of Kazakhstan directly across the Caspian Sea from the North Caucasus where Buryatskiy made his name as a jihadi leader before Russian forces killed him in 2010 (see Eurasia Daily Monitor, March 11, 2010). That Atyrau was the site of the October 31 attack may be symptomatic of growing extremism in the oblysy. 90 percent of the province's 8,000 practicing Muslims, are believed to be between the ages of 13 and 30, and 70% of the young people are influenced by Salafism (Tengrinews, November 17).
If the October 31 attack was the work of Jund al Khalifat, its failure may point to the group's inexperience. However, Jund al-Khilafa will have support from their jihadi allies in the Afghanistan-Pakistan border region to hone their operational capabilities. The Turkistan Islamic Party (TIP), which represents Uyghur Muslims fighting Han Chinese rule in Xinjiang, frequently claimed credit for attacks in China that it had nothing to do with when it first appeared in online statements and videos in 2008, but by October 2011 the TIP had succeeded in striking Xinjiang several times with deadly terror attacks carried out by militants who had trained in the Afghanistan-Pakistan border region.
The Taliban has accused Kazakhstan of "protecting American interests instead of taking into account the aspirations of their people and the regional interests" and called for Kazakhs to "stand against this wrong policy of their rulers" (China Daily, May 22). This statement is but one indication that the Taliban will aid Jund al-Khilafa in fighting the Nursultan Nazarbayev regime in Kazakhstan.
Jund al-Khilafa claimed another strike on November 12, this time in the eastern city of Taraz, which lies along the Kazakh border with Kyrgyzstan. In a two-hour noon-time rampage, a 34-year-old former senior rifleman in the Kazakh army, M.K. Kariyev, hijacked a car by threatening the driver with a gun; robbed arms from a gun shop, killing a shopper and a guard in the process; stole a police car by killing two special security police officers and taking their Kalashnikov and Makarov guns; drove home to pick up an RPG-26 grenade launcher; then drove to the regional office of the National Security Committee (NSC – the post-Soviet successor to the KGB) and launched one shot from the grenade launcher and several shots from automatic weapons at the walls of the building. At this point Kariyev drove away and shot and wounded two more policemen before he was finally wounded by police in a shootout. When a commander arrived to seize Kariyev, he blew himself up killing the commander as well. In total, there were five killed, besides Kariyev (Tengrinews, November 13).
Jund al-Khilafa said in a statement the day after the attack that, "In Taraz, you saw with your own eyes what one soldier did to you, and Insha'Allah you will see horrors by the hands of men who don't fear death and give their souls easily to support the religion of Islam and defend the honor of the Muslims" (ansar1.info, November 16).
There is no denying that there is a terror problem in Kazakhstan. Kariyev's attack in Taraz followed a string of violent incidents in the country, including:
The country's first-ever suicide bombing when an attacker entered the NSC headquarters in the northwestern city of Aktobe on May 17, killing himself and two others. In this incident the government blamed the attack on "mafia" grudges against the Security Bureau (Eurasianet, May 17)."
The government ruled out terrorism in a May 24 nighttime car bombing outside the NSC headquarters in Almaty that killed the driver and a passenger and for a June 30 incident in which two police officers were murdered in a village 250 km from Aktobe (Central Asia Today, May 24).
The government arrested more than 20 terror suspects with links to terrorists in Pakistan in an October 31 operation in Atyrau (Tengrinews, September 2).
On November 12, one day before Kariyev's attack, a bomb killed one person and injured several others when it exploded next to the Taraz oblysy administration building. Several other explosions were reported throughout the city on the same day (Tengrinews, November 12).
Jund al-Khilafa is well positioned to take credit for all of the violence in Kazakhstan because of its online monopoly of the Kazakh jihad. It hopes that attacking state institutions will trigger an Arab Spring type of revolution in Kazakhstan. In its October 26 statement, Jund al-Khilafa said, "Know that the policy that you [Nazarbayev] are following is the same that was applied in Tunisia, Libya and Egypt; however, as you have seen, it only caused loss to those who exercised it."
If Nazarbayev cannot maintain stability in Kazakhstan, then even the majority of religiously non-affiliated Kazakhs may question the purpose of his two-decade rule, which, like Mubarak's Egypt, has been characterized by the trade-off of people giving up democratic rights for the stability provided by dictatorship. Whereas the Arab Spring was triggered by liberal secularists and then taken advantage of by Islamists, in Kazakhstan the Islamists may trigger the leader's downfall, though it may be the moderate Kazakh citizenry that reaps the spoils.
Note:
[1] https://www.ansar1.info/showthread.php?p=132853#post132853.
Jacob Zenn holds a Juris Doctorate from Georgetown Law where he was a Global Law Scholar. He is an international affairs analyst with extensive experience in Central Asia, including completing a course of Russian language study in Bishkek, Kyrgyzstan in 2007, Farsi/Tajiki language study in Samarkand, Uzbekistan in 2008, and Uyghur/Uzbek language study in Urumqi, Xinjiang Province, China in 2011.