Can Belarus Ever Overcome the Pull of Russia?
Publication: Eurasia Daily Monitor Volume: 17 Issue: 11
By: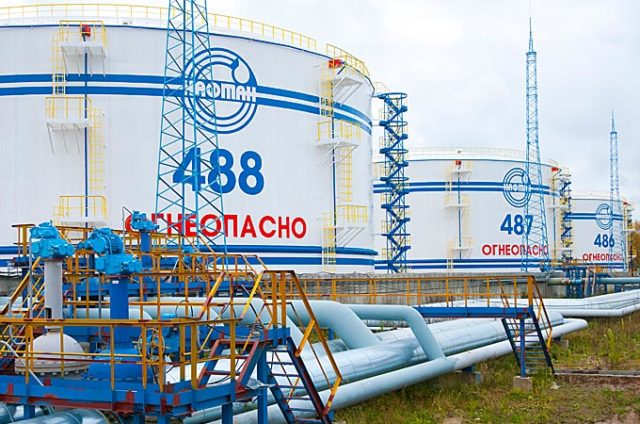 On January 21, media outlets reported that Belarus had purchased 80,000 tons of crude oil from Norway (Tut.by, January 21, 2020). A Norwegian tanker delivered this oil to the Lithuanian port of Klaipeda, from where it will proceed by rail to Naftan, one of two Belarusian refineries located in the city of Novopolotsk. The news provoked a number of observations in the context of Belarus's relationship with Russia.
First, the Norwegian oil purchase is a trial balloon. As such, it will allow Belarus to fully evaluate the attendant costs of such an import option while simultaneously sending an unambiguous message to Russia, Belarus's major—and typically only—external oil supplier. The volume purchased is equivalent to what Naftan normally processes every three days.
Second, by preliminary estimate, this purchase is much more expensive than the deal Belarus has with Russia. For example, the transportation costs for the Norwegian oil will exceed the Russian equivalent by $20 per ton. Additionally, the price that Belarus pays for the Russian oil itself is only about 83 percent of the free market price; and Russia's adoption of the so-called oil tax maneuver will not to raise that rate to the global market level until 2024 (Carnegie.ru, January 23, 2020). In contrast, the current impasse in Belarus's ongoing haggling with Russia is over only a $10 per ton premium. Apparently, aside from cost accounting, negotiations are stalled over the issue of Belarusian dignity.
Third, President Alyaksandr Lukashenka set a target to reduce the share of Russian oil to no more than 40 percent of the total purchased by Belarus (Vzglyad, January 21, 2020). In this regard, it is worth pointing out that even Poland, whose relationship with Russia leaves much to be desired, largely uses Russian oil: in the first half of 2019, 63 percent of oil imports to Poland came from Russia and in 2018, 77 percent (TVN24bis.pl, September 20, 2020). The 2019 decline was largely due to a supply interruption associated with the accidental contamination of Russian oil sent through the Druzhba Pipeline (see EDM, June 21, 2020), which in fact had impacted Belarus even more.
Finally, the Norwegian oil purchase by Minsk ended up underscoring just how monumental Russia's role in the Belarusian economy actually is. Refined Russian oil accounts for one quarter of the value of Belarus's exports, whereas another half of its overall exports go to Russia (mainly merchandise and food) (Onliner, January 21, 2020).
Consequently, Minsk's goal of lessening its dependency on Russia is exceedingly difficult. As Yauheni Preiherman, the head of the Minsk Dialogue forum posits, "The real question hanging over the Russia-Belarus relationship concerns Belarus's development in the long term. If Belarus fails to diversify its economy and diplomatic relationships, it will eventually find itself in a more perilous situation" (Ecfr.eu, January 21, 2020). It seems, however, that on the diplomatic front, the situation is not nearly as murky. After all, Belarus's contacts with the West are closer than ever before. For example, the delayed visit by US Secretary of State Michael Pompeo will take place on February 1 (Svaboda.org, January 22, 2020).
At the same time, Belarus is used to extracting economic benefits from discounts on Russian oil and natural gas. According to Dmitry Mezentsev, Russia's ambassador to Minsk, the two governments are close to some kind of a compromise (Nezavisimaya Gazeta, January 23, 2020). This appears to echo Lukashenka's peculiar recent statement in the city of Shklov, from which he once began his ascent to the helm of power. "Perhaps they [the Russians] will come to their senses and return to normal relations," observed the Belarusian leader (Naviny.by, January 24, 2020). If this comes to pass, the aforementioned economic "addiction" to Russia will continue. Conversely, its rejection may lead to a necessary dismantling of the highly subsidized Belarusian welfare state, and for that, "neither Lukashenka, nor the government nor Belarusian society at large seem to be ready," opines Radio Liberty commentator Valery Karbalevich (Svaboda.org, January 22, 2020).
Besides, it is not just the economy that matters. According to monitoring by the Belarusian Association of Journalists, an opposition-minded entity, "Seventy percent of Belarusians have already moved to Russia without leaving their homes" (Naviny.by, January 23, 2020). To wit, for 70 percent of Belarusians, the main source of information is television. And on Belarusian TV, Russian-produced content remains dominant. It accounts for 72 percent of airtime on ONT, Belarus's most popular TV channel; 91.4 percent of RTR-Belarus, the second-most popular network; and 63 percent on Belarus 1, the country's third-most popular television outlet. As Maxim Zhbankov, one of the authors of the monitoring report, pointed out, "If there is no political will to allow for an unshackled field of cultural communication, then even the increase in Minsk-produced propaganda will not change the situation" (Baj.by, January 23, 2020). The actual increase mentioned boils down to a switch from praising Russia to reproaching it for the ongoing Belarusian-Russian integration hurdles.
It is little wonder then that major independent commentators of Belarus are fixated on how the government shakeup in Moscow may affect Belarus. Their sentiments fall into two camps. On the one hand, Yury Drakakhrust of Radio Liberty notes positively the retirement of at least two hardliners in regard to Belarus: Dmitry Medvedev, the author of the December 2018 integration ultimatum, and Dmitry Kozak (Svaboda.org, January 21, 2020). Likewise, in the opinion of Artyom Shraibman, Russia is going to be more pragmatic in its relations with Belarus and it is not worth exaggerating the risk to the economic situation. But on the other hand, Alexander Feduta, a political consultant and Lukashenka's press secretary in 1994, worries that with the specter of Belarus's annexation by Russia gone, there will be less willingness on the part of the West to extend a helping hand to Belarus going forward (Svaboda.org, January 16, 2020).
Belarus appears to be between a rock and a hard place: the threat of Russia is bad but so is the subsidence of that threat. If that is truly the case, the pull of Russia will, indeed, be hard to overcome.