Russian-Turkish Accords Start to Unravel in Libya and in Syria
Publication: Eurasia Daily Monitor Volume: 17 Issue: 12
By: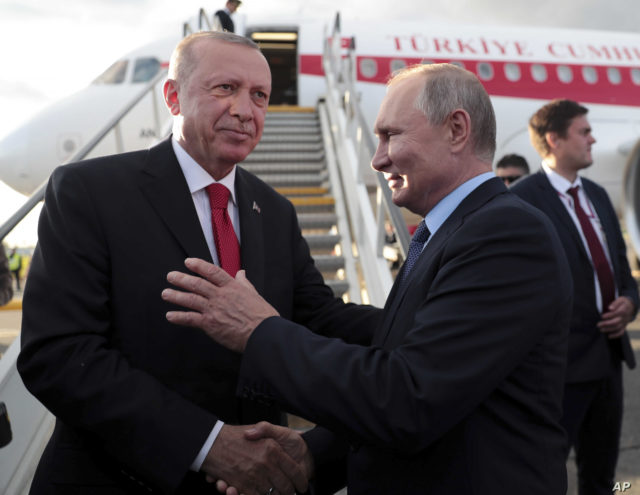 At a summit in Istanbul, on January 8, 2020—an event officially earmarked to celebrate the beginning of exploitation of the TurkStream natural gas pipeline—Russian President Vladimir Putin and his host, Turkish President Recep Tayyip Erdoğan, sat down together to work out ceasefire agreements regarding Libya and the northern Syrian province of Idlib. In both of these conflict zones, Turkey and Russia seem to be on a collision course: pro-Russian and pro-Turkish proxies are already fighting on opposite sides, and there is a risk of a possible future direct military confrontation.
Putin has been actively courting Erdoğan for years in an effort to draw Turkey away from the United States, the North Atlantic Treaty Organization (NATO) and the West more generally (see EDM, July 18, 2019). Thus, in Istanbul, the Russian leader agreed to ceasefire terms that Russia's own proxies—Khalifa Haftar, the commander of the Libyan National Army (LNA), and President Bashar al-Assad's Syrian regime—clearly opposed. The LNA, reinforced by various mercenary groups, including the Russian private military company Wagner Group, have been besieging Tripoli since April 2019. The costal Libyan city is the seat of power of the LNA's main domestic rival, the United Nations–recognized Government of National Accord (GNA). At the same time, al-Assad's forces, supported by Russian soldiers and bombers, Hezbollah and other Iranian-backed militias, have been advancing on Idlib, the last stronghold of the Syrian opposition and Islamist fighters. In Idlib and in Libya, the pro-al-Assad forces and the LNA did not want to stop while they have the advantage simply because Putin managed to strike an agreement with Erdoğan in Istanbul. Apparently, Russian generals opposed calls to stand down, as well (see EDM, January 23, 2020).
In Idlib, the negotiated ceasefire has already collapsed, and the province is being bombarded by al-Assad's Syrian Arab Army (SAA) and the Russian Aerospace Forces (Vozdushno-Kosmicheskiye Sily—VKS) (Kommersant, January 20, 2020). The Russian Ministry of Defense (MoD) blamed radical Islamist militants for allegedly violating the ceasefire first. MoD spokesperson General Igor Konashenkov condemned as a "hypocrite" US Secretary of State Michael Pompeo, who accused the VKS along with the SAA and its allies of indiscriminate attacks against "innocent civilians" and called for a renewed ceasefire and an end to the "large-scale offensive in Idlib." According to Konashenkov, "The State Department preaches and voices its concern about the alleged suffering of civilians only when terrorists suffer a crushing defeat and Syrian citizens are finally liberated" (RT, January 29, 2020). On January 28, Syrian rebel forces abandoned Maarat al-Numan through a corridor left open to the north of the city by pro-al-Assad forces, who then moved in to occupy the city. Maarat al-Numan is strategically located on the M5 highway linking Damascus with Aleppo; it is the second-largest town in Idlib province and has been the main target of the recent Russian-backed SAA offensive. The Russian MoD described the fall of Maarat al-Numan together with "27 smaller towns and villages" as an important victory. Russia's defense ministry described the attacks against rebel fighters as "extremely accurate, aimed to avoid any civilian casualties; whereas 211 SAA soldiers and 121 civilian perished in Idlib since January 9, 2020, as a result of rebel attacks" (Interfax, January 29, 2020).
The fall of Maarat al-Numan and the continued Russian-backed SAA offensive in Idlib are creating serious problems for Erdoğan, who has accused Russia of not fulfilling agreements to stop the fighting. Erdoğan told journalists, "Our patience will run out," and, "from this point, we are going to take our own actions—this is not a threat, but we expect Russia will give the [al-Assad] regime the necessary warning." The Turkish military maintains ceasefire observation points in Idlib province and promised "to retaliate without habituation" if threatened by the SAA advance (Daily Sabah, January 29, 2020). Idlib province is packed with displaced Syrian refugees who moved to this last rebel stronghold after the regime took over other rebel enclaves. They have nowhere left to go, and the Russian-backed offensive is pushing them to the Turkish border, creating a humanitarian nightmare. The Idlib crisis is also closely connected to the one in Libya. Sizable contingents of Turkish-trained and -armed Syrian rebels have been reportedly shipped to Libya to help stop Haftar's forces in the battle for Tripoli (see EDM, January 23, 2020). Turkey has most likely guaranteed those people that their homes and families will be safe in Idlib, but now they are threatened while the men are engaged in Tripolitania.
The Russian Ministry of Foreign Affairs claims the ceasefire is "mostly holding in Libya," despite the failure by Haftar to sign the ceasefire agreement (Militarynews.ru, January 28, 2020). But there are credible reports Haftar's LNA is continuing to press an offensive along the Mediterranean coast, from the city of Sirte, captured on January 6, 2020, to Misrata (Militarynews.ru, January 26, 2020). The well-armed and capable "Misrata brigades" have been the backbone of the defense of Tripoli and its airport against continued LNA attacks. If they leave Tripoli to defend their threatened hometown, the GNA and its defenses may collapse, handing Tripoli to Haftar. Apparently, to prevent such an outcome, two Turkish frigates have reportedly entered Tripoli's port, escorting a transport ship that has been disembarking tanks and other military vehicles (Militarynews.ru, January 29, 2020).
Erdoğan has maneuvered himself into a position in which he may find himself forced to follow up his customary belligerent rhetoric with real military action, if the advance of Moscow-backed forces is not reversed in Tripolitania and in Idlib. Then, Putin's cherished policy of turning Turkey away from NATO and the West may go up in smoke. It remains unclear whether Putin could actually force Haftar and al-Assad to back down if need be. And in light of recent events in Idlib (see EDM, January 23, 2020), it is similarly questionable whether the Kremlin fully controls its generals.
Putin has invested significant prestige, service members' lives and national wealth into extending Russian power and influence in the Middle East; but the only viable logistical connection to the region passes through the Turkish Straits, controlled by Erdoğan. This geopolitical reality suggests that another desperate phone conference call from Moscow to Ankara or hastily arranged Putin-Erdoğan summit in Sochi to resolve the crisis in bilateral relations may be in the offing. But will a new ceasefire declaration regarding Idlib or Libya work any better than all the previous ones? Or is the Putin-Erdoğan relationship collapsing in the face of acrimony and threats of possible military action? The reckoning may be approaching.