Can Iranian Drones Respond to Putin's Call for Help?
Publication: Eurasia Daily Monitor Volume: 19 Issue: 112
By: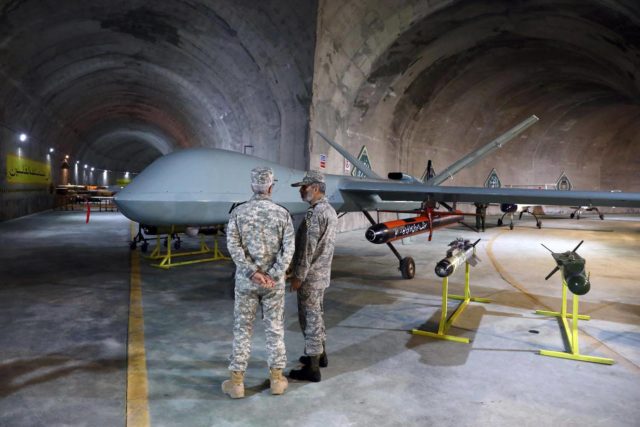 On July 11, US intelligence warned that Tehran was preparing to send hundreds of Iranian unmanned combat aerial vehicles (UCAVs) to Moscow. Open sources in Washington claimed that, in early July, Tehran had showcased the Shahed-191 and Shahed-129 drones to a visiting Russian delegation. Commercial satellite imagery allegedly confirmed that a delegation from the Kremlin had visited Kashan Air Base at least twice in the past month (Radio Farda, July 16). If realized, a drone deal between Iran and Russia would signify a transfer of unmanned aerial capabilities between parties in the anti-West camp during an ongoing war.
Amid significant supply disruptions, the price to produce Russian drones has skyrocketed, with  various costs increasing anywhere from 30 to 200 percent (Lenta, June 15). This makes importing unmanned aerial vehicles (UAVs) a far cheaper alternative. Crippled by a deteriorating defense economy, even Russian media platforms agree that President Vladimir Putin needs urgent, affordable and effective solutions to sustain his war. The Ukrainian war has already cost Russia over 60 Orlan-10 reconnaissance UAVs (Oryx, February 24). Indeed, unlike the claims of Russian military propaganda, Russian drones have performed weakly against Western systems. The drones have been particularly vulnerable against man-portable air-defense systems (MANPADS), including Stingers and LLM Martlets, as well as optically guided Martlets and Starstreaks (Twitter.com/UAWeapons, April 22). Thus, although Iranian Foreign Minister Hossein Amir-Abdollahian reassured his Ukrainian counterpart to the contrary over a recent phone call, the Kremlin might indeed find what it needs from its non-NATO ally's combat solutions.
In truth, Tehran's drones can enhance the ongoing Russian assault in several ways. Iranian drones are transforming from an intelligence, surveillance and reconnaissance (ISR) asset to a strike asset (IRIB News Agency, May 22, 2021). This makes them ideal for striking high-value Ukrainian targets with precision, filling an important gap in Russia's existing strike package. Both the Shahed-191 and Shahed-129 drones can carry precision-guided missiles, and Ukrainian-Western intelligence believes the Russians are running low on such munitions (Pravda, March 23). Therefore, these drones can fill an important gap and pressing need in Russian inventory and strike capabilities.
From a cost-benefit standpoint, both drones would also provide the Kremlin with low-cost force multipliers. Besides, most of Ukraine's air defense assets are based upon the Soviet designs. As mentioned by regional and military expert Can Kasapoglu, these systems have proved ineffective in intercepting slow-moving, piston engine–powered drones, such as Turkey's Bayraktar TB-2 (see EDM, March 16). Both Iranian drones, the Shahed-129 and Shahed-191, fall in this category.
Iranian drones can also overwhelm sensor networks, blurring the enemy's line of sight. Yet, the West's heavy counter-drone measures (supplemented by high-end, sophisticated systems, such as Starlink) coupled with the lack of deployment of some of Russia's most promising electronic warfare (EW) capabilities, including the Krasukha-4, to suppress Ukrainian air operations render Iranian drones' chances of making a grand impact relatively slim.
Indeed, Iranian drones cannot provide Putin with a magic potion. The drones also cannot replace the tasks carried out by Russian UAVs. To begin with, a stark difference exists between Iranian and Russian drones' concepts of operations (CONOPS). On the one hand, Tehran uses drones to complicate its strike package and to boost the capabilities of its proxy militias. On the other, for Moscow, drones form an integral part of its EW network, including artillery fire and counter-battery strikes, and engage in tasks ranging from EW deconfliction to ISR (Rusi.org, July 4). While Iranian drones would provide an affordable and relevant solution to Russia's ongoing precision-guided munitions shortage, they cannot exhaustively replace these critical roles. Iran's drones cannot be efficiently integrated into Russian networks and datalinks without some form of database synchronization in place. Similarly, the drones cannot operate as mobile base stations within Russia's EW systems.
Besides the technical mismatch, a deal would also mean high political risks for Tehran. Judging from past operations, Iranian military personnel would need to have boots on the ground in the hot zone, including in Ukrainian territory, which would position Iran as a direct party in the ongoing war. Iran has previously provided drones, training and other necessary after-sale services to several countries and insurgent groups, forming an important pillar of Tehran's military-strategic relationship with its proxies and non-state allies. This was done through the main implementing authority of Iran's indigenous drone program, the Islamic Revolutionary Guard Corps (IRGC), which integrated drones into operators' strike networks. Acting as the long-arm of Iran's strategic outreach, IRGC members provided on-site, years long training and real-time support to Lebanese Hezbollah and Shia groups in Iraq concerning Iranian drone CONOPS.
Yet, in this war, Iran has openly stated that it is not willing to take sides. And while the statement should be taken with a grain of salt, the transparent nature of today's battlegrounds and sophisticated open-source intelligence (OSINT) techniques would prevent Tehran from being able to mask such a game-changing development. In other words, such a deal with Moscow would have immense geopolitical implications, which go far beyond any regular defense transaction.
In short, Iranian UAVs offer affordable solutions that can complement Russian strike capabilities. Outside the Shahed-191 and Shahed-129 drones, Iran's kamikaze drones could also be particularly useful for the Kremlin, especially when striking high-value targets with increased precision. Yet, for Tehran, obstacles, such as the difficulty of integrating systems without Iranian boots on the ground, and potential political sensitivities could prove too much and prevent any notion in Tehran of actively supporting Putin's war in Ukraine.