Russia's Increasing Use of Cossack Reservists Highlights Manpower Shortage
Publication: Eurasia Daily Monitor Volume: 19 Issue: 112
By: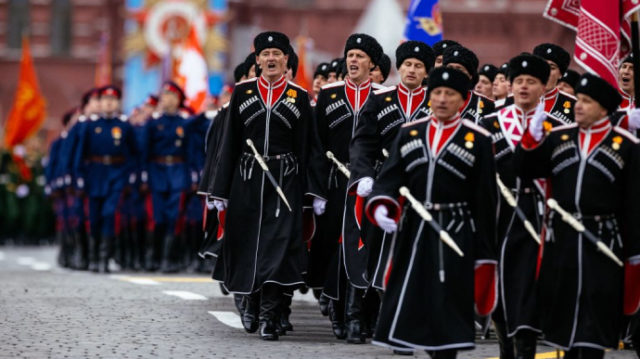 As the Kremlin's ill-planned re-invasion of Ukraine wears on, much speculation has hinted at Russia's manpower and other resources being depleted and wasted on the battlefield. One indicator that lends strength to such a narrative is the increasing use of Cossack reserve forces in Ukraine.  Whereas before, the majority of Cossack forces were drawn from the Rostov and Kuban regions that border Ukraine, a recent announcement showed that more forces from the Orenburg Host are being sent to Donbas (see EDM, May 10). Indeed, "as part of 450 volunteers of the Bashkir battalion named after Minigali Shaimuratov, Cossacks of the Ufa-Tabyn division of the Orenburg Cossack Host went to coordinate combat and to participate in the special military operation in Ukraine. According to the Ataman of the Ufa-Tabyn division, the Bashkir regiment is staffed with 20 Cossacks who have considerable combat experience" (Vsko.ru, July 8). Yet, Bashkiria is an ethnic republic in its own right, and in the 1990s, speculation alluded to possible secessionism there, along with neighboring Tatarstan. The fact that Russia is having to draw so deeply on its reserves of Cossack forces implies that Moscow's manpower shortage may be quite serious.
Similarly, training exercises were recently held by the Volga Cossack Host at the Roschinsky training ground near Samara. The training was aimed at reservists who last underwent such experiences five to ten years ago, and instructors taught the Cossacks how to pull the wounded from the battlefield and use drones to achieve reconnaissance and offensive goals; they also engaged in training with a number of light arms. The training was not merely theoretical, as Ataman Yuri Ivanov pointed out: "As a result of the training camp, the Volga Cossack Host has staffed a team of Cossack volunteers to be sent to the combat zone in Donbas" (Vsko.ru, July 7).  According to reports, the Cossack societies have added a "Yermak" Cossack regiment, which is fighting in eastern Ukraine. More Kuban Cossacks are also being trained and prepared to enter the warzone (Vsko.ru, July 13).
Certainly, Cossack organizations throughout Russia also appear to have stepped up their training of youth to prepare them for military service instantly. Admittedly, such training programs are more frequent in the summer anyway, but even so, the sheer—and growing—number of them is striking. For instance, in the Republic of North Ossetia–Alania, pupils of the Terek Cossack plastuny detachment underwent training in the forest. The young Cossacks "were taught by instructors—special forces servicemen who went into the reserve." The "children learned in practice that, in military affairs, it is important to be attentive, to think logically, to assess the situation quickly, and, most importantly, to work as a team." The organizers went on to link their efforts to the struggle in Donbas, saying "we are strengthening the military training of the pre-conscripts. We have been engaged in this area of activity for nine years. This is hardening, the formation of endurance and courage among our Cossacks" (Vsko.ru, July 6).
And this is not happening solely with young Cossacks from the All-Russian Cossack Society (VSKO). The "free" Cossacks also appear to be organizing increased training lessons. These Cossack groups are not overtly directed by or affiliated with the government but are instead Cossacks by virtue of ancestry, and the majority are instinctively patriotic and loyal to Russia.  One such "three-day field gathering of young Cossacks from the Union of Cossacks of Tyumen Oblast" was held on July 8-10. The youth were given lessons on the history of the Cossacks, Siberia and Tyumen Oblast. They also went camping, enjoyed physical exercise and sports, and engaged in "initial military training (drills, firing practice, assembly and disassembly of weapons and initial guard service)" (Allcossacks.ru, July 11). Of course, it is not unusual for Cossack groups to hold training camps over the summer, and many do it even in non-war years and still provide military training. Yet, at the moment, these training camps appear ominous, as Russia's "special military operation" is encountering mounting difficulties in Donbas.
Indeed, a report testifies that leaders of Cossack youth were killed in the "liberated" Shakhtersk region of the so-called Donetsk People's Republic (DPR). The leaders were the chairman of the Don Cossack youth movement in Astrakhan, Georgii Sherstiukov; his deputy Aleksandr Matveev; and the chairman of the patriotic division of the Russian Union of Veterans of Afghanistan, Alexander Khovriko. All came to the DPR with other activists from Russian youth patriotic organization Heritage on July 4. Matveev explained his willingness to get involved in Ukraine by saying that "we could not sit on the sidelines. Who, if not us? We show by personal example that it is necessary to help people who find themselves in difficult life situations" (Vsko.ru, July 13).
Most concerns about the involvement of these leaders focuses on the fact that they brought "other volunteers," which presumably included members of their youth organizations and potentially minors under age 18.  Of course, it is possible that such "volunteers" decided to go of their own accord and were not asked by the government to do so. However, previous experience with Russian institutions casts doubts on this scenario, and it is far more likely that at least some prompting came from above. If this is accurate, it truly underscores the severity of Russia's manpower shortage in Ukraine.