Can New Policies Curtail Banditry in Northwestern Nigeria Amid the School Closure Crisis?
Publication: Terrorism Monitor Volume: 19 Issue: 18
By: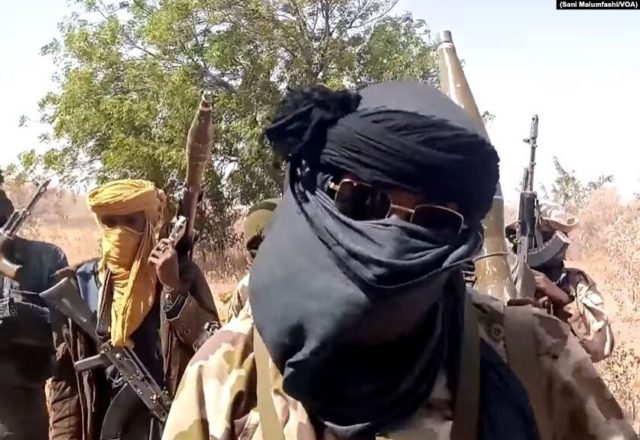 The series of attacks on schools, commuters, and communities in northwestern Nigeria has left families with traumatic experiences, displaced thousands of people from their homes and caused a deterioration of socio-economic activities, particularly in hinterland areas. For a region with a high rate of out-of-school children, northwestern Nigeria is facing increasing risks of further education deficits and low school enrollment due to attacks by armed banditry groups. In June, UNICEF reported that more than 13 million Nigerian children are not enrolled in school, which is more than anywhere else in the world (Guardian.ng, June 22). Around eight million of those children are located in northern Nigerian states, where banditry-related and other Boko Haram terrorist attacks persist.
The state of Zamfara is the nucleus of armed bandits operating in northwestern Nigeria. The state's governor, Bello Matawalle, estimates there are over 30,000 armed bandits operating in forests in Zamfara and six other states in the northwest (Thecable.ng, April 2). As a result of the continuous targeting of schools and abductions of students, not only are parents not allowing their children to attend school, but teachers are not able to work in the rural areas where authorities are shutting down schools as a preventative measure against kidnappings. Medical doctors and health professionals have also abandoned rural hospitals and relocated entirely to urban areas Security officials tasked to protect locals also fleeing their posts and other local authorities and traditional leaders are abandoning their ancestral homes for safer cities (Punch.ng, July 28). Among the largest abductions was one in Jangebe, Zamfara, where 317 girls were abducted in January, resulting in parents throughout Zamfara withdrawing their children from school (Dailypost.ng, March 1).
Meanwhile, state governors in northern Nigeria have focused on blaming political opponents or the protracted farmer-herder conflict for the security crisis rather than taking personal responsibility (Blueprint.ng, July 25). When the armed banditry groups began sacking northwestern Nigerian communities, the region's governors brought in banditry leaders for negotiations (Pulse.ng, November 5, 2020). However, the governors later realized that the amnesty granted to the armed banditry groups produced few meaningful results and created mistrust between the authorities and the groups when agreements were not implemented fully (Punch.ng, April 28). The security crisis, therefore, has persisted despite attempts to address it through military campaigns and dialogue.
New Policies and Strategies Against Bandits
In 2011, the then-governor of Zamfara encouraged the formation of the civilian joint task force (CJTF), popularly known as Yan Sakai (Nigerianeye.ng, July 15). The reason behind its formation was the frequent cattle rustling and banditry in rural communities. The group was able to push the bandits away from villages to more remote and ungoverned spaces along the border with Katsina, Kebbi and Sokoto states. Yan Sakai, however, was ultimately scrapped because of their human rights abuses in many affected communities (HumAngle.ng, June 18).
The federal government later intervened again in 2018 by banning illegal mining entirely in the country and deploying more security officers to protect locals. The government also pushed for more data capture by promoting the adoption of the National Identification Number (NIN) in an attempt to curb the use of mobile communications to facilitate kidnapping for ransom (Guardian.ng, May 6). Furthermore, the government declared a no-fly zone in Zamfara because of a report of an unauthorized aircraft aiding bandits (Naijamerit.com, April 9). In Katsina and Zamfara, the governors finally signed an order to close all roads to motorists and to ban the selling of petroleum in jerrycans to motorists in fuel stations and the interstate transport of cattle (Dailytrust.com, September 11).
After these trial and error policies adopted throughout the region, in early September the authorities in Zamfara shut down telecommunications for two weeks to enable security operations against the groups in hard-to-reach rural areas of the state (Premiumtimes.ng, September 6). This was a similar approach applied previously in Borno state during the former President Goodluck Jonathan's administration after Boko Haram seized a significant number of communities and overpowered the security agencies operating in the region (Premiumtimes.ng, May 17, 2013).
Economic Consequences of Anti-Banditry Policies
The National Bureau of Statistics (NBS) indicates Zamfara has 2,177,431 active subscribers from 2,337,893 connected phone lines, while internet users are around 1.59 million (Guardian.ng, September 6). This means that the government's directives have resulted in millions of people in Zamfara not being able to make or receive calls or texts or access the internet. While the shutting down of communications services could enable the security forces to block coordination by armed bandit groups, the policy will not end banditry because the bandits are not territorially dependent. Some of the armed banditry groups in Zamfara's forests near Niger's borders simply move to communities in Niger to make calls and come back to Nigeria to continue committing attacks.
A report to assess the effectiveness of telecommunication shutdowns in Borno State in 2013 revealed that the shutdowns were counterproductive. [1] Shutdowns created frustration and anxiety among people in the area and heightened their sense of insecurity because they were unable to access important news and information, reach emergency services or check in on their loved ones. Another drawback of the policy was the lack of transparency and accountability in its implementation. The authorities needed to show the Nigerian people the amount of progress achieved as a result of the shutdown, but this did not occur.
Some of the critics of the government's policy argue that the communications and logistics of the blockade in Zamfara will push more people into unnecessary hardship and cause more harm than good. Others argue it might lead to the armed banditry groups to kill their captives when they are unable to contact their captives' relatives for ransom payments (Mediacareerng.org, September 6).
Little evidence exists that shutting down telecommunication services will end terrorism or any violent armed conflict involving bandits in Nigeria. It has, however, become a common "tradition" among Nigerian leaders, whenever they are unable to carry out their primary responsibility of protecting lives and properties, to push the burden on ordinary people through policies that are not favorable for stopping the problem they seek to solve while also negatively impacting the daily activities of Nigerians in affected communities.
Notes
[1] Jacob, J.U.-U. and Akpan, I., 2015. Silencing Boko Haram: Mobile Phone Blackout and Counterinsurgency in Nigeria's Northeast region. Stability: International Journal of Security and Development, 4(1), 8.