Can Somalia's New President Finally Stop al-Shabaab?
Publication: Terrorism Monitor Volume: 21 Issue: 9
By: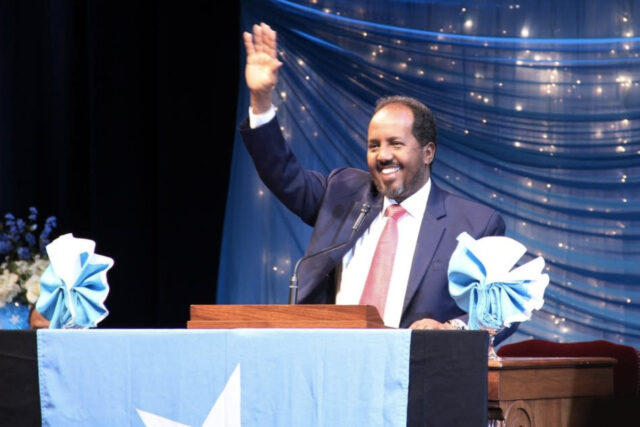 Al-Qaeda's Somalia-based affiliate, al-Shabaab, has suffered major setbacks in its battle against the internationally backed Somali government since 2007, when African Union troops entered the war-torn country. The militant group has lost key towns and territory, including the capital, Mogadishu, and the port city of Kismayo, resulting in decreased revenues. Despite this and the elimination of some of its top leaders via US drone- and airstrikes—including emir Abdi Ahmed Godane (alias Mukhtar Abu Zubair) in 2014 and Aden Hashi Aryo in 2008—military efforts have not broken al-Shabaab's ability to conduct attacks in Somalia and neighboring countries. On the contrary, the group is prepared to increase and possibly spread its attacks further.
Mixed Counter-Terrorism Successes
For 15 years, a combined force of African Union (AU) troops has spearheaded a military campaign against al-Shabaab. The first force, landing in 2007, was known as the African Union Mission in Somalia (AMISOM), though its name has since changed to the African Union Transition Mission in Somalia (ATMIS). Their objective was to protect Somalia's weak government. The AU's effort has seen mixed results, as it lacked coordination and failed to sufficiently protect civilians. Beyond this, the presence of Kenyan and Ethiopian troops among the AU's forces evoked distrust among the local population, who view the two nations as historical rivals to Somalia (The East African, December 21, 2021; Hiiraan Online, October 5, 2022).
Under the leadership of Ahmed Umar Abu Ubaidah (also known as Ahmed Diriye), al-Shabaab still controls large parts of southern and central Somalia. It has also recently made inroads into the northern part of the country. In October 2022, for example, at least five soldiers were killed in the Galgala area of Puntland after their convoy was hit by an IED planted by al-Shabaab (Garowe Online, October 9, 2022). From its bases in these regions, the group has been stepping up its attacks on civilians, towns, and regional armies in the country.
In July 2022, Ethiopian forces repulsed an attack by al-Shabaab after the group targeted four border towns in Ogaden, a historically contentious Somali region in Ethiopia. An estimated 500 fighters reportedly moved 150 kilometers inside Ethiopia, who were eventually repulsed by the Ethiopian military (Garowe Online, July 30, 2022). The episode indicated the group's determination and capabilities to expand its operations beyond the borders of Somalia.
The most notable escalation by al-Shabaab, however, was in November 2022, when militants detonated a vehicle-born improvised explosive device (VBIED) on the streets of Mogadishu, killing at least 120 people. A similar attack in 2019 killed at least 90 people, when a VBIED struck a truck at a check point in Mogadishu. The most deadly attack occurred in October 2017, when the detonation of two truck bombs in the capital left nearly 600 people dead (Garowe Online, November 1, 2022; Hiiraan Online, December 28, 2019). While visiting the scene of the November explosion, Somalia's new President, Hassan Sheikh Mohamud, swore to defeat al-Shabaab and claimed the attack had only strengthened his government's resolve (The East African, November 2, 2022).
Can Somalia's President Deliver?
The question remains as to whether or not the new president's goal can be accomplished. On the one hand, the Somali army still faces serious challenges, being composed of incoherent units trained by various regional and foreign armies, such as the US and Turkey (nordicmonitor.com, August 30). On the other, al-Shabaab's strength remains unclear, though some UN reports suggest that the group now has 12,000 fighters (Relief Web, November 15, 2021).
Moreover, in 2008 the US designated al-Shabaab a terrorist organization and a global threat, which boosted efforts to counter the group. However, even with the US and Somali armies intensifying their struggle against al-Shabaab, the group was able to adapt and implement new strategies. Wherever possible, its fighters avoided direct contact with AMISOM/ATMIS and/or government forces, withdrawing from al-Shabaab-held towns or territories before their arrival, only to ambush the AU and government's forces at opportune moments (Garowe Online, September 1, 2020).
Al-Shabaab's total budget is estimated to be $180 million. Of this amount, $24 million is reportedly being used to purchase arms. Most of the money is used to purchase guns, ammunition, explosives, and other heavy weapons, while other resources are used to manufacture explosives and ammunition. A portion of these weapons are also received from the black market or international sources, such as Yemen. Al-Shabaab is also known to have seized numerous weapons in battle with the Somali army and AU troops (Africa News, February 22).
Conclusion
For 15 years, al-Shabaab has been the primary focus of a military campaign spearheaded by a combined AU force. However, attempts to extinguish the group have only produced mixed results. Al-Shabaab remains a lethal force, capable of attacking civilians, towns, and armies. As a result, the group is still the primary security concern for the region of East Africa. To defeat al-Shabaab, the new Somali government must also consider expanding investment in the social, political, and economic sectors, in addition to waging a military campaign against the group. The central government must also work harder to revive state institutions, which are the key to once again providing services and earning legitimacy from the Somali people.