Can the Minsk Group on the Armenia-Azerbaijan Conflict Reinvent Itself? (Part One)
Publication: Eurasia Daily Monitor Volume: 18 Issue: 16
By: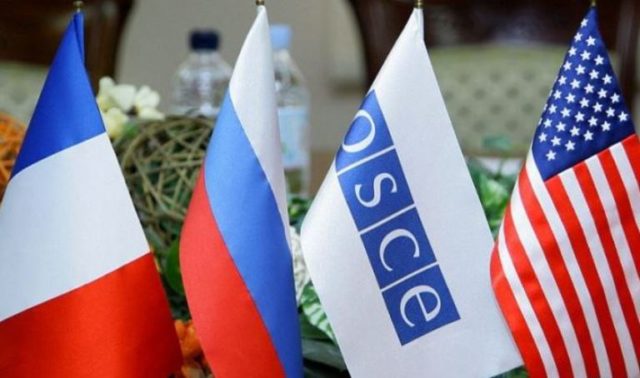 The 44-day Second Karabakh War between Armenia and Azerbaijan, its Russian-mediated outcome, the launch of Russia's own peacekeeping operation, and Turkey's rise as a regional power have all exposed the Minsk Group's irrelevance. Mandated by the Organization for Security and Cooperation in Europe (OSCE) back in 1992 to mediate a political solution to the Armenia-Azerbaijan conflict and oversee a multinational peacekeeping operation, the Minsk Group forfeited its chance after 2009, vegetated for another decade, and found itself sidelined by the aforementioned events, which it neither anticipated nor managed to affect. The Minsk Group's own obscurity in the last ten years served to conceal its failings from public view; but the recent war and its aftermath have made it impossible for the Minsk Group to survive with its pre-existing mandate, structure and ideology.
The Group's three co-chairing countries—Russia, the United States and France—have each contributed to wrecking the Minsk Group in their own ways and to various degrees: Russia by commission, the other two co-chairs mainly by omission. Russia appropriated the driver's seat in the ostensibly collective Group from 2010 onward, distorted the previously agreed Basic Principles for a political settlement through Russian amendments, and ultimately bypassed the Minsk Group unceremoniously in 2020, shaping the war's outcome by unilateral Russian action. Washington's disengagement from 2009 onward facilitated Russia's manipulation and circumvention of the Minsk Group. During the 44-day war, Washington and Paris (both stunned by the unanticipated events) abandoned the mediators' impartiality by favoring Armenia—vocally so in Paris. Both Washington and Paris decided to view this war through the prism of their own strained relations with Turkey, therefore acting to Azerbaijan's detriment and compromising the mediators' impartiality (see EDM, November 25, December 1, 3, 7, 2020).
Nevertheless, the Minsk Group's Western co-chairs are now attempting to reactivate this forum. For the time being, Paris is leading this attempt, seconded by Washington. Both governments hope to recoup at least some of their lost influence by using the Minsk Group, the only avenue still open to them. Their access to this avenue, however, depends largely on Moscow. The latter looks at this attempt from a wait-and-see standpoint, with plenty of time and leverage to play. Armenia is eagerly embracing France's and the US's initiative; Azerbaijan displays a skepticism born of experience; while Turkey is being left out entirely by Paris and Washington, to Baku's detriment and Moscow's advantage.
On January 14, Russia's Deputy Foreign Minister Andrey Rudenko received the US and French ambassadors, John Sullivan and Pierre Lévy, respectively, in Moscow. He informed them about Russian President Vladimir Putin's telephone calls with Azerbaijani President Ilham Aliyev and Armenian Prime Minister Nikol Pashinian regarding the possible continuation of the Minsk Group co-chairmanship's work (TASS, January 14, 2021). The impression conveyed was that Washington and Paris hoped for Russia's leverage with Baku and Yerevan to reactivate the Minsk Group's co-chairmanship forum.
The Minsk Group's Russian, US, and French co-chairs convened at the ambassadors' level on January 25, planning for a possible visit to Baku and Yerevan. Unusually—probably unprecedentedly—the meeting took place in Poland, without explanation as to the choice of venue (Arminfo, January 27).
On January 26–27, the French foreign ministry's State Secretary Jean-Baptiste Lemoine visited Baku and Yerevan in that order. Meeting with President Ilham Aliyev and Foreign Minister Jeyhun Bayramov, the French dignitary practically offered apologies over his government's vocal pro-Armenia stance during the Second Karabakh War: "The French government found itself in a complicated situation during the war," Lemoine explained. "Admittedly, some misunderstandings occurred; but we need to look ahead now" (APA, January 27, 2021). While at it, Lemoine pitched a railroad construction project on behalf of the French company Alstom. Lemoine pointedly refrained from mentioning the matter of "Nagorno" (Upper) Karabakh's future political status, which Armenia insists upon but Azerbaijan currently rules out (Azertag, January 26, 2021).
In Yerevan, Lemoine apparently stopped short of endorsing Pashinian's and Foreign Minister Ara Aivazian's calls for a political status on behalf of the unrecognized Karabakh "republic." Aivazian had claimed such a status, based on the "people's right of self-determination," when meeting with the Russian, US, and French ambassadors in Yerevan on January 20. Armenia wants the Minsk Group to reactivate its work toward Karabakh's status on that new, narrower basis, now omitting the countervailing principle of Azerbaijan's territorial integrity (Armenpress, January 20, 2021).