Caspian Arms Race Complexities
Publication: Eurasia Daily Monitor Volume: 10 Issue: 120
By: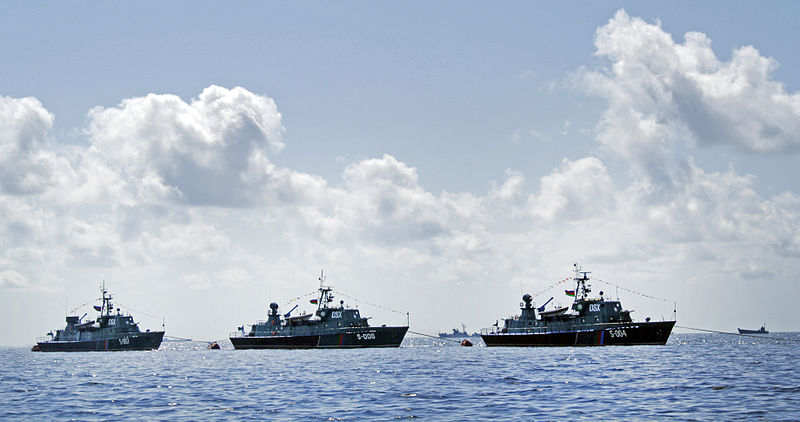 The Center for Strategic Studies under the President of the Republic of Azerbaijan (SAM) and Germany's Konrad Adenauer Foundation (KAS) hosted a conference this month in Baku on "Cooperation in the Caspian Region: National Perspectives and Common Challenges." In his conference keynote speech, SAM director Farhad Mammadov argued that, even though the legal status of the Caspian Sea remains undetermined, the five littoral states could continue to cooperate through bilateral agreements (APA, June 17). Conversely, Mammadov described the "militarization" of the Caspian Sea as the greatest threat to this vital energy and transportation artery (News.az, May 31).
The littoral countries have striven to manage their mutual tensions through diplomacy and other non-military means. But the then-Kazakhstani Foreign Minister, Kassymzhomart Tokaev, pointed out in 2006 an enduring problem with the existing multinational Caspian security mechanisms: "none of them is of a comprehensive nature with universal participation of the Caspian states" (EurasiaNet, March 12, 2006). The five parties have signed several joint declarations of principles and adopted concrete environmental cooperation agreements to help protect the Caspian's unique flora and fauna, including 90 percent of the world's supply of sturgeon. But they rely heavily on "working group meetings" to coordinate their national law enforcement programs against terrorist and criminal activities in the Caspian (Azernews, May 31). In many other cases, these countries have resorted to bilateral and "mini-lateral" security initiatives that exclude one or more of the other littoral states.
For example, in May 2003, Kazakhstan, Azerbaijan and Russia reached a trilateral agreement that divided the northern 64 percent of the Caspian Sea into three unequal shares, with Kazakhstan receiving the largest amount, some 29 percent. Iran and Turkmenistan, however, refused to endorse this trilateral agreement and restated their claim to an equal share for all five littoral states, which would give them bigger economic zones than the 2003 formula would provide (https://www.eia.doe.gov/emeu/cabs/caspian.html). When Azerbaijani President Ilham Aliyev visited Kazakhstan in early March 2004, the two countries signed a military cooperation agreement aimed at enhancing collaboration between their Caspian Sea flotillas (Caspian Weekly, March 4, 2004; RFE/RL, March 2, 2004).
In addition to using diplomatic and commercial tools, the five littoral countries have been strengthening their naval presence in the Caspian Sea, the world's largest inland body of water. In the process, they have transformed what had been primarily local coast guards into naval forces that could defend offshore oil and gas infrastructure, uphold their national fishing and other commercial rights, and ensure that their country's interests are not ignored by the other parties.
Their fleets' main declared mission is counter-terrorism. When Azerbaijan conducted a naval drill in May 2012, the government called the exercises "Protection of Oil and Gas Fields, Platforms, and Export Pipelines" with the threat being described as terrorists (New Europe, July 11, 2012). But these national Caspian fleets could cooperate with or fight other navies as necessary. For instance, the Russia and Kazakhstani armed forces have conducted exercises whose scenario had Russia support Kazakhstan against an attack from the Caspian Sea (see EDM, September 27, 2011).
Following the disintegration of the Soviet Armed Forces in 1991, Russia inherited the largest share of former Soviet military assets, including in the Caspian. Until recently, the Russian Ministry of Defense has provided inadequate funding to sustain its Caspian Flotilla. But in recent years this fleet, like the rest of the Russian military, has received hefty resource boosts, including the acquisition of more modern and effective warships (see EDM, September 27, 2011; April 2, 2013).
Iran has the second-strongest navy in the Caspian and has also used it to enforce its claims over Caspian resources. In July 2001, Iran warships and aircraft skirmished with Azerbaijani research vessels exploring the Araz-Sharg-Alov/Alborz oil region in the southern Caspian. In September 2012, the Iranian Navy practiced laying mines and other military missions in the Caspian Sea (AzerNews, September 18, 2012). The Iranian government has also been augmenting its Caspian naval power. Earlier this year, the Iranian Ministry of Defense completed construction of a 2,000-ton dry dock in the Caspian (Trend, February 13). The Iranian Navy is about to receive an indigenously produced Jamaran-2 destroyer. This 1,420-ton Mowj-class warship is powered by a 20,000-horsepower engine with a speed of 30 knots. It can carry helicopters, torpedoes, and artillery systems as well as launch various surface-to-surface and surface-to-air missiles, as well as advanced artillery and torpedo systems. Speaking at the ship launching ceremony, Iranian Defense Minister Ahmad Vahidi added that Iran intended to deploy new submarines and unmanned systems in the Caspian Sea (Azernews, March 18). The Iranian Navy claims the authority to patrol the entire 20 percent of the Caspian Sea territory claimed by Tehran (Azernews, September 27, 2012).
Kazakhstan has also begun building its own warships for deployment in the Caspian. It was not until recently that Kazakhstan's growing budget revenue has provided the country with the resources to acquire modern naval armaments. The Kazakhstani armed forces are now undertaking a 20-year modernization plan to obtain modern warships, more sophisticated military equipment, and a coastal support infrastructure. Furthermore, this May, the new Kazakhstan Maritime Academy opened at Almaty's Kazakh-British Technical University, a subsidiary of the state-owned KazMunaiGas Corporation, to address the country's perennial shortage of qualified sailors (Trend, May 27).
In September 2012, Turkmenistan conducted its first military exercises on the Caspian Sea as an independent state. Since 2011, Turkmenistan has been purchasing modern warships from Ukraine, Turkey, and other foreign suppliers. But the country has plans to build a major ship repair and construction plant in the Caspian port of Turkmenbashi (Trend, January 18).
Azerbaijani officials have been watching these developments with unease. Baku is the largest Caspian Sea port and Azerbaijan sees itself as a vital energy producer and transit state. The country has also been expanding its national shipbuilding industry (Azernews, January 21). In March, President Ilham Aliyev inaugurated a new shipyard whose six workshops occupy 2.2 hectares (Azernews, March 4).
Thanks to its surging oil and gas revenue, the Azerbaijani armed forces have been undertaking a sustained military modernization effort, including a major arms deal with Israel. But most of this buildup is directed against Armenia, reinforcing Azerbaijani desires to avoid an open clash of arms with Iran, Turkmenistan or other rival claimants to the sea's resources.