Opponents Pressure Head of Kabardino-Balkaria
Publication: Eurasia Daily Monitor Volume: 10 Issue: 121
By: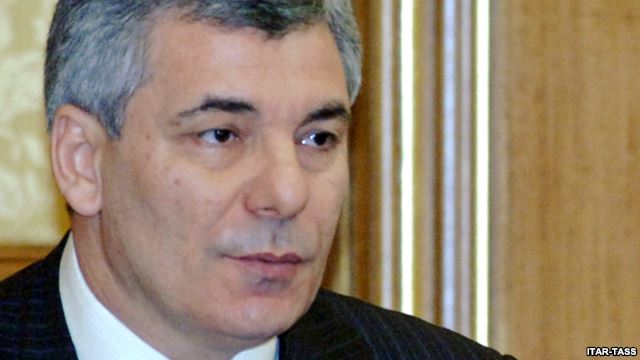 On June 19, a well-known Kabardino-Balkarian businessman, Albert Nazranov, was murdered in Moscow. An unidentified killer riding a bicycle shot him several times. Nazranov won notoriety in Kabardino-Balkaria as a close ally of the head of the republic, Arsen Kanokov. Nazranov was reportedly Kanokov's "right hand," especially for carrying out various "delicate jobs" (https://www.kavkaz-k.com/politika/v-moskve-ubit-predprinimatel-iz-kabardino-balkarii-albert-nazranov.html). Nazranov was badly wounded last November during a morning jog at a Nalchik park.
Nazranov reportedly carried out various sensitive tasks on Kanokov's behalf, such as pressuring civil activists and businesses. While some alleged that Nazranov also played the role of middleman between Kanokov and the insurgents, others asserted that he fought the militants and was even secretly rewarded by the government for his services (https://www.kavkaz-uzel.ru/articles/225890/). The Kabardino-Balkarian insurgency's website proclaimed Nazranov "Allah's Enemy," although it did not take responsibility for his murder (https://djamaattakbir.blogspot.com, June 20). Given the complicated relationship between the republican authorities, the security services and the insurgency, Nazranov may well have been all of the above, performing sensitive tasks for Kanokov, while having ties to both the insurgents and the security services.
According to the analyst Orkhan Jemal, Nazranov was an "alternative power resource" for Kanokov. The republican leader never managed to gain much traction in Kabardino-Balkaria's Interior Ministry, Jemal wrote, so Nazranov and his men from various wrestling sport clubs in the republic were at Kanokov's disposal when he needed them, suppressing protests by both Circassian and Balkar nationalists. Nazranov's influence waned as Kanokov came under increasing pressure from his opponents in the Russian government, and he was killed when his role in Kabardino-Balkaria's politics had diminished to its lowest point. Following the attempt on his life in November 2012, Nazranov reportedly abandoned politics altogether and tended only to his private affairs (https://kavpolit.com/aj-yaj-yaj-yaj-ubili-negra/).
Arsen Kanokov's era appears to be coming to an end, even though formally his second term as the governor of Kabardino-Balkaria ends in 2014. Israeli analyst Avraam Shmulevich proclaimed in his blog that Kanokov's arrest was imminent after Nazranov's death (https://avrom-caucasus.livejournal.com/266394.html).
Kanokov came to power in 2005, following the death of his predecessor, Valery Kokov. Kanokov was thought of as an heir to Kokov, but much younger and better suited to govern the republic through modern means. Just weeks after his appointment, Kanokov had to deal with the military uprising of the Kabardino-Balkarian Muslim youth of October 2005 and its aftermath. An Islamic insurgency and related violence have haunted Kanokov's regime ever since. In fact, 57 people are still on trial in Kabardino-Balkaria for their alleged involvement in the October 2005 uprising, 53 of whom remain in custody because the government does not seem to have enough evidence to convict them but also does not want to release them. On June 17, their detention was extended yet again, until September 26 (https://www.kavkaz-uzel.ru/articles/225852/). Kanokov's second term as governor is drawing to an end, but the situation in the republic is still far from calm.
On June 21, a café in Kabardino-Balkaria's Baksan district was blown up, and two people who approached the café after the explosion were shot and slightly wounded. The café was located on the Kavkaz Highway, the main highway in the North Caucasus (https://www.kavkaz-uzel.ru/articles/225897/). The authorities reported that the attack was carried out by two Baksan residents who were allegedly members of the insurgency (https://www.kavkaz-uzel.ru/articles/225992/).
Kanokov may have aroused Moscow's ire by indirectly financing the immigration of Syrian Circassians. About 1,000 Syrian Circassians came to the North Caucasus in the past year, with most of them winding up in Kabardino-Balkaria. At the same time, Circassian activists and members of the intelligentsia have often been critical of Kanokov's policies for not being bold enough to defend Circassians' interests. On June 7, Circassian activists demanded that Kanokov act on the republican government's decision dating back to 2008 to build a monument celebrating the Circassian victory over Crimean Tatars some 300 years ago (https://zapravakbr.ru/index.php?option=com_content&view=article&id=110:q-q&catid=4:doc&Itemid=6). The monument would have embodied Circassian national pride while at the same time allowing them to avoid a direct confrontation with Moscow.
On June 29, the World Circassian Forum is being held in Kabardino-Balkaria to discuss the fate of Syrian Circassians. The forum's primary objective is to extend aid to the Syrian Circassians, who are caught in the middle of that country's civil war. One of the forum's organizers, Muhamed Khafitse, said an estimated 5,000 Circassian families in Syria are in need of assistance. Participants in the conference are expected to arrive from Syria, Jordan, Turkey, the United States and several European countries. A fundraising telethon is expected to take place concurrently with the conference. At the moment, according to Khafitse, an estimated 5,000 Syrian Circassians have fled to Jordan, another 5,000 to Turkey and about 1,500 are currently in Russia. Many Circassians who lost their property and documents could not leave Syria, according to Khafitse (https://www.kavkaz-uzel.ru/articles/226054/).
Moscow may be willing to replace Kanokov with someone less receptive to the Circassians activists' ideas. However, the humanitarian crisis in Syria will make it very hard for any leadership in Kabardino-Balkaria to ignore the plight of Syrian Circassians and the corresponding reaction of Circassians in the North Caucasus.