CASPIAN ENERGY PROJECTS: "TIME TO ADVANCE FROM TALKING TO ACTING"
Publication: Eurasia Daily Monitor Volume: 4 Issue: 109
By: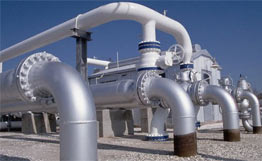 Russia's monopolistic agreements on energy transit, signed in rapid succession with three Central Asian countries and Austria (see EDM, May 14, 16, 17, 29, 31) sent yet another wake-up call in Washington, sending U.S. officials urgently to assess the situation in the Caspian region. The European Union does not yet seem to be moving in that direction, however.
On May 30, U.S. Vice President Richard Cheney's Deputy Assistant for National Security Affairs, Joseph Wood, conferred with Azerbaijan's President Ilham Aliyev and Industry and Energy Minister Natig Aliyev in Baku. The U.S. official reassured Azerbaijan that Washington would persist with the policy of opening direct access to Central Asian oil and gas through Azerbaijan and Georgia and will be holding intensive talks with the leaders of Kazakhstan and Turkmenistan to that end.
For his part, Minister Aliyev realistically pointed to the "fierce competition over energy corridors" and called for a more active U.S. involvement in policies that promote energy security. Focusing on the Nabucco and Turkey-Greece-Italy gas transport projects — the necessary upstream sources of which are Azerbaijan and Turkmenistan — Aliyev called for negotiations on specific details. Azerbaijan proposes holding a meeting among the partner countries to sign an agreement on the Nabucco project and start its implementation soon. "The time has come to advance from talking to acting," he remarked (Azertaj, Trend, May 30).
During the May 30 meetings, Wood encouraged Azerbaijan to develop an active dialogue with the new Turkmen president, Gurbanguly Berdimukhamedov. On the following day, Azerbaijan's President Ilham Aliyev telephoned Berdimukhamedov to propose meeting each other personally as well as to hold a session of a bilateral intergovernmental commission soon. (Turkmen TV Altyn Asyr, May 31). President Aliyev has already made several overtures to Berdimukhamedov since January, when the latter took office. Risking Russia's displeasure, Azerbaijan is anchoring the efforts to involve Turkmenistan and Kazakhstan in energy transport projects westward.
On June 1, U.S. Principal Deputy Assistant Secretary of State Steven Mann held talks with Berdimukhamedov in Ashgabat. In the concluding press briefing, Mann reaffirmed that U.S. support for the trans-Caspian gas pipeline project — Turkmenistan-Azerbaijan and further via Georgia and Turkey to Europe — "remains unchanged as it has for the last 12 years" and urged Turkmenistan to cooperate with Kazakhstan and Azerbaijan to that end. Publicly at least, Mann nodded to various "multiple-pipeline" projects — such as the Turkmenistan-Afghanistan-Pakistan and Turkmenistan-China projects, unrealistic both — but he underscored the unique commercial advantages for Turkmenistan to sell its gas in Europe directly.
However, the Turkmen presidency's communiqué and the state media (as monitored internationally) did not seem to mention the trans-Caspian project in their accounts of Mann's visit. They did mention the Turkmenistan-China pipeline project that same day in connection with a Chinese ministerial delegation's visit (Turkmen TV Altyn Asyr, Interfax, June 1).
That same day in Moscow, Russian President Vladimir Putin and Prime Minister Mikhail Fradkov reaffirmed the intention to rush the expansion of the Central Asia-Russia gas pipeline system, with the intergovernmental agreement to be ready for signing on September 1, 2007, by Russia, Turkmenistan, Kazakhstan, and Uzbekistan (Interfax, June 1). The reconstruction/expansion is intended to start in the first half of 2008 for the pipeline stretch that detours through Uzbekistan en route to Russia and in the second half of 2008 for the direct Turkmenistan-Kazakhstan-Russia stretch.
The intent is to restore the Soviet-era system's throughput capacity to 90-100 billion cubic meters annually by 2010 (from some 50 to 60 billion cubic meters at present, due to wear-out) and further expand it later on, correlated with expanding production in Turkmenistan. To ensure that the anticipated production growth is routed to Russia as well, Gazprom and other Russian companies are to be tasked with gas field development in Turkmenistan onshore and offshore.
Putin and Fradkov were talking to the press at the conclusion of their June 1 meeting with Kazakh Prime Minister Karim Masimov, whose country plays the role of transit country for Turkmen gas to Russia under those agreements. During Masimov' Moscow visit, KazMunayGaz and Gazprom finalized and signed the agreement on a joint venture to process Kazakh gas at Gazprom's Orenburg plant in Russia. The plant is being turned into a parity joint venture, with Kazakhstan paying $350 million to Gazprom for the 50% Kazakh stake. In addition, Kazakhstan and Russia shall each invest $250 million in the Orenburg plant's modernization. The plant shall process between 5 billion cubic meters (in the first stage) and 15 billion cubic meters (in the second stage) of Kazakh gas annually, over a 15-year period.
The source of that gas will be Karachaganak, the super-giant onshore field under development by the Karachaganak Petroleum Operating (KPO) consortium. The stakeholders are Italy's ENI (as project operator) and British Gas, with 32.5% each, ChevronTexaco with 20%, and Russia's Lukoil with 15%. A joint Russian-Kazakh trading company, KazRosGaz, shall purchase the gas from KPO at an undisclosed price (a commercial secret, according to Masimov), have the gas processed at Orenburg, and sell the product at market prices in Europe by piping it via Russia through the "single export channel" — official designation for Gazprom's pipeline system (Interfax, June 1).
This deal ties up much of Kazakhstan's known gas export potential until about 2015. While in Moscow, Masimov declared that Kazakhstan would go ahead with the entire set of agreements signed with Russia, which he described as "advantageous" for Kazakhstan, particularly — as Masimov noted — since "there have been no specific offers on the trans-Caspian pipeline" (Ekho Moskvy, June 1).
The United States and European Union may yet be able to salvage the Caspian transit projects necessary to their energy security. To do so, they must make specific offers to Turkmenistan and Kazakhstan about prices; demonstrate to these countries that the investments for the transit projects can be lined up soon; support the leaders of these countries politically, so as to offset Russian pressures that these countries can not alone bear; and involve top U.S. and EU leaders in negotiations in the months and weeks remaining until September, when Moscow wants to sign the intergovernmental agreements with Turkmenistan and Kazakhstan.