Challenged by China, ASEAN States Seek Common Response
Publication: China Brief Volume: 14 Issue: 10
By: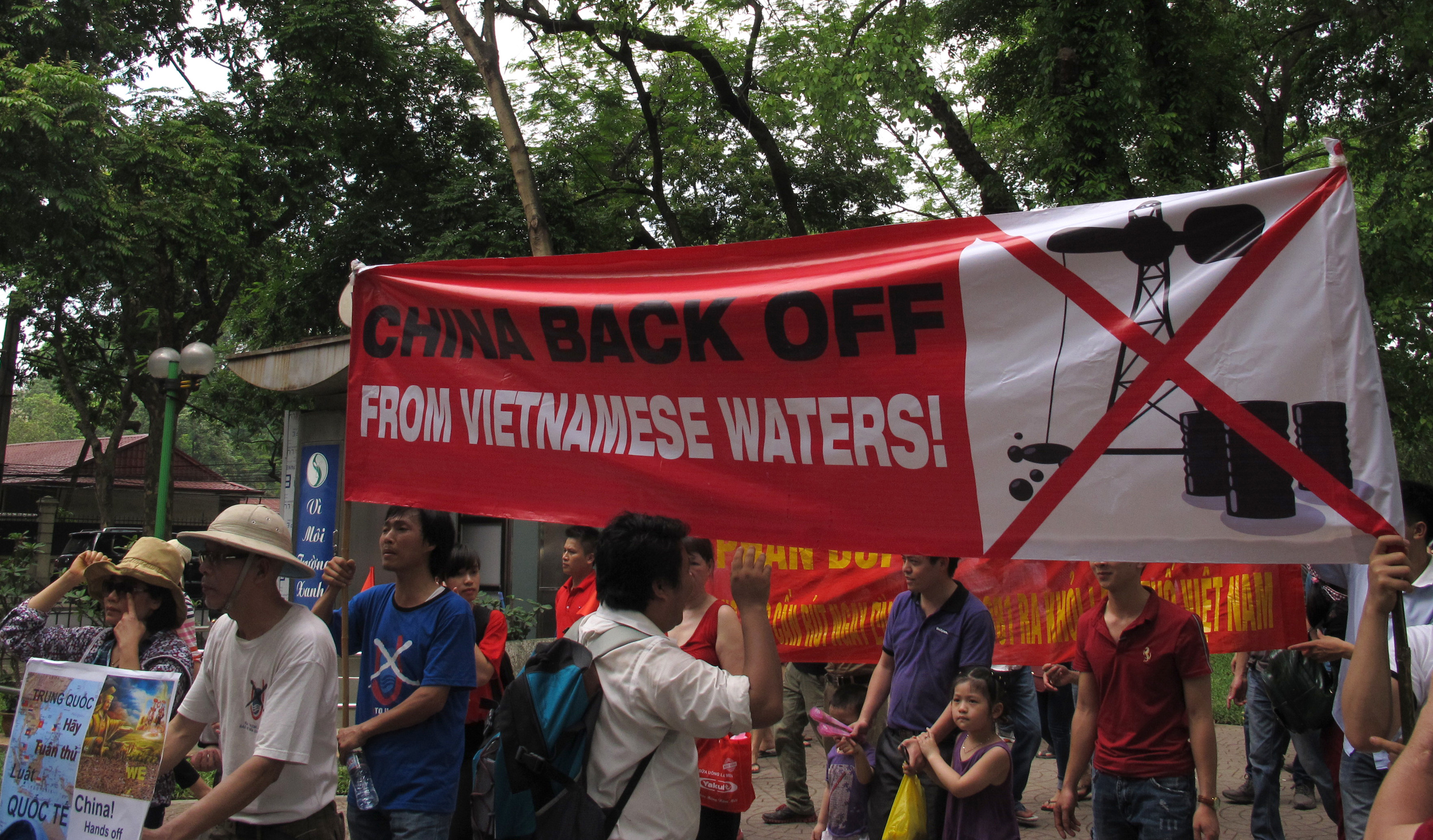 Over the past few weeks, tensions in the South China Sea have once again bedeviled relations between China and the countries of the Association of Southeast Asian Nations (ASEAN). On May 1, China deployed a giant oil rig in Vietnam's exclusive economic zone (EEZ) with a large fleet of military and paramilitary vessels, sparking a face-off with Vietnamese ships and triggering violent protests in Vietnam. Then, on May 6, the Philippines arrested 11 Chinese fishermen for poaching more than 500 protected sea turtles in its territory, drawing fierce condemnation from Beijing (Xinhua, May 14).
The events, bracketed between a visit to the region by U.S. President Barack Obama and an ASEAN summit in Myanmar on May 10–11, caused alarm across several capitals and prompted ASEAN to release a separate statement on the South China Sea for the first time in nearly two decades (ASEAN Secretariat, May 10). While China appears to be calculating that its economic heft and military superiority will ultimately lead ASEAN states to accept its dominance in the South China Sea, these developments could in fact accelerate already ongoing efforts by some individual Southeast Asian states—however limited—to adopt a more outspoken and united stance against Beijing and increase the costs of its provocative behavior through various means.
The South China Sea issue has long been a thorn in the side of ASEAN-China relations, particularly for the four ASEAN states—Brunei, Malaysia, the Philippines and Vietnam—which have claims to the more than a hundred islets, reefs, rocks and surrounding waters there. Since the 1970s, China has displayed a tendency to use coercion to advance its expansive claims in the South China Sea. The 2002 Declaration of Conduct (DoC) inked by ASEAN and China provided an opportunity to enact confidence-building measures, but joint development initiatives such as the tripartite Joint Marine Seismic Undertaking by China, Vietnam and the Philippines never took off.
The latest round of tensions date back to the deadline set by the United Nations for countries to submit claims for extended continental shelves in May 2009, when China protested submissions made by Vietnam and Malaysia and submitted its infamous nine-dashed line map, which claimed nearly 90 percent of the South China Sea (YaleGlobal Online, July 7, 2011). Since then, China has displayed a pattern of assertiveness at sea, cutting cables on Vietnamese ships conducting oil exploration, seizing the Scarborough Shoal from the Philippines and expanding naval patrols in the southern parts of its claim closer to Malaysia and Indonesia. China's new leadership, led by President Xi Jinping, has continued this hardline approach despite some minor diplomatic concessions floated to ASEAN in late 2013 (China Brief, October 24, 2013). Indeed, according to one Chinese expert, China's actions, including the incidents earlier this month, suggest that Beijing has calculated that its economic heft and military superiority in the region means that ASEAN states will eventually come to accept its dominance in the South China Sea (YaleGlobal Online, May 15).
At first glance, Beijing may appear to be correct. There are certain structural realities that limit ASEAN's ability to respond to China's growing assertiveness in the South China Sea as an organization. Only four ASEAN countries actually have claims in the South China Sea, each tends to approach the issue differently and none alone is militarily strong enough to prevail in a confrontation with Beijing. Meanwhile, all ten of them have China as a leading trading partner and the organization as a whole operates through consensus. That explains why those looking for fiery rhetoric or bold moves by the regional group are often disappointed. However, a closer look reveals that despite these limits, over the past few months individual ASEAN states—both claimants and non-claimants—have in fact adopted a more unified and outspoken stance against China and are trying to raise the cost of its provocative behavior through various means, rather than giving in to Chinese superiority.
First, some ASEAN states, most visibly Vietnam and the Philippines, redoubled their efforts to counter Chinese aggression, either by directly confronting Beijing or by boosting their own capabilities to enable them to do so in the future. In March, the Philippines, with the assistance of the United States, finally outsmarted the Chinese coast guard, which had been trying to block its efforts to resupply marines on the disputed Second Thomas Shoal (Rappler, April 11). And despite the fact that the arrest of Chinese fishermen at Scarborough Shoal in 2012 triggered Beijing's eventual seizure of the feature from the Philippines, Manila remained undeterred and brazenly arrested 11 fishermen on May 6. These recent Philippine advances have clearly rankled Beijing. As one Chinese academic asked in frustration, "Since the Philippines does not measure up to China either in economic or military strength, why does it dare to repeatedly create trouble in the South China Sea?" (Straits Times, May 13).
Vietnamese ships, too displayed boldness, challenging superior Chinese forces in an effort to prevent oil exploration in the area of its claim. According to Vietnamese accounts, some of its vessels responded in kind after being rammed and water cannoned by Beijing, resulting in injuries to least six Vietnamese sailors (VOA News, May 12). While Manila and Hanoi realize that they cannot defeat China in an outright military confrontation, it is clear that both are attempting to outmaneuver it, or at least to give it a bloody nose.
Malaysia and Indonesia are also quietly building up their capabilities, partly because of growing encroachments by Chinese vessels into their waters. Last October, Malaysia announced its desire to establish a marine and naval base close to the James Shoal. (South China Morning Post, March 27, 2013; Jane's Defence Weekly, October 15, 2013). In March, reports surfaced that the Indonesian Air Force was expected to upgrade its airbase facilities with the long-term goal of permanently deploying a squadron of Sukhoi fighter aircraft and four Boeing AH-64E Apache attack helicopters on the resource rich Natuna Islands, which fall within the outer limits of China's expansive South China Sea claims (IHS Jane's, March 31). The news came after TNI Chief General Moeldoko announced during a trip to Beijing in February that Indonesia would station additional forces around the Natuna waters to "anticipate any instability" in the South China Sea and to "serve as an early warning system" (AntaraNews, February 27).
In response to the oil rig incident, Vietnamese intellectuals also took to news outlets not just to defend their country, but to expose the gap between Beijing's words and deeds to the world (East Asia Forum, May 15; Straits Times, May 13). These accounts stressed that China's posture towards Vietnam and other Southeast Asian claimants in the South China Sea runs contrary to the conciliatory gestures offered by Beijing as part of its new strategy for ASEAN-China relations known as the "2 + 7 cooperation framework," including the proposed ASEAN-China Treaty on Good Neighborliness, Friendship and Cooperation as well as a working group with Vietnam on joint exploration in disputed areas (China Brief, October 15, 2013). Reports have also surfaced that Hanoi may consider backing, if not emulating, what it views as Manila's smart legal approach in filing a case against China before a UN arbitral tribunal, believing that it has put Beijing on the defensive due to the international scrutiny that could result from a ruling against it (InterAksyon, May 16).
Indonesia, though not a claimant, has also emphasized international legal principles and reputational costs in questioning China's actions in the South China Sea. Some Indonesian military officials have grown more outspoken over the past few months in publicly raising questions about the legitimacy of China's nine-dashed line, which violates the United Nations Convention on the Law of the Sea (UNCLOS) and encroaches into the resource-rich Natuna Island chain (AntaraNews, March 13). Jakarta had also firmly told China in February that it will not accept the legitimacy of an air defense identification zone (ADIZ) over the South China Sea similar to the one Beijing erected in the East China Sea last year (Straits Times, February 18).
The emphasis on international law has provided an opening for other external actors to support the approaches taken by ASEAN states without explicitly taking sides. For example, the United States, along with European countries like Poland and Hungary, have expressed support for Manila's decision to file an arbitration case against Beijing as an example of using peaceful dispute settlement mechanisms (U.S. Department of State, February 5; Philippine Inquirer, May 18).
Third, Southeast Asian claimants are also intensifying cooperation amongst themselves, both to reduce intra-ASEAN differences and to forge a more united front against China to deter Beijing. This is especially true of Vietnam and the Philippines, which have signed several agreements to boost naval and coast guard coordination since 2010 (The Diplomat, March 28). For instance, next month, Hanoi and Manila are scheduled to hold a day of beach volleyball, drinks and music on Southwest Cay Island to mark growing naval collaboration after a similar plan was disrupted by Typhoon Haiyan last year (Reuters, April 9). The idea was reportedly devised after China objected to joint naval patrols between the two countries. Yet Chinese media reports nonetheless hit out against the "Manila-Hanoi cohort" last week, warning that the "ill-disposed joint venture is built on shaky ground and is doomed to fail" (Xinhua, May 13).
Separately, Malaysia, traditionally a quieter claimant, has also been involved in promoting closer coordination between ASEAN claimants on strategies to deal with Beijing, which led to the holding of the so-called ASEAN Claimants Working Group meeting in Manila in mid-February (Philippine Star, March 3). Malaysia also boosted bilateral ties with the Philippines, with the two countries agreeing to install a dedicated hotline for security and intelligence cooperation during Philippine President Benigno Aquino's visit to the country in February, a year after the Sabah crisis erupted between the two nations (Straits Times, February 28).
Fourth, ASEAN claimant states are also deepening engagement with other countries, principally the United States, to both boost their capabilities and increase the credibility of their deterrent against Beijing. For example, the Philippines concluded an Enhanced Defense Cooperation Agreement (EDCA) with the United States on April 28 and the two allies conducted the annual Balikatan military exercises from May 5 to May 15 in Palawan. Vietnam, too, has been increasing naval cooperation with the United States since 2010, with the first search and rescue exercise conducted last month (U.S. Navy News Service, April 14). Last week, U.S. fleet spokesman Commander William Marks told Reuters that Washington would welcome increased ports visits with Vietnam in response to the oil rig incident, up from the Hanoi-imposed limit of one visit of up to three ships annually (Reuters, May 15). Malaysia has also intensified its military engagement with Washington. For example, when U.S. admiral Jonathan W. Greenert met with Royal Malaysian Army (RMN) Chief Admiral Abdul Aziz Jaafar in February, the two talked about submarine operations and agreed to more U.S. ship visits to Malaysian ports in the future, with Greenert assuring Aziz of America's commitment to Malaysia's national security (The Malay Mail, February 11). To Beijing, these actions suggest that Washington is emboldening ASEAN states at the expense of regional peace (Xinhua, May 13).
Fifth, some ASEAN non-claimants have also been more outspoken about their interest in regional peace and stability and ASEAN unity to counter Beijing's preferred strategy of dividing the organization and isolating individual claimants (People's Daily Online, May 13). Singapore Prime Minister Lee Hsien Loong, speaking at the sidelines of the ASEAN summit, emphasized that ASEAN should take a "common position" on certain questions and noted that "a divided ASEAN undermines our credibility and relevance to the world" (Today, May 11). Internally, outgoing Indonesian President Susilo Bambang Yudhoyono reportedly told ASEAN colleagues that "there should be no room for the use of gunboat diplomacy" (Philippine Star, May 13). Separately, Indonesian foreign minister Marty Natalegawa emphasized the need to intensify progress towards a CoC and held a phone conversation with his Chinese counterpart Wang Yi (Brunei Times, May 11; Xinhua, May 14).
The approach ASEAN eventually adopted as a whole at the summit on May 10–11—and more broadly during Myanmar's chairmanship thus far—is also indicative of greater unity between member states relative to the past. Although ASEAN was chaired this year by Myanmar—a non-claimant—the foreign ministers united to adopt a separate statement for the first time in two decades, a far cry from 2012, when ASEAN was unable to issue a joint communiqué for the first time in its history, in part due to Chinese pressure on the then-organization chair, Cambodia. This is in no small part due to Myanmar's effective role as ASEAN chair so far, and its determination to avoid bowing to any international pressure on the South China Sea dispute which its foreign ministry officials made clear even before it assumed its role in 2014 (Myanmar Times, December 30, 2013; The Diplomat, May 12). Earlier this year, the statement adopted by ASEAN foreign ministers following a January retreat in Bagan also featured the South China Sea issue prominently instead of sidestepping it, including a veiled reference to concern regarding China's new maritime law regulating fishing there (ASEAN Secretariat, January 17).
Chinese policymakers continue to believe that their economic and military might will lead ASEAN states to concede in the South China Sea. Yet it is unmistakably clear that Beijing's growing assertiveness is instead pulling ASEAN countries together and pushing them towards other powers as they attempt to redress the glaring asymmetry of capabilities in their northern neighbor's 's favor. While Southeast Asian countries realize their structural limits vis-à-vis China, they are nonetheless clearly attempting to overcome them by increasing the cost of Beijing's provocations, either directly by countering Beijing's aggressive actions or indirectly by damaging its international reputation, forming a common front with fellow ASEAN states and external powers to deter Beijing, and fostering greater ASEAN unity to prevent Beijing from employing divide and rule tactics.