"Changes Unseen in a Century": Seeking American Partnership in US Decline
Publication: China Brief Volume: 23 Issue: 21
By: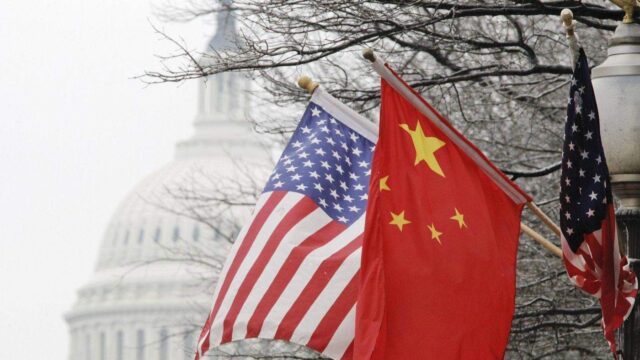 In his opening remarks this week to US President Joe Biden, CCP General Secretary Xi Jinping said "The China-US relationship, which is the most important bilateral relationship in the world, should be perceived and envisioned in a broad context of the accelerating global transformations unseen in a century" (Youtube.com, November 15). Xi's remarks highlighted an important Chinese Communist Party (CCP) assessment—often translated as "changes unseen in a century" (百年未有之大变局)—that is an invitation to President Biden participate in shepherding the United States in its decline. [1] By setting the US-China relationship in these terms, Xi is saying that the relationship can be stabilized and deliverables like those finalized at the summit can come, but only if the United States accepts the inevitability of its decline and Beijing's reshaping the global order. Only by accepting what the Party means by "changes unseen in a century" do the CCP's intentions for the US-China relationship become clear.
The assessment of "changes unseen in a century" incorporates opportunities and risks in what Beijing sees as the way in which the international system is changing. The opportunity is that the balance of power or center of gravity in global affairs is shifting from the Atlantic to the Pacific as the world becomes more multipolar (Xinhua, December 28, 2017). In Xi's report to the 20th Party Congress, he said that scientific, technological, and industrial transformations were underway and that these already had shifted the international balance of power (FMPRC, October 25, 2022). Alongside multipolarity, economic globalization continues to be a powerful—or, in Xi's words, "irreversible"—trend that shapes international relations (Xinhua, April 26, 2019). For over a decade, Beijing has consistently identified emerging multipolarity and the democratization of international relations as emerging features of the global order. Concepts like "New Type of International Relations (新型国际关系)" and "Community of Common Destiny for Humanity (人类命运共同体)" are built around remaking international politics in the CCP's domestic image (China Brief, June 7, 2013; State Council Information Office, June 2021).
The countervailing risks of "changes unseen in a century" include the rise of anti-globalization sentiment as well as increasing external hostility toward China specifically (Peoples' Net, May 25, 2021). In Xi's 20th Party Congress speech, he explicitly talked about foreign "attempts to blackmail, contain, blockade, and exert maximum pressure on China" in response to the "drastic changes in the international landscape" (FMPRC, October 25, 2022). But these are long-standing themes in the context of "changes unseen in a century." For example, at the Forum on China-Africa Cooperation (FOCAC) in 2018, Xi warned that "hegemony and power politics persist; protectionism and unilateralism are mounting," pushing back against these global transformations (Xinhua, September 3, 2018).
In the Party's thinking, these two factors combine to create favorable conditions for Beijing's diplomacy and to push new initiatives reshape global governance. Beijing's depiction of the counter-forces positions China as the champion of regional cooperation and positive globalization in venues like FOCAC (China Brief, December 3, 2021). In a speech in St. Petersburg in 2019, Xi pointed out that the global governance system was incompatible with the current international situation (Xinhua, June 8, 2019). The global COVID-19 pandemic did little to change official concerns about the unsuitability of global governance institutions, as officials and commentators continued to echo this assessment (FMPRC, September 13; Guangming Daily, December 3, 2022; People's Daily, March 1, 2021).
Related to the changes unseen is the CCP assessment that "Major-country competition runs counter to the trend of our times (大国竞争不符合当今时代潮流)" (FMPRC, November 13). Some in the United States and elsewhere apparently read this as more of a statement of intention and preference, i.e. that the Party seeks to avoid strategic competition. However, this statement admonishes the United States that it is fighting against the historical currents outlined above. If one accepts that China's rise under the CCP is legitimate, and the notion of "changes unseen," then one should accept China's place at the center of the global stage.
In sum, when Xi addressed American business leaders in a speech last week, he was presenting them with a choice: the United States can choose to be an adversary or a partner. He stated "China is ready to be a partner and friend of the United States" as long as Washington accepts the changes underway (Xinhua, November 16). Xi highlighted the Belt and Road Initiative alongside the Global Security Initiative, Global Development Initiative, and Global Civilization Initiative as inclusive programs in which the United States could participate. The partnership offer, however, is an offer for the United States to partner in its own decline and the promotion of a Sinocentric international order. These initiatives are almost explicitly about redesigning global governance to reflect Beijing's preferences and to work through international institutions that privilege the Party's priorities (FMPRC, October 31).  Xi has explicitly linked at least the Global Development Initiative to "changes unseen in a century (FMPRC, July 10).
The limits of the partnership CCP General Secretary Xi was offering in San Francisco become clearer when compared to his exchange in March with Russian President Vladimir Putin. Xi told Putin "Now there are changes that have not happened in 100 years. When we are together, we drive these changes" (Reuters, March 22). If the China-Russia partnership is a force for the change Beijing wants to see in the world, then Xi's offer to Biden is an invitation for US acquiescence rather than positive change or stability.
Notes
[1] The "changes" in "changes unseen in a century" could also be translated in ways that suggest more fundamental change, for instance, "transformation," "a turbulent situation," or "instability."