China and Nicaragua's Deepening Embrace
Publication: China Brief Volume: 23 Issue: 21
By: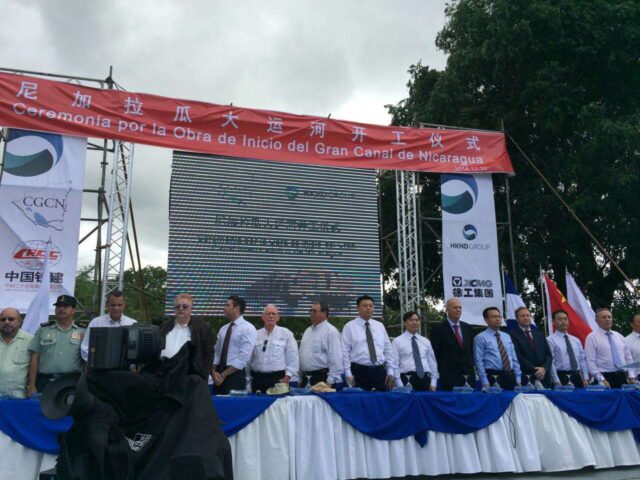 In October 2023, Nicaragua signed an agreement with China's CAMC Engineering Company (中工国际工程) for the reconstruction, expansion, and upgrading of the Punta Huete International Airport (Yicai, October 18). The company is a subsidiary of the conglomerate China National Machinery Industry Corporation (国际集团), also known as Sinomach (Sinomach, accessed November 15). Local and Chinese officials are touting the $492 million project as part of China's Bridge and Road Initiative (BRI), reflecting a deepening of Daniel Ortega's regime's ties to the People's Republic of China (PRC) (Global Times, October 18). Closer links between Beijing and Managua demonstrate that China's economic statecraft remains central to its strategy to further penetrate Latin America and the Caribbean, a region of significant geopolitical importance to the United States.
The sustainability of China's economic statecraft, and BRI in particular, have come into question in recent months due to the country's domestic economic problems. However, the Nicaraguan airport announcement signals that the PRC remains economically active in the region, and its ambitions have not wavered. This is something of which the remaining handful of countries that officially recognize Taiwan are well aware: Beijing's attention to regional infrastructure continues, if more selectively than before, but only to those countries who have decided to forgo relations with Taiwan. Beijing is further extending its reach into the strategic underbelly of the United States. For Nicaragua, the restoration of diplomatic ties with China serves the geopolitical needs of President Daniel Ortega in distancing his regime from the United States and softening the blow of sanctions (imposed due to fraudulent elections and gross human rights violations), while providing a source of non-Western funds to finance infrastructure projects.
Nicaragua's Historical China Ties
Nicaragua restored diplomatic relations with the PRC in December 2021, joined the BRI in 2022, and signed a Free Trade Agreement with the country in August 2023 (Xinhua, December 14, 2021; Global Times, January 13, 2022). The country has also struck several infrastructure deals, and organized for Nicaraguan students to visit China (Ministry of Commerce, September 1). In July 2023, Presidential Advisor Laureano Ortega Murillo (President Ortega's son) visited Beijing to sign several cooperation agreements and reaffirmed Managua's commitment to the One China Principle (FMPRC, July 13; PRC Mission to the EU, August 15, 2022).
Throughout much of the Cold War, Nicaragua maintained relations with the Republic of China. Following the success of Daniel Ortega's Sandinista Revolution in ousting the corrupt Samosa regime in 1979, Nicaragua pivoted to recognize the PRC in 1985. This continued until 1990, after which President Violeta Chamorro's administration switched diplomatic recognition back to Taiwan. When Ortega returned to power in 2007, there was speculation regarding another reversal of Nicaragua's diplomatic leanings, and what the PRC would have to offer the country for such a pivot to occur. The switch finally occurred in 2021, with experts surmising that a generous deal was likely to be struck—far better than anything Taiwan might have been able to offer in comparison (The Global Americans, December 10, 2021). The upgrading of Punta Huete International Airport is certainly part of this deal, but other factors must also be considered.
Demonstrating China's Economic Statecraft
The Chinese economy is not doing well: growth is stagnating, the ability to rely on Western technology has sharply declined, youth unemployment is high, the property market has imploded, local debt levels are worryingly high, extreme weather events have raised concerns over food security, and the country is facing demographic headwinds (see China Brief, August 14). The IMF judged that China's economy only expanded 3.0 percent in 2022, and projects this year's headline growth to hit 5.0 percent before falling to 4.2 percent for 2024 (IMF, October 10). China's overseas lending has declined from its peak in 2015, especially outflows from the country's two chief development banks, the China Development Bank and the Export-Import Bank of China (Boston University Global Development Policy Center, March 21). China has pumped almost $1 trillion into BRI projects to date, signing over 200 BRI cooperation agreements with more than 150 countries and 30 international organizations across five continents (Xinhua, October 11; Bloomberg, October 16). Recently, new financing windows of around $48 billion from the two main development banks were announced at the BRI forum in Beijing, which commemorated the Initiative's decennial (Global Times, October 18). Details to access and loan tenure are hazy.
BRI has provided business opportunities for China's large state-owned enterprises and strengthened the nation's relations with other Global South countries. However, China has also been criticized for causing unsustainable debts in recipient countries, mothballing a number of projects, facilitating corruption, and for lax environmental controls (Center for Global Development, March 4, 2018; VOA, November 27, 2022). Beijing thus now lends more strategically, placing greater emphasis on sustainability and "small is beautiful" projects (Xinhua, October 11).
China's Economic Statecraft To Isolate Taiwan
The PRC's message to Central America and the Caribbean is that there are benefits to changing sides. Since 2017, Panama, the Dominican Republic, El Salvador, and Honduras have all abandoned Taiwan. Nicaragua joined those ranks in 2021. Only Belize and Guatemala in Central America, Paraguay in South America, and St. Lucia, St. Kitts-Nevis, and Haiti in the Caribbean maintain diplomatic ties with the island.
Despite considerable pressure from the United States and a track record of most Central American and Caribbean countries running large trade deficits with China, the PRC remains attractive. The establishment of diplomatic ties with Beijing has resulted in similar infrastructure projects across the region. These include El Salvador's new national library and talks over the possible development of that country's port of La Union; the potential for a $20 billion rail line to connect Honduras's Atlantic and Pacific coasts; and highway upgrades in Costa Rica (Dialogo Americas, August 24). Following the BRI summit in October, Nicaragua signed a $70 million credit line with China Communications Construction (中国交建) to build a solar plant (bnamericas, October 19); an agreement with China Civil Engineering Construction Corporation (中国土木工程集团) to build a new rail line across the country (bnamericas, October 18); a hydroelectric project in Tumarín (Seetao, October 20); and help with the expansion of the Rivas-Sapoá Highway along the coast (tn8, October 17). Zhou Zhiwei (周志伟), an expert on Latin American studies at the Chinese Academy of Social Sciences, recently argued these projects show that "cooperation with China offers concrete, conspicuous, and effective results" (Global Times, October 19).
Another potential infrastructure project would be the revival of a planned coast-to-coast canal to rival Panama's. The most recent manifestation of the idea emerged in 2013, when the Hong Kong-based HK Nicaragua Canal Development Investment Company (HKND) signed an agreement with the Ortega government (Nikkei, July 9, 2014). The main personality associated with it was Wang Jing (王靖), who is also the chairman and CEO of the telecoms company Beijing Xinwei (北京信威), as well as of its subsidiary, Skyrizon Aviation (北京天骄航空) (Global Times, August 5, 2014).
The project failed to materialize, due to HKND's financial problems, failure to proceed with environmental studies, and opposition by farmers and environmentalists. These last two groups were concerned about the impact construction would have on Lake Nicaragua, Central America's largest lake and a major source of fresh water. Publicly available details revealed it would have involved a concession to build and operate a Nicaragua Canal for 50 years, with an optional 50-year extension, coming at a price estimated around $40–50 billion. If constructed, it would have enhanced the PRC's regional influence, undermined Panama's economy, and most likely caused considerable environmental damage.
Following the diplomatic rapprochement at the end of 2021, the project could be back on the table: Chinese companies are hunting for new deals, the Ortegas have done much to consolidate their power (which could allow them to repress any opposition), and droughts in Panama are impacting the number of ships that can transit its waterway. Meanwhile, Ortega's son Laureano, an important force behind the initial project—as well as in reestablishing relations with the PRC—is back in government. Wang, who in November 2021 congratulated Ortega and his wife on their electoral victory, is also still involved. Wang has previously declared his "faith in [Nicaragua's] grand canal project" (Confidencial, November 11, 2021).
Deterioration of United States-Nicaragua relations
The United States has voiced concerns about the Ortega regime's repressive actions following its deadly response to protests in 2018 (GJIA, March 17) and its "sham" general election in 2021 (White House, November 7, 2021). The Biden administration subsequently imposed sanctions on 47 Nicaraguan individuals and 11 entities, including the vice president, the first couple's children, close advisors to the president, leaders of the National Police, the judiciary, the ruling Sandinista Party, and National Assembly (State Department, September 15, 2022). These sanctions, while warranted, have allowed China to step in. It would, however, be a mistake to suggest that America drove Nicaragua into China's embrace. The Ortegas were already receptive to China's entreaties, and American officials have argued that Nicaragua's pivot toward Beijing must be seen as part of Ortega's effort to consolidate his "authoritarian regime" (Reuters, December 10, 2021).
The Ortegas' predilection for autocratic regimes in not limited to China. The regime resumed close ties with Russia in 2008 (one year after Ortega's return to office), and has in particular cultivated military ties with Vladimir Putin's Russia. In 2022, Nicaragua authorized the presence of Russian troops, warships, and military vehicles in the country, suggesting that Moscow could establish a base in the Central American country (Russia Briefing, April 21). In April 2023, Russia's Foreign Minister Sergey Lavrov made an official visit to Nicaragua and met with President Ortega to discuss a further deepening of relations. Russia's state-controlled media company RT is also active in the Central American country. Concerns are growing over RT's ability to push its anti-American narrative throughout the region (Dialogo Americas, October 2).
Nicaragua is also developing closer ties with Iran. Both countries share a strong dislike of the United States, are governed by corrupt authoritarian elites, and are friends with China, Russia, Cuba, and Venezuela. A leaked Pentagon document reported in the New York Times claimed that Iran's Foreign Minister Hossein Amit Abdollahian discussed the possibility of strengthening military cooperation with senior officers of the Nicaraguan army while visiting the country earlier this year (Dialogo Americas, June 13). The importance of closer Managua-Tehran relations should not be overstated, but this nevertheless constitutes an additional data point to illustrate how the Ortega regime is incrementally distancing itself from the United States in favor of authoritarian partners.
The Path Ahead
The deepening of Chinese–Nicaraguan ties is not in the United States's interest. Nicaragua sits in a region suffering from the effects of climate change and poor governance; is a transit point for large numbers of migrants heading north; and could provide Chinese transnational criminal organizations an expanded trade route for fentanyl heading to Mexican drug cartels.
The United States could leverage its trading relationship with Nicaragua, as it is the country's leading trade partner (Statista, May 23). Trade between Nicaragua and the United States is largely facilitated by the Dominican Republic-Central American Free Trade Agreement (CAFTA-DR), which was signed in 2004. The CAFTA-DR was established to liberalize trade and investment between the United States, the Dominican Republic, and five Central American countries—including Nicaragua. Trade of American goods and services with Nicaragua stood at roughly $9.2 billion in 2022, with a net surplus of $3 billion in Nicaragua's favor (USTR, accessed November 15). In contrast, Nicaraguan goods exports to China totaled $18 million in 2021, with imports exceeding $1.1 billion (OEC, accessed November 15). While the FTA should help Nicaraguan exports, if trade with the United States dries up, China will not make up for any shortfall. The Ortegas must be mindful of the limits of Managua's relations with Beijing, as well as the point at which close ties to China could jeopardize Nicaragua's membership in the CAFTA-DR.
The Trump and Biden administrations have demonstrated that the United States is willing to weaponize economic measures to pursue its national interests. The United States can increase economic pressure on Managua, but Washington's rationale must be clear. The political and ideological orientation of the Ortegas predisposes them to hostility toward the United States. However, they are also driven by monetary gain. There is thus a balance to be struck if the United States wishes to improve its ties with Nicaragua. On the one hand, the United States is unlikely to be willing to impose economic sanctions on the scale of Cuba or Venezuela. On the other, Nicaragua is less interested in the conditional lending and transparency requirements of the sort that financing from the United States would offer.
As such, the rest of this decade will likely see ever closer ties between China and Nicaragua. Politically, the Ortegas need a "significant other"—a geopolitical rival in the form of the United States—to help maintain their autocratic dynasty. The imposition of additional US sanctions will further entrench this view. It is in China's strategic interests to have a friend in the United States's "backyard." The relatively small capital intensity of infrastructure projects in Nicaragua also preclude the developmental headaches that have afflicted other projects in Ecuador, Pakistan, Sri Lanka, and Venezuela. Although the Chinese economy is struggling, Beijing's Latin American policy still has considerable momentum, exemplified by Nicaragua's rapprochement with China.
Nicaragua fits into a broader picture of Latin America and the Caribbean's significance in China's long-term strategy. The region offers a wealth of critical resources needed for China's economic development and projection of political influence, especially in the promotion of a multipolar world order—this implies the dilution of American power. Much of this has been outlined in China's first and second Policy Papers on Latin America and the Caribbean, which included references to the PRC's stated core values such as win-win relationships, enhancing political, cultural, and economic ties, as well as to adherence to the One China policy (Xinhua, November 24, 2016; USC, April 20, 2009). With offers to underwrite longstanding infrastructure projects—but not lectures on domestic politics—as well as a strategic need for what Latin America offers, through the first two decades of the 21st century, China has developed considerable momentum in the region.