Changxing Shipbuilding Base: Home for China's Future Indigenous Aircraft Carrier?
Publication: China Brief Volume: 9 Issue: 9
By: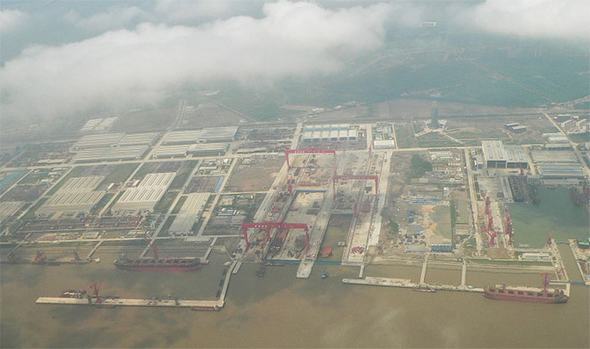 Recent reports circulating in the Chinese press indicate that Jiangnan Shipyard (Group) Company Limited—one of China's oldest state-owned shipbuilding company regarded as the "cradle of China's national [shipbuilding] industry"—could be slated by Beijing to carry out the Chinese military's long-standing mission to build an indigenous aircraft carrier. This information, checked against various reports that appeared in the Chinese press, indicates that the recently enhanced Changxing Shipbuilding Base, which is located off the coast of Shanghai on Changxing Island, may be the location where China will build its indigenous carrier (China Review News, April 28).
The new base construction program, which began in June 2005, is being undertaken by Jiangnan Shipyard (Group) Company Limited, which is a subsidiary of China State Shipbuilding Corporation (CSSC). One of the purposes for building the base was to utilize the deep water coast of Changxing Island for the construction of larger naval vessels. The largest dockyard in the facility is reportedly 580 meters in length and 120 meters in width, which makes it large enough to accommodate a Varyag-size carrier (China Center for International and Strategic Studies, April 22).
The first phase of the $3.6 billion base project included the construction of four large dry docks, nine outfitting piers and two cargo piers, which were built along a 3.8 kilometers coastline. These new facilities will expand the CSSC's current shipbuilding capacity from 800,000 deadweight tons (DWTs) a year to 4.5 million DWTs by 2010. In the second phase of the Changxing base development, two other CSSC subsidiaries, Hudong-Zhonghua Shipbuilding (Group) Corporation and Waigaoqiao Shipbuilding Corporation, will build more shipyards along the island's eight kilometers coastline. By 2015, CSSC is expected to have an annual capacity of eight million DWTs, which is equivalent to half of China's current shipbuilding production capacity of 16 million DWTs. By then, holding current pace of development constant, Changxing is expected to become the world's largest shipyard. At the same time, Shanghai is slated to become the world's largest shipbuilding base, tripling its capacity to 12 million DWTs by 2015 (China Center for International and Strategic Studies, April 22).
Images of the facilities acquired by Kanwa Defense Review, a comprehensive on-line magazine on East Asian security, referenced in a Chinese military website revealed the increased security around Dockyard No. 3 at the shipyard, which is used by the military: all the entrances and exit to that dockyard are guarded by armed police, while the entrances for Dockyard No. 1, which is for building civilian vessels, are guarded by company security personnel (China Center for International and Strategic Studies, April 22).
According to a television interview on Shanghai-based Dragon TV with Nan Daqing, the general manager of the Jiangnan Shipbuilding (Group) Company Limited, which was also cited by the Asahi Shimbun; Nan, who is deeply connected with the Chinese navy, confirmed that all preparations for equipping the dockyard with the capabilities to undertake the task from the Chinese navy to build an aircraft carrier are complete. Nan's statement was significant because it is the first public acknowledgement by an involved party concerning China's actual development of an aircraft carrier (Asahi Shimbun, April 21; 3lou.com, April 22). Some sources have suggested that the first Chinese aircraft carrier will not be a "knock-off" of an American or Russian model, it will be an indigenous design (Nownews [Taiwan], April 22; China Center for International and Strategic Studies, April 22). According to other reports, China already possesses the catapult techniques that are necessary to operate an aircraft carrier, and if it wants to build an aircraft carrier, its carrier deck may be modeled after the USS Nimitz Class Aircraft Carrier (Nownews [Taiwan], April 22).