Cheap Gas For Basing Rights: Russia Offers Ukrainian Type Deal to Moldova
Publication: Eurasia Daily Monitor Volume: 8 Issue: 25
By: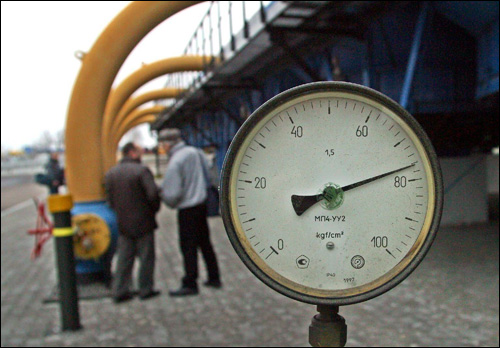 Russia's ambassador to Moldova, Valery Kuzmin, insinuated via Chisinau media on February 1 that Moscow can grant Moldova a price discount on Russian gas, as it granted one to Ukraine, in return for military basing rights.
Kuzmin said: "Moldovan authorities must execute the conditions of the agreement recently signed with Gazprom…One should not fully exclude politics from Russia's relations with other countries. The political dimension can be turned into an economic equivalent. Thus in Ukraine, for example, there was provided a compensation mechanism [for gas] in the lease agreement for Russia's Black Sea Fleet base. Due to that mutually advantageous agreement, the gas price dropped for Ukrainian end consumers. Moldova also has such opportunities. Chisinau's politicians can make proposals to Moscow. Then negotiations can be held and a decision made. We do not have such proposals on the political agenda thus far, but this does not mean that such proposals do not exist. We are open for discussions" (Unimedia, February 1; Infotag, February 2).
Kuzmin had just held a round of bilateral meetings with party leaders from the governing Alliance for European Integration (AEI) and the opposition Communist Party. In a concluding public statement he advised Chisinau to ask Moscow to re-negotiate the price of gas. Russia would "discuss anything" if Moldova itself takes the initiative (Moldpres, January 28, February 2). Almost certainly, the ambassador made a more explicit offer for the politicians behind closed doors than he could make publicly.
Moldova's Deputy Prime Minister and Economics Minister, Valeriu Lazar, publicly drew a parallel with the Russian-Ukrainian tradeoff (military base for cheap gas) shortly before Kuzmin did so. Arguing that the cost of imported Russian gas depends in part on political relations with Russia, Lazar said: "If we follow Ukraine's example and try to make some political concessions to Russia, then we could obtain some discounts" (Radio Moldova, January 30, cited by Infotag, January 31). Following Kuzmin's public reference to a Ukraine-type deal with Moldova, however, Lazar went public again to reverse his position. Alluding to counter-leverage on Russian gas transit to the Balkans via Moldova, he concluded: "Either we follow our policy and allow the gas price to reach average European levels, which will give us leeway to negotiate [raising] the transit tariffs, or we act as the Ukrainians did. Do we really want this? We should settle our gas debts and behave with dignity from now on" (Infotag, February 2).
The Russian-Ukrainian agreements were signed on April 21, 2010, by Presidents Dmitry Medvedev and Viktor Yanukovych. They prolonged the Russian Black Sea Fleet's basing rights in Sevastopol beyond the 2017 expiration date, until 2047. In return, Russia granted a 30 percent discount on the price of Russian gas to Ukraine for the same period of time, if that price exceeds $336 per one thousand cubic meters (tcm).
Moldova could draw some lessons from those agreements. Ukraine seems to have made a loser's trade-off even in commercial terms. An implementation mechanism and even a common understanding of that arrangement are apparently lacking. Last month in Moscow, Finance Ministers Aleksei Kudrin of Russia and Fedir Yaroshenko of Ukraine started negotiations about implementing those agreements. Kudrin insisted that "a new agreement" must be negotiated to define "concrete terms and parameters, on which implementation would depend." Yaroshenko apparently pleaded for overcoming a deadlock: "For us it is important to reach a common interpretation, define a common methodology for implementing this agreement in real life" (EDM, January 18).
Moscow can turn its side of that bargain into a dead letter. The price of gas seems very unlikely to stay above $300 per one thousand tcm (unless Moscow decides to practice overt extortion, and by the same token to subsidize its own extortion of Ukraine). Below that price level, Russia can still pressure Ukraine into further concessions, in return for further discounts on the gas price.
Moscow is well placed to implement the military agreement while bargaining over implementation of the gas price agreement. The April 2010 arrangements are asymmetrical in that the military agreement is self-enforcing while the gas agreement is not. Ukraine lacks the power to withhold implementation or the former, while Russia can set conditions for implementing the latter.
The basing agreement contravenes Ukraine's constitution, which bans the stationing of foreign forces on Ukraine's territory (with an exception made for Russia's Black Sea Fleet until 2017). The Moldovan constitution also bans foreign forces (without exception) from the country's territory. Russia recognizes Moldova's territorial integrity and sovereignty on paper, but keeps its troops on Moldova's territory in Transnistria, and seeks from time to time Chisinau's consent to legalize those troops' presence.
The current attempt is timed, internally, to Moldova's soon-to-be-held presidential election (the possible failure of which would trigger parliamentary elections again). Externally, Moscow's suggestion seems tied to the re-negotiation of the Treaty on Conventional Forces in Europe, where Russia needs to demonstrate host-country-consent to the stationing of its troops on Moldova's territory. Russia's move aims to draw Moldova into discussions, or at least create the appearance of discussions, about legalizing the presence of Russian troops.