Chechen and Ingush Leaders Feud over Burial of Slain Insurgents
Publication: Eurasia Daily Monitor Volume: 9 Issue: 210
By: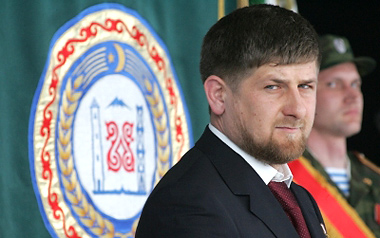 At the beginning of November, Chechen authorities made several statements that were underreported by the media but which illuminated important aspects of Moscow's policies in the North Caucasus. Moreover, those statements allow an assessment of how much autonomy Moscow is willing to grant to Chechnya in regard to Islamic affairs inside the republic and even far beyond its borders as the Kremlin uses officials in the North Caucasus like Chechnya's Ramzan Kadyrov to improve Moscow's battered image in the Arab world due to its backing of the Assad regime in Syria.
The first incident is an unexpected admission by Chechnya's mufti, Sultan Mirzoev, that the banning of proper burials for the militants would not have attracted much attention had there been no reaction from Ingushetia's leadership. The Chechen mufti stated that the Spiritual Board of Muslims of Chechnya had outlawed the burial of people killed in special operations in cemeteries according to Muslim and local traditions (https://islam-today.ru/article/5303/). According to some experts in Russia, the mufti did not invent anything new, but simply confirmed what has been practiced in the republic for a while (www.stav.kp.ru/daily/25979/2913463/).
The leaders of neighboring Ingushetia could not have been ignorant of the ban on burying rebels in cemeteries in Chechnya. Yet, the head of Ingushetia, Yunus-Bek Yevkurov, who is in conflict with the Chechen government, took the opportunity to rebuke his Chechen neighbors and thereby attracted the attention of the Russians to the burial practices in Chechnya. In his personal blog, Yevkurov said literally: "[I]f somebody thinks that it is possible not to give the body [to the relatives] for burial according to human laws, instead marinating them somewhere in barrels or something, we will produce more terrorism, even more than now […] Why fight the dead? They are finished, they are no more; they have died. I am for the [proper] burial of these people, and let the people forget about them after that, forget them forever" (https://evkurov.livejournal.com/75681.html). If the Chechen authorities retract the mufti's statements, it will be perceived as a Yevkurov victory. If, however, the Chechen leadership endorses the mufti's words, it will contribute to the feud Yevkurov and Kadyrov have indulged in since last year. The conflict between the leadership of the two republics peaked last summer, when Kadyrov demanded that a "clear border" be drawn between the two republics and laid claims to parts of Ingushetia (www.interfax.ru/politics/txt.asp?id=262280).
Second, in an effort to salvage its tarnished image in the Arab world, Moscow dispatched Ramzan Kadyrov to the United Arab Emirates (UAE) earlier this month to use Chechnya's reputation in the Muslim world as means for rallying support for Russian policies in the region. According to Russian news agencies, Kadyrov arrived in the UAE as the personal guest of Crown Prince of Abu Dhabi Mohammed al-Nahyan (www.grozny-inform.ru/main.mhtml?Part=8&PubID=37613). Several Russian news agencies reported on the visit as if it were an official visit by a leader of a sovereign state. There was even a report headlined "Kadyrov Has Arrived in the UAE on a Friendly Visit" (www.yuga.ru/news/277715/). This could well have been regarded as such a visit, were it not for Kadyrov's speeches, in which he emphasized Vladimir Putin's concerns for the future of the Islamic world. According to Kadyrov, all Muslims in Russia are doing well, many mosques are being built, hafiz schools are being set up and so on—all thanks to Putin. So Kadyrov has played the role of a convenient and highly valuable intermediary between Moscow and the Arab world. It would be hard for the Kremlin to find a better man to fulfill this function than Ramzan Kadyrov. It is one thing for an Arab leader to hear these words from Russian diplomats and quite another to hear them from someone who is spreading Islam in one of Russia's republics, especially when that republic is Chechnya, which is so well known in the Islamic world. There could hardly be a better intercessor between Moscow and Arab countries given that Russia's image has been so tarnished in this region by its support for the embattled Assad regime in Damascus.
Russian opposition to the West with regard to resolving the Syrian crisis has pitted Moscow against the Arabs. First, Abdel Jalil al-Saeed, the former press assistant of the Mufti of Syria Ahmad Hassoun, publicly cursed Russia during a live program on Al-Jazeera, calling Russia the enemy of all the Arab East and promising to throw Russia out of the region forever (www.youtube.com/watch?v=WOdbFuG8Yqc). Later, another unexpected blow came from an influential Sunni leader in Syria, the chairman of the World Council of Muslim Scholars, Yusuf al-Qaradawi. On October 12, al-Qaradawi stated that "Arabs and the Islamic world must make a stand against Russia. We must declare a boycott of Russia. We must regard Russia as our enemy number one!" (www.youtube.com/watch?v=CZ-93BXDml8). The same sheikh had previously taken varying stand on Russian policies in Chechnya, on some occasions supporting the militants (www.magas.ru/content/voina-v-chechne-ili-dzhikhad-fetva?page=1), on others siding with the Russians (www.info-islam.ru/publ/statji/fetva_jusufa_kardavi_o_situacii_v_chechne/5-1-0-11135).
Therefore it is not surprising that Kadyrov was the first to condemn al-Qaradawi's anti-Russian statements, saying they were "blasphemous" and directed against millions of Russian Muslims (www.gazeta.ru/politics/news/2012/11/11/n_2611169.shtml). According to Moscow's logic, Kadyrov's criticism should have disarmed those who support al-Qaradawi, given the example of Chechnya, where Islam has full freedom for the time being. However, Moscow is evidently trying to play down the importance of al-Qaradawi's statements in the Arab world. Russia's standing and influence in the Arab world are in limbo now and the Kremlin's attempts to deflect criticism have failed, one after another, because of its position on Syria. Consequently, Chechnya is unable to save Russia's image in the Middle East.
Thus, we are witnessing once again how Moscow is trying to make use of Islam for its foreign policy goals, dispatching its protégés like Kadyrov from the North Caucasian republics to the Arab world in order to improve the Kremlin's battered image. However, it is precisely these policies that cause the Russian Muslim community's deepening distrust of the official clergy. As a result, the Russian Muslim community chooses to associate with Muslims who are opposed to the official Islamic clergy and the Russian authorities. This means that the armed resistance in the North Caucasus will have no shortage of new recruits from various sectors of the country's population in the future.