Chechen Fighters Make Waves in Syria
Publication: Eurasia Daily Monitor Volume: 11 Issue: 165
By: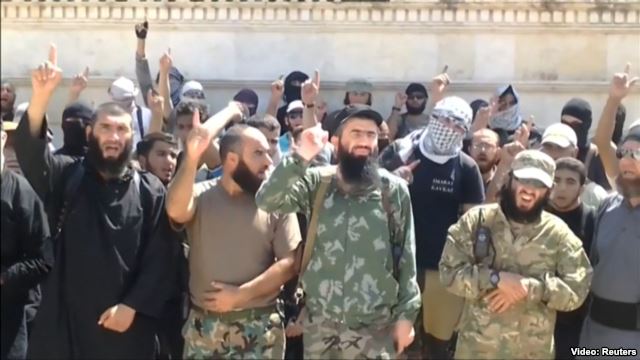 Chechens have been quite active in the ranks of the armed opposition to Syrian President Bashar al-Assad over the past two to three years. Chechens have formed several groups that made waves in a country that is alien to them, both culturally and linguistically, as well as far away from their homeland (see EDM, January 23).
From the second half of 2013 through the first half of 2014, it seemed that one of the most reactionary Chechen commanders in Syria, Umar Shishani (Tarkhan Batirashvili), might lose support among the Chechens fighting there. Having lost supporters among the Chechens, he could have been left with only Arab rebels fighting for him, and his political influence within the Syrian armed resistance could have faded away (nykhas.ru, July 11). Shishani previously made his military career in Syria without any help from other Chechen commanders. But in 2012 some of his colleagues split away from him. In 2013, they accused him of pledging allegiance to Abu Bakr al-Baghdadi, who presented himself as al-Qaeda's representative in Iraq and Syria (gazeta-nv.info, November 29, 2013). People who had been with him since 2012 remained under the command of Emir Salaudin in the Jaish al-Muhajireen wal-Ansar group, while others set up their own group, called the Army of Caliphate. Shishani thus had to try to create his group from scratch for the second time in two years—and the end of his career seemed imminent.
Unlike the Chechens, however, the leader of al-Qaeda in Iraq and Syria, Abu Bakr al-Baghdadi did not abandon him, but appointed Shishani the group's military leader in Syria. Al-Baghdadi later promoted him to the position of military chief in Syria and Iraq, making Umar Shishani one of his closest associates. When the Islamic State was proclaimed on the territories under the control of Abu Bakr al-Baghdadi's group last June 29, it became clear that Shishani's role was much more prominent than it had previously seemed (ronsslav.com, July 6).
Unlike all the other members of the entourage of the new "caliph," Umar Shishani, on principle, does not hide his face. The proclamation of the "caliphate" completely changed the situation for the Chechen commanders in Syria. The armed groups under the command of Emir Salaudin, Emir Muslim, Emir Seifullah, Emir Abu-Muslim and others had to face the fact that people under their command were starting to leave their ranks and were now operating under the command of a person whom, just six months earlier, they had accused of pledging allegiance to Abu Bakr al-Baghdadi. Stopping this outflow of personnel became virtually impossible. These previously strong emirs in the ranks of the Syrian opposition, with whom the Free Syrian Army had to reckon, nowadays can barely carry out small military attacks and regularly suffer significant losses.
The idea of declaring a caliphate was the best move that Abu Bakr al-Baghdadi could make after having been ordered by his boss, Ayman al-Zawahiri, to stop expanding his influence in Syria. Indeed, Al-Baghdadi rescued himself and his supporters by proclaiming the Islamic State (Kommersant, Jun? 17). The influx of recruits from Europe, which had been drying up, renewed with greater strength. There were more people wanting to join the "caliphate" than many observers could have imagined. Chechens in Europe started to look for new ways to enter Syria and Iraq in order to join the "caliphate." Some of them worried that if they delayed, they would lose the historical chance to participate in the establishment and expansion of the Islamic State.
An impressive number of Europeans joined the Islamic State: nearly 1,000 militants have traveled to Syria and Iraq from France alone (Kommersant, Jun? 17). This figure is particularly impressive given that France's interior ministry had reported on May 1 that 285 French nationals had joined the conflict in the Middle East as of the start of 2014 (ITAR-TASS, May 1). Thus, the number of French nationals fighting in Syria and Iraq has risen nearly three-fold this year. Yet, in reality, the estimate that 1,000 militants from France are fighting in the Middle East should be multiplied by two or even three. Even though Chechens are now on trial in France and Austria for recruiting people to fight in the Middle East conflict (btimes.ru, August 31) and for fighting in Syria themselves or intending to do so (kurier.at, August 20), there has been no apparent decrease in the flow of recruits. Moreover, the relatively small inflow of Chechens from Russia intensified after the "caliphate" was declared.
Turkey is the primary transit point for caliphate supporters (see EDM, September 4). In Istanbul alone, about two dozen groups are involved in recruiting and smuggling young people over the border. However, these young people will eventually return to Istanbul. Many of them will be unable to return to their respective European countries, and Turkey will likely have to deal with fighters who will try to expand the borders of the Islamic State at Turkey's expense.
Most of those who join the movement are young adults with insufficient education to draw conclusions about how Abu Bakr al-Baghdadi's Islamic State corresponds with Islamic canons. The new recruits generally do not bother to think about the fact that practically all the sheikhs who spoke in favor of al-Qaeda in the past have denounced the declaration of the "caliphate." But as the "caliphate" of al-Baghdadi and Shishani continues to bring death and terror to ordinary citizens, some formerly enthusiastic supporters may begin to wonder whether President al-Assad was such a terrible leader in comparison to the creators of the Islamic State.