Chechens React to Boston Marathon Bombing Verdict
Publication: Eurasia Daily Monitor Volume: 12 Issue: 96
By: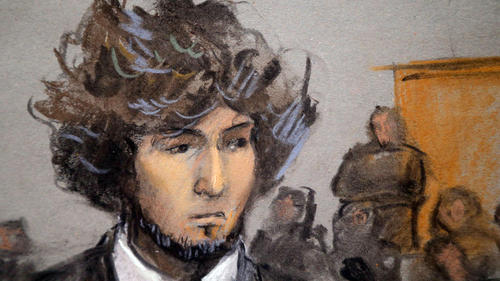 Immediately after Dzhokhar Tsarnaev was arrested for carrying out the deadly bombing of the 2013 Boston Marathon, multiple support groups mushroomed online, particularly on Russian social media. In the two years since Tsarnaev's arrest, the number of groups has decreased somewhat and some of them have transformed. The group initially formed on VKontakte in support of Dzokhar's older brother Tamerlan, who had died in a shootout with police, was renamed the Gubashev and Tsarnaev Brothers Group. Initially, this group had 8,332 members, but there are now only 5,957 fans left (Vk.com/johar_tamerlan, accessed May 22). However, there are several other groups, including one specifically dedicated to Dzhokhar Tsarnaev that has 2,000 members (Vk.com, May 18). Some wrote songs and poems about the brothers (Vk.com, accessed May 22). One group, with 1,355 members who regard Dzhokhar Tsarnaev as a Russian hero, also are calling on the Russian government to confer the Hero of Russia award on him (Vk.com, April 25, 2013).
Three pro-Tsarnaev support groups also exist on Facebook and Twitter, but they are relatively small, with no more than several hundred members. A letter to the President of the United States demanding that Tsarnaev be acquitted and released gathered only 6,429 signatures (Petitions.whitehouse.gov, April 27, 2013). On the other hand, one group on Twitter demanded capital punishment for Tsarnaev (Kill Tsarnaev) with more than 800 followers (Twitter.com, accessed May 22). The death penalty against him may revive some of the pro-Tsarnaev groups and win them new members, but it is unlikely there will be a new upsurge in the number of groups defending Tsarnaev or demanding that the verdict be overturned.
Many Chechens originally thought that the arrest of Dzhokhar Tsarnaev and the death of his brother Tamerlan was an attempt to pin the crime on Chechens instead of finding the real killers and organizers of the terrorist attack on the Boston Marathon (see EDM, May 9, 2013). The leaders of the Chechen Republic, including its pro-Moscow governor, Ramzan Kadyrov, however, have distanced themselves from the Tsarnaev brothers, saying that they never lived in Chechnya and that nobody in the republic knew them.
After the verdict against Dzhokhar was announced on May 15, 2015, however, the Chechen leadership reversed itself and unexpectedly denounced the death sentence. Using his favorite vehicle of communication, Ramzan Kadyrov wrote via Instagram: "No one was surprised by this news. The American security services, which were suspected of involvement in the Boston tragedy, needed a victim. They offered up Tsarnaev as a victim. […] Tamerlan Tsarnaev was killed under strange circumstances. Ibragim Todashev [an acquaintance of Tamerlan's who was shot by federal agents during questioning in his apartment] was shot dead at the time he was being questioned. Dzhokhar Tsarnaev alone ended up behind bars. He was hastily charged with thirty counts. […] I do not believe that the Tsarnaevs carried out this terrorist attack—if they did carry it out—without the US security services' knowledge. […] Who can guarantee that Tsarnaev, having been sent to death row, his innocence will not be proven tomorrow? This happens in the United States often. He was nine years old when he arrived in the US And America, which he believed in, turned him into a terrorist" (Instagram.com, May 17).
Ramzan Kadyrov practically accused the United States security services of staging the Boston Marathon attack (Echo.msk.ru, May 17). In Kadyrov's view, Dzhokhar Tsarnaev, who was found guilty of carrying out the terrorist attack and sentenced to death, was a victim of the US security services (Gazeta.ru, May 17). It should be noted that exactly two years before, on May 6, 2013, Kadyrov spoke about the Tsarnaev brothers quite differently. "Tamerlan and Dzhokhar are the worst shaitans [devils]," he said. "That is why I do not defend them and have no intention of saying a word of support for them" (Kp.ru, May 6, 2013). By May 2015, however, Kadyrov already regarded the brothers as nearly ideal individuals. The Chechen leader decided to support Tsarnaev not because he actually believes in the latter's integrity or innocence, but rather to say something negative about the US It is fashionable in contemporary Russia to accuse the US government and security services of infringing upon the rights of Russians. Ramzan Kadyrov's statements should be seen in this light.
Relatives of Dzhokhar Tsarnaev also commented on the verdict. One of his aunts, Zina Tsarnaeva, said that she did not believe her nephew was involved in the terrorist attack, either as its organizer or executer. She is convinced that the US security services were behind the bombing and that the trial only highlighted this fact once again (Kavpolit.com, May 19). Tsarnaev's relatives also directed a significant portion of their hatred against his lawyers who, in their opinion, sided with the prosecutors instead of defending their client.
Rights activists who are loyal to the Chechen authorities also spoke up, calling for unity and a reversal of the verdict "at least to a life sentence" (Regnum.ru, May 18).
Two camps formed in Chechen society during the two years that the Boston Marathon bombing was being investigated. One camp regards the entire attack as something cooked up by the US security services and believes the Tsarnaev brothers became instruments in their game. The other camp recognizes that the brothers may have been involved in the attack, but regards it as a tragedy for all the victims, and classifies the brothers as being among the victims. Both camps sympathize with Dzhokhar Tsarnaev, because he is a Chechen.
Thus, the death sentence for Dzhokhar Tsarnaev did not end the debate among Chechens, who see the Boston Marathon bombing as a fatal confluence of circumstances for young people who found shelter in the United States. Tsarnaev's supporters continue to view the Boston Marathon bombing as a conspiracy by the US security services to fuel anti-Islamic, anti-Russian and even anti-Chechen sentiment, which is being used to influnce the wider Russian population.