Chechnya's Planned New Oil Refinery Marks a Victory Over Rosneft
Publication: Eurasia Daily Monitor Volume: 13 Issue: 48
By: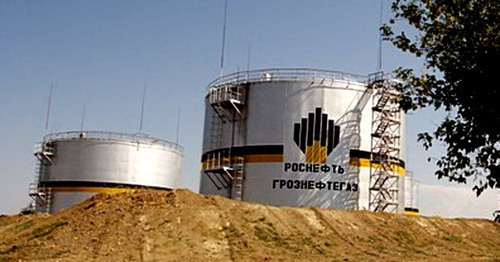 Many analysts say the two wars in Chechnya in the 1990s were caused by the republic's oil. These analysts, however, have tended to overlook the fact that Chechnya no longer had prospects as an oil extracting region by the time the wars started. Chechnya's oil deposits have practically been exhausted and comprise less than one percent of Russia's total known oil reserves (Polit.ru, November 29, 2007). Waging war for one percent of the country's oil reserves would cost more than the oil is worth, which makes it unlikely oil was the cause of these wars. In reality, Chechnya has only enough oil to allow a local elite to feel financially independent from Moscow. Moreover, the geography of Chechnya is such that the transportation and sale of its oil requires cooperation with Moscow.
Chechen authorities have tried to at least partially restore the oil infrastructure in the republic that was destroyed. The ambitions of the Chechen government did not go as far as restoring to full capacity the republic's oil refineries, which at one time could process up to 20 million tons of oil per year. Indeed, the Chechen authorities hoped to rebuild only one refinery that could process the oil extracted in Chechnya and in some of the neighboring republics. In Dagestan, for example, 200,000 tons of oil are extracted every year (Riadagestan.ru, March 18, 2014).
Today, Chechnya's oil is extracted by Rosneft, Russia's main state-owned oil company, which is headed by Igor Sechin. The regional Chechen company Grozneftegaz does not have any property rights (Novaya Gazeta, January 30, 2009). Sechin, who is a close associate of President Vladimir Putin, is fighting with Chechen ruler Ramzan Kadyrov over ownership of Chechnya's oil. For the past ten years, Kadyrov has unsuccessfully tried to force Rosneft to build an oil refinery in Chechnya. Sechin remained ambivalent about his intentions, neither refusing nor agreeing to start construction. Alternatively, Sechin considered building an oil refinery in neighboring Kabardino-Balkaria's Tersky district (Regnum, March 12, 2008).
Sechin's primary motivation is not money, but rather rivalry for power, and he is, therefore, unwilling to make deals with Kadyrov and appear subordinate to him. However, with Grozny pressuring Putin, a Rosneft representative visiting Chechnya in 2010 promised that an oil refinery would be built the following year using Grozneft's existing infrastructure (Kavkazsky Uzel, February 3, 2010). However, the refinery was not built. In 2013, Rosneft again announced the start of work to build the refinery in Chechnya but, once again, nothing was built. Its declarations did not materialize in actual construction works. In 2014, after Kadyrov publicly shamed Rosneft for contributing nothing to the republican budget, Russian Energy Minister Alexander Novak visited Grozny and confirmed that plans to build an oil refinery in Grozny were still under consideration (Stavropolye.tv, July 2, 2014). Moreover, he said that the refinery might be built by the end of 2014. That, however, did not happen. An area on the outskirts of Grozny where one of the republic's seven large oil refineries was once located has long been ready for the laying of the planned refinery's foundation stone.
In 2015, Putin must have realized that Sechin, his closest associate, had done everything in his power to avoid building the oil refinery in Chechnya. The Russian president decided to hand over the oil-related infrastructure in the republic that was in the Russian government's hands to the Chechen government, including Chechenneftekhimprom, which had previously been given to Rosneft (Kommersant, December 23, 2015). This was a significant concession, which will also lead to Moscow handing ownership of Grozneftegaz to the Chechen government. The assets turned over to the Chechen government primarily consist of land parcels, which makes Rosneft dependent on the republican authorities. Eventually, it will force Sechin to hand over all of Rosneft's assets in Chechnya to the republican authorities. It appears that the authorities in Moscow decided to allow Kadyrov to build the oil refinery he wanted while avoiding directly hurting Sechin. The oil refinery issue came to the fore again in the region when Dagestan proposed building its own oil refinery just as Rosneft dropped plans to build an oil plant in Kabardino-Balkaria (Izvestia, January 22). The Dagestanis plan to build their refinery in 2017, which means the Chechen authorities must have their oil refinery up and running before that, otherwise the Dagestani oil will bypass Chechnya.
Accordingly, Ramzan Kadyrov used his contacts in the Middle East to acquire a serious investor willing to invest in his enterprise within a short period of time, and on March 4, a delegation from Qatar arrived in Chechnya. According to the deputy head of the government of Chechnya, Khasan Khakimov, the investors from Qatar are interested in investing in large projects in Chechnya, including building the oil refinery, an airport and a cement-manufacturing plant (Regnum, March 4).
Since many facilities are built much faster in Chechnya than elsewhere in Russia, Kadyrov will likely have his own oil refinery up and running before his neighbors construct theirs. This will give Kadyrov a victory over Rosneft and provide him with a new source of revenue for the republican budget. The new investments will not come from Moscow, and this will make the republic more independent of Russian money and finance. However, the amount of oil being extracted in Chechnya now is nothing compared to the amount that was extracted in Chechnya in the 20th century. The current amounts of oil extracted in the republic make it more dependent on Moscow rather than less, and this will continue to play into the hands of the Kremlin despite Kadyrov's efforts.