Chechnya's Veteran Fighters Have Their Backs to the Wall
Publication: Eurasia Daily Monitor Volume: 18 Issue: 122
By: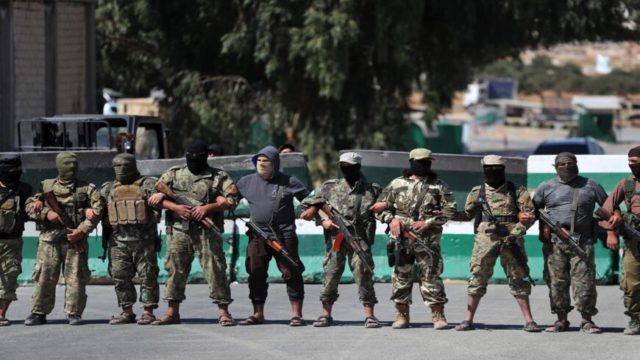 In two battlegrounds 1,500 kilometers apart, veteran Chechen freelance fighters are being rebuked by those with whom they aligned against a common foe.
In June, Hay'at Tahrir al-Sham (HTS), the main rebel group in the Idlib Governorate of Syria, issued a demand that the hundreds of foreign fighters operating in the area acknowledge its leadership or disband. The HTS, which evolved out of the al-Qaeda affiliate Jabhat al-Nusra, has been steadily consolidating its control over the province since 2017, sidelining rival factions and cracking down on groups that did not recognize its authority and sought to preserve their autonomy (see Terrorism Monitor, October 13, 2020). On June 27, a Syria-based journalist close to the rebels fighting Bashar al-Assad's regime reported that the HTS had asked the leader of one such group, the Chechen-led Junud al-Sham, to leave the province of Idlib, the last major stronghold for anti-government forces. "It appears that Hay'at Tahrir al-Sham gave Muslim [al-]Shishani an ultimatum to either join their organization or to leave Idlib province. Muslim [al-]Shishani has refused to join Hay'at Tahrir al-Sham and, therefore, they have asked him to leave Idlib altogether," the journalist said, citing his sources (Facebook.com/ognofficial, June 27).
Two days later, the HTS's media relations office accused Junud al-Sham of harboring criminals—a charge that seems to have become the standard rebuke against its rivals. At the same time, however, the HTS denied asking the group and its leader to leave Idlib (Aymennjawad.org, July 3). Al-Shishani responded with a statement in which he confirmed that the HTS intelligence department had demanded "that I had to disband the group and myself had to leave the territory of Idlib" (Chechensinsyria.com, July 3).
Similar pressure was exerted on a number of other independent militant factions, including Ajnad al-Kavkaz (Middle East Monitor, July 1, 2021; Al-Monitor, July 18, 2021), a group of about 100 men, primarily Chechens, for years based in the forested hills west of Idlib (The Intercept, September 3, 2016). It is not clear if this group, too, received an ultimatum to join HTS ranks; but for much of its short history, Ajnad, like Junud al-Sham, jealously protected its autonomy from bigger and more powerful Arab-dominated factions (RFE/RL, September 14, 2015; Kavkaz Realii, April 5, 2018). One possible explanation for that intransigence is that at least some of the Chechen factions still hope "to return from Syria to the Caucasus and rise again united against Russia" (The Intercept, September 3, 2016). Swearing allegiance to the HTS could considerably complicate the pursuit of that goal.
Chechen volunteers in the Syrian conflict may be feeling increasingly trapped and desperate. Some of them, like Muslim al-Shishani, are internationally designated terrorists, who have nowhere else to go. Most of them are wanted in their home countries. But surprisingly, the plight of their former comrades-in-arms who have fought in eastern Ukraine is arguably even tougher.
Two months ago, Ukraine's National Security and Defense Council (NSDC) announced the imposition of individual sanctions on 668 international kingpins and gang leaders. "Restrictive measures were applied to 557 so-called thieves-in-law, of whom 542 are foreigners, and 15 citizens of Ukraine. Sanctions have also been imposed on 111 foreign nationals who are currently on the territory of Ukraine and are considered crime bosses," the NSDC and the official website of the Ukrainian Presidential Office reported (Rnbo.gov.ua, President.gov.ua, May 14). "All of these persons are subject to: the blocking of assets; a ban on entering Ukrainian territory; a refusal to grant a visa; the revoking of a visa, temporary or permanent residence permit or immigration permit; a refusal to extend the period of stay in Ukraine; an inability to acquire Ukrainian citizenship; and forced expulsion," Ukrainian President Volodymyr Zelenskyy, who took part in the NSDC meeting, said in a video message commenting on the decision (Facebook.com, May 14).
"Thief-in-law" is a Russian term that refers to the highest caste of the criminal underworld. Being a member of the thieves-in-law syndicate has been criminalized in a number of countries, including Ukraine. Ukraine's Verkhovna Rada (national parliament), outlawed the thieves-in-law on June 4, 2020. So why the need for personalized sanctions against the alleged criminal underworld figures, considering, arguably, more urgent issues of corruption that also need tackling (Transparency.org, 2020)? According to independent estimates, Ukraine—the second-poorest country in Europe—loses between $18.2 billion and $34.7 billion to corruption every year (Kyiv Post, May 14, 2021).
Some politicians, journalists and activists noticed that the list (Strana.ua, May 21) contains the names of individuals who fought with Ukraine against Russia and have nothing to do with organized crime. "[The sanctions target] at least three people I have known since 2015 as warrior defenders of the Ukrainian state. Among them are the commander of the Sheikh Mansur battalion, Muslim Cheberloyevsky, and his associates Salman Sainaroyev and Muslim Idrisov," Crimean Tatar leader and former Ukrainian parliamentary deputy Refat Chubarov wrote (Facebook.com/dogrujol, May 24). The Sheikh Mansur volunteer battalion, named after an 18th-century Chechen resistance leader, was mostly composed of veterans of one or both of Chechnya's most recent wars against Russia. The battalion voluntarily handed in its weapons to the authorities two years ago, according to the Ukrainian police (Npu.gov.ua, September 11, 2019). It remains, however, at its base, close to the front line in eastern Ukraine.
The Russian authorities requested the extradition, on unknown charges, of at least one of the three men back in March (Kavkaz Realii, March 27). Whether the sanctioning of the volunteer fighters from the battalion is the first step in granting the Russian prosecutors' request is an open question.
The sanctions against the Sheikh Mansur battalion have already been condemned by some leading opposition factions in the Verkhovna Rada, including former president Petro Poroshenko's European Solidarity Party (Eurosolidarity.org, June 3). If the extradition of the Chechen fighters to Russia, the conflict with which is still ongoing, goes ahead, it is likely to be interpreted as an attempt to appease Ukraine's eastern neighbor and to deflect attention from the real problems the country is facing.
None of the Caucasus fighters in Ukraine or Syria can return to their home countries; many had to give up their citizenship or had it revoked. They may have become pawns or a bargaining chip in a bigger game. Still, it is difficult to understand why the plight of hundreds of battle-hardened foreign fighters had not yet become a more serious concern for Turkey, which is trying to establish a safe zone north of Idlib and needs stability in the HTS-controlled areas, or for President Zelenskyy, whose government is increasingly under fire and whose approval ratings are currently the lowest since his election in May of 2019 (Ratinggroup.ua, July 6; Statista.com, March 25).