China and Laos: An Uneasy Embrace
Publication: China Brief Volume: 13 Issue: 5
By: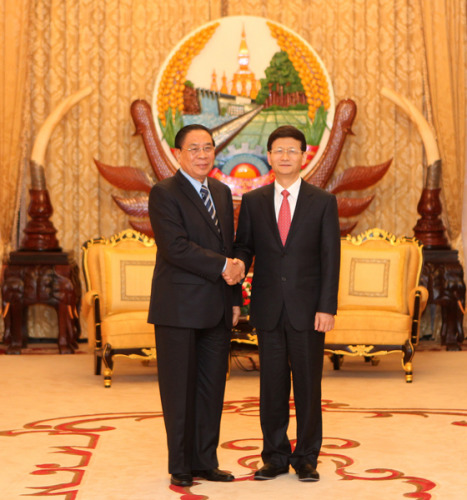 In January, reports surfaced that Laos would borrow money from China to finance a $7 billion, 260-mile rail project connecting the Lao capital of Vientiane to the Chinese border (Ming Pao [Hong Kong], January 15;Global Times, January 10; RFA, December 2, 2012). The project, by far the largest ever carried out in Laos and nearly equal in value to the country's $8 billion gross domestic product, reveals both Beijing's growing influence in the Southeast Asian country as well as the significant challenges both sides will need to grapple with in the coming years to maintain their close relationship.
China and Laos established diplomatic relations on April 25, 1961, but tensions arose early in the 1970s and early 1980s when the ruling Lao People's Revolutionary Party (LPRP) chose to side with Hanoi instead of Beijing during the Sino-Vietnamese War (ASEAN-China Center, 2010). The late 1980s saw ties warm as Laos began forging stronger ties with China and other countries as the Cold War ended. Laotian Prime Minister Kaysone Phomvihan visited Beijing in 1989 and Chinese Premier Li Peng went to Vientiane in 1990, marking a key turning point in the relationship.
Since then, Sino-Lao relations have improved dramatically, with China helping Laos weather the Asian Financial Crisis, Jiang Zemin making the first ever state visit by a Chinese president to Laos in November 2000 and both sides establishing a comprehensive strategic partnership of cooperation in 2009 (Xinhua, September 10, 2009). For China, Laos is a critical source of natural resources to power its economic growth, a crucial partner in tackling transnational security issues, and a key ally in Southeast Asia through which it can advance its regional ambitions. For poor, tiny, and landlocked Laos, Beijing offers the technology, money and manpower required to develop its economy and achieve its goal of graduating from the United Nations Development Program's list of least-developed countries by 2020.
Sino-Lao diplomatic relations are fairly advanced. Bilateral visits involving both state and party officials occur frequently, which should come as no surprise given that Vientiane and Beijing share common communist roots. Likewise, Laotian officials often make trips to China to learn about issues ranging from fighting corruption to economic and social development. The latest high-profile exchange between the two sides was Chinese premier Wen Jiabao's visit in November 2012 before the Asia-Europe Meeting (ASEM), which Vientiane hosted. During his visit, Wen spoke highly of Sino-Lao bilateral relations and urged both sides to craft an action plan to realize their comprehensive strategic partnership as soon as possible (China Daily, November 6, 2012).
China's influence in Laos is evident most clearly, however, in the economic dimension of the relationship. Although Beijing is involved in an annual three-way tussle with Thailand and Vietnam for the top trade and foreign investment spot in Laos (it ranked third in 2012), official data tend to underestimate the lucrative cross-border trade between China and Laos. Furthermore, as China's ambassador to Laos noted earlier this year, Chinese companies have been Vientiane's choice for executing high-profile projects including the Laos International Convention Center where it hosted the 2012 ASEM meeting, the National Sports Complex for the 2009 SEA Games, and other key infrastructure, mining, hydropower and telecommunications initiatives. (KPL Lao News Agency, February 6). With the announcement of recent mega-projects including the high-speed railway project, which China sees as critical to realizing a Trans-Asian Highway integrating it with lucrative Southeast Asian markets, it is not unreasonable to expect that Beijing's contribution for 2012 of $3.9 billion and 801 projects will only grow in the years to come (Bangkok Post, February 12).
Both sides also have boosted security ties in recent years. Most of this has been dedicated to resolving transnational problems like cross-border drug and human trafficking as well as infectious diseases. Since the October 2011 murder of 13 Chinese sailors along the Mekong River, Beijing also has led several rounds of joint patrols with Laos, Myanmar and Thailand along the river to secure transportation routes and target trans-border crimes (Xinhua, September 21, 2012). Military-to-military ties are maintained through regular visits and assistance that remains undisclosed [1]. When Ma Xiaotian, deputy chief of the General Staff of the People's Liberation Army (PLA) visited Laos in October of last year, he emphasized that the PLA wanted to strengthen cooperation in various fields including military academy exchanges (PLA Daily, October 20, 2012).
People-to-people ties remain an important part of Sino-Lao relations. Although a small ethnic Chinese community in Laos dates back decades, the Chinese population in the country has swelled since the 1990s with the influx of Chinese entrepreneurs and traders across the porous border into northern Laos. Not all Laotians have welcomed this, and some have noted that Chinese businessmen are fairly nationalistic and exclusionary, unlike the older Sino-Lao community [2]. Tourism arrivals from China to Laos also have been increasing recently. For instance, Beijing topped the list of tourism arrivals to Laos in 2012 with 190,000, an increase of 26 percent from 2011 (Bangkok Post, January 4). Beijing also has increased significantly the number of annual scholarships for Lao citizens to study in China over the past few years, such that over 1,000 students and officials were studying there by 2012 (Vientiane Times, April 9, 2012).
While China and Laos deserve credit for cultivating stronger ties over the past few years, they will need to overcome several obstacles in order to maintain this important relationship. Firstly, both sides remain vulnerable to volatility in the global economy. A protracted Eurozone crisis and an anemic recovery in the United States could slow down growth in Laos' primary trading partners (especially Vietnam, Thailand and China), thereby affecting the demand for Lao exports and foreign direct investment. In a November 2012 report, the World Bank cautioned that while the direct impact on Laos could be modest, the country "does remain vulnerable to secondary impacts through developments in regional economies" in the near to medium-term (Lao PDR Economic Monitor, November 2012). If Laos were to be affected in such a way, it would be hard-pressed to achieve its goal of 56 percent private foreign investment into the private sector by 2015—a goal which government officials acknowledge is already difficult enough (KPL Lao News Agency, February 6).
Secondly, while Laos continues to recognize the benefits of its ties to China, it also acknowledges the need to diversify its relationships to avoid excessive dependence on Beijing. This is easier said than done, considering that China, Thailand and Vietnam alone accounted for nearly 80 percent of Laos' imports and 70 percent of its exports in 2011, and about 60 percent of all foreign direct investment in the country in 2010 (The Diplomat, February 7). For Vientiane, the reality is that Beijing continues to be a dominant force in the region, severely constraining Laos' foreign policy options.
The often fierce competition for contracts between Chinese, Vietnamese and Thai companies to do business in Laos also suggests that breaking this pattern of dependence will not be simple. Moreover, while there has been an uptick of Western business interest, particularly after the country's recent admission to the World Trade Organization (WTO), there remains a lot of work to be done. For all the recent progress, the business environment in Laos remains notorious for its rickety infrastructure, rampant corruption, weak rule of law and frequent government intervention (The Diplomat, February 7). The case of Sanum Investments, which sued the Lao government last year for colluding with well-connected Lao families and companies to expropriate its businesses, remains a cautionary tale for firms considering investing there [3].
Domestic concerns within Laos about the sustainability of the country's growth path and the negative fallout of controversial Chinese projects could present a third potential obstacle to improved Sino-Lao relations. On sustainability, the government has acknowledged that continuing to have natural resources account for around a fifth of overall GDP and half of total exports contributes to rising inflation, an appreciating exchange rate, growing inequality and the decline of the agriculture and manufacturing sectors (Lao Ministry of Industry and Commerce, July 2012). Government economists have warned, however, that shifting private investment from resource to non-resource areas like agribusiness, education and health, will be difficult given the country's largely unskilled workforce and poor infrastructure. They also expressed concern that such a shift could undermine economic growth in the longer term (Vientiane Times, June 11, 2012). Beijing may not be happy if Vientiane's economic policy choices restrict its ability to secure vital resources for Chinese development, making Beijing's preferences an important factor for Laotian officials to consider.
Local resentment over controversial Chinese projects is not unique or new to Laos. The last few years, however, indicate that it is beginning to affect the Lao government's legitimacy. In 2008, a concession granted to Chinese developers to build a large commercial center in central Vientiane near an important national symbol was slammed by locals and even party officials, who accused a government minister of "treason" based on his Chinese heritage (Myanmar Times, February 20). The government, which rarely sees the need to explain actions to the public, took the highly unusual step of calling a press conference to dispel rumors that 50,000 families would settle in the area and also addressed specific concerns about the project. While it has since been moved, the project in That Luang continues to be mired in controversy with disputes between families and Chinese companies over relocation compensation (RFA, February 22).
Several other projects also have given rise to thorny bilateral issues. In early 2011, Laos had to shut down a Chinese casino enclave in Golden Boten City in northern Laos after reports that gamblers were taken hostage, tortured and murdered for failing to pay their debts. In June 2012, it froze new investments in mining and further land concessions for rubber plantations until 2015 due to concerns from citizens about land encroachment (AFP, June 27, 2012). After years of delays due to a corruption scandal implicating the Chinese Minister of Railways Liu Zhijun, Vientiane simply decided to borrow money for the high-speed rail project from China instead of granting it land concessions, despite domestic opposition and concerns that this would affect its macroeconomic (RFA, February 2; South China Morning Post, July 4, 2011).
In spite of all this, Lao Foreign Minister Thongloun Sisoulith insisted in an exclusive interview with Xinhua before the ASEM meeting last November that it is "more crucial than ever" for China and Laos to foster closer ties in an uncertain world (Xinhua, November 4, 2012). What he did not say, but surely senses, is that given the growing concerns in Sino-Lao relations, tightening an already uneasy embrace with Beijing could prove to be a perilous path regardless of its necessity.
Notes:
Martin Stuart Fox, "Laos: The Chinese Connection". Southeast Asian Affairs, January 2009, pp. 141–169.

Murray

Hiebert. "CSIS Laos Trip Report," Center for Strategic and International Studies, November 1, 2012.