China and the Ongoing Political Crisis in Pakistan
Publication: China Brief Volume: 22 Issue: 7
By: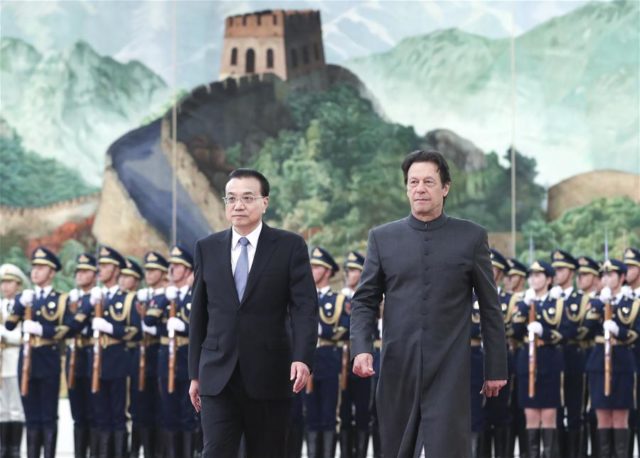 Introduction
The People's Republic of China (PRC) is closely monitoring the rapidly developing political crisis in Pakistan. The current upheaval stems from the introduction in Parliament of a no-confidence vote against Prime Minister Imran Khan, and his subsequent allegation that the motion is due to a foreign conspiracy to topple his government. On Sunday, the Deputy Speaker of the National Assembly (the lower house of parliament), who is a member of Khan's Pakistan Tehreek-e-Insaf party (PTI) party, dismissed the no-confidence vote as a violation of Article 5 of the Constitution, which establishes loyalty to the state as the basic duty of every citizen (Dawn, April 3). Following the dismissal, President Arif Alvi dissolved the National Assembly on the Prime Minister's advice (The News , April 3). These developments are unfolding in the context of "letter gate," which refers to Khan's recent allegations that the no-confidence motion introduced by the opposition is driven by the efforts of a foreign power, which he later claimed was the US, to induce regime change in Pakistan. Yesterday, Pakistan's Supreme Court declared both the Deputy Speaker's dismissal of the motion again Khan, and the president's decision to dissolve parliament unconstitutional. The Supreme Court restored the National Assembly and ordered it to reconvene on Saturday to hold a vote on the no-confidence motion (Dawn, April 7). China's state-run media has reported extensively on the whole drama from the deputy speaker's ruling to the Supreme Court's verdict (Xinhua, April 8; NDTV, April 3).
Less than a week after the opposition's March 8 proposal of a no-confidence vote, Beijing began engaging Pakistan's political parties. On March 13, the deputy head of mission at the Chinese Embassy in Islamabad, Pang Chunxue, held a meeting with the leadership of the Pakistan Muslim League-Quaid (PML-Q), which is allied with Khan's PTI party, in order to discuss the pending no-trust motion. Pang and PML-Q leadership also discussed the China-Pakistan Economic Corridor (CPEC), which is integral to bilateral relations as the flagship project of China's Belt and Road Initiative (BRI). In light of the rising political tensions in the country, she emphasized that "China wants political and economic stability in Pakistan" (Express Tribune, March 14).
China, "Letter Gate," and the No-Confidence Motion against Imran Khan 
During a large public rally in Islamabad on March 27, Imran Khan waved a letter purportedly containing a threat from a foreign country linking the no-confidence motion to an international conspiracy against his government. He claimed that foreign funding was being used to produce regime change in Islamabad and blamed the three leaders of the main opposition parties for playing the role of "three stooges." He claimed that the opposition's no-confidence motion against him was a result of a "foreign conspiracy" due to his pursuit of an independent foreign policy (Dawn, March 30). In a televised address to the nation on March 31, Khan asserted that it was the U.S., which had sought his removal from office.
On March 31, the National Security Committee (NSC), Pakistan's highest security body, issued a "strong demarche" to Washington over a "threat letter"—purportedly showing evidence of a foreign conspiracy to oust the Khan-led government. Chaired by Khan, the NSC meeting's attendees included the country's top military and political brass including chairman joint chiefs of staff committee, services chiefs of land, air, and naval forces, and national security advisers (Dawn, March 31). Hours after the NSC meeting, the acting U.S. envoy in Islamabad was summoned to the Foreign Ministry over the "threatening" letter that warned of dire consequences if the opposition's no-confidence motion against Khan failed. A demarche was handed over to the acting U.S. envoy that use of this kind of undiplomatic language was unacceptable (Express Tribune, April 1). The U.S. State Department spokesman Ned Price however dismissed Khan's allegations of the U.S. meddling in Pakistan's politics. He said, "When it comes to those allegations, there is no truth to them" (Express Tribune, April 1).
Despite doubts over Khan's allegations, China cannot stand even a hint of a foreign power influencing the power game or promoting regime change in Islamabad. At the same time, Beijing maintains a strong interest in promoting political stability in Pakistan. As a result, China vowed to extend its support to Pakistan in the wake of Khan's statement about a letter threatening his ouster of the sitting Prime Minister through conspiracy and warned the U.S. against meddling in Pakistan's internal affairs. (WIONews, March 30; Times Now, March 31). For example, a recent editorial in the nationalist state media outlet Global Times exclaimed that "Washington has failed in its attempts to rope in Khan, so it is possible it now has meddled in Pakistan's politics to topple the current government" (Global Times, April 6). It contends that Western countries, particularly the U.S., do not "want to see Khan remain in power since he has gotten tougher on them."
During his meeting with Pakistani Foreign Minister Shah Mehmood Qureshi on March 30, Chinese Foreign Minister Wang Yi made a veiled reference to Khan's claims of U.S. regime efforts. "We must not allow the return of the Cold War mentality or bloc confrontation in Asia, and must not allow small and medium-sized countries in the region to become tools or even victims of the major power games," he said. "No matter how the international situation changes, China will continue to view and promote China-Pakistan relations from a strategic and long-term perspective, and will, as always, support Pakistan in safeguarding its national sovereignty, territorial integrity and national dignity," added Wang (Dunya News TV, March 31; Express Tribune, April 1).
Beijing's Concerns over Political Turmoil in Pakistan
Presently, the PRC is the biggest foreign investor and stakeholder in Pakistan. The PRC is carrying out a mega-development process through $62 billion worth of investment through the China-Pakistan Economic Corridor (CPEC) (The News, December 17, 2021). Political stability in Pakistan is vital to the smooth execution and timely completion of CPEC projects.
In the past, Beijing has not desisted from conveying concerns to Islamabad over security and stability issues, which could adversely impact progress in implementing the mega-development program laid out through CPEC. In November 2018, Pakistan experienced a serious breakdown of law and order due to the countrywide protests by the Tehreek-e-Labbaik Pakistan (TLP), an Islamist political party. TLP activists were protesting the Supreme Court's acquittal of Aasia Bibi, a Christian woman, in a blasphemy case. Khan was on a visit to China following the protests, which led to rioting with damages to public and private property. In frustration with the volatile security situation in Pakistan, Beijing declined to announce a pending financial aid package during Khan's visit, which was his first trip to China as Prime Minister (Express Tribune, November 6, 2018).
Since the opposition parties introduced the no-confidence motion against Khan in parliament last month, China has monitored the country's rapidly shifting political landscape, and has expressed hope that political rivals can resolve their differences without acrimony. On March 31, PRC Foreign Ministry spokesperson Wang Wenbin noted that as "Pakistan's all-weather strategic cooperative partner and friendly neighbor, China sincerely hopes that all parties in Pakistan can maintain solidarity and jointly uphold development and stability" (PRC Ministry of Foreign Affairs, March 31).
Does Beijing Have a Preferred Side in the Current Political Standoff?
The no-confidence motion against the government is actually the result of a political struggle between the ruling PTI led by Khan and the two main opposition parties—the Pakistan Muslim League-Nawaz (PML-N) led by former Prime Minister Nawaz Sharif and the Pakistan People's Party (PPP) led by former President Asif Ali Zardari. China's chief concern is promoting political stability in Pakistan, regardless of whether it is brought about by a PTI, PPP, or PML-N government.
CPEC was conceptualized under the former PPP government that left office in 2013, but was officially launched under the former PML-N government, which was in power until mid-2018. If the no confidence vote succeeds, the opposition parties have already decided to replace Khan with Shehbaz Sharif—the brother of former PM Sharif, who is also the former chief minister of Punjab province. As the former chief minister of Punjab, Sharif dealt directly with Beijing and signed many agreements for infrastructure development projects in the province. However, Khan has been projecting China's economic progress and promoting its governance system internationally (South China Morning Post, April 4). As a result, for China, PML-N may be the favorite contender in the current political crisis. The pace of development work on projects related to CPEC was faster under the PML-N government compared to under incumbent government. A senior Pakistani official reportedly said, "China prefers a PML-N government but, in the case that Imran Khan survives the no-confidence motion, China will still work with him, albeit with less enthusiasm" (Nikkei Asia, March 16).
Conclusion 
Beijing's main interest lies in stability in Pakistan, as rejection of the no-trust move could escalate tensions between rival political parties, and produce further political uncertainty. Increased uncertainty on the political and security fronts means more risks for China's long-term interests and extensive investment in Pakistan through CPEC.
From a geopolitical viewpoint, the foreign conspiracy angle of the no-confidence motion against Khan, allegedly by the U.S., could raise Beijing's concerns and deepen China's involvement in Pakistan's political issues. Regardless of China's choice among political leaders in Pakistan, Beijing wants to minimize U.S. influence in Islamabad, particularly given the close China-Pakistan strategic partnership and extensive Chinese investments in the country.
Ultimately, Beijing recognizes that only peace and political stability will ensure smooth progress on CPEC. China mainly relies on Pakistan's military for the security of the CPEC. A possible change of government in Islamabad and the next political leadership matters greatly for China to ensure the legal, political, social, and economic viability of the BRI's flagship project. Beijing will continue to monitor political developments, and be vigilant should the current crisis in Pakistan spiral further out of control.
Syed Fazl-e-Haider is a contributing analyst at the South Asia desk of Wikistrat. He is a freelance columnist and the author of several books including the Economic Development of Balochistan (2004). He has contributed articles and analysis to a range of publications including Dawn, The Express Tribune, Asia Times, The National (UAE), Foreign Affairs, Daily Beast, New York Times, Gulf News, South China Morning Post, and The Independent.